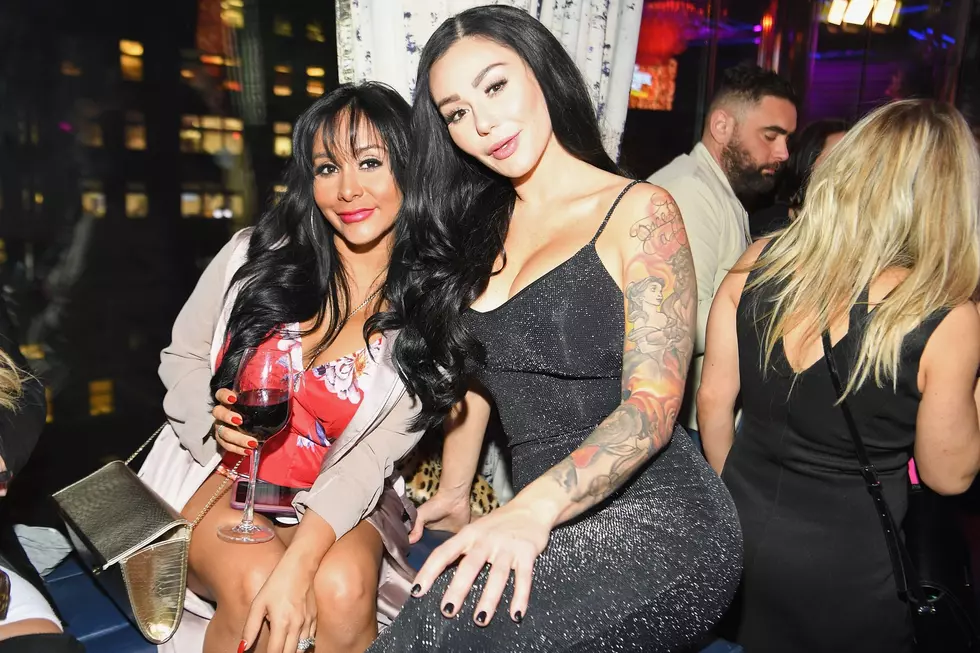 'Jersey Shore: Family Vacation Part 2′ Recap: Petty Catfights Galore
Getty Images for MTV
And I thought I held grudges.
We pick up right away from last week's episode of 'JSFV' where Angelina arrives in Vegas, much to the surprise of the roommates, save for Snooki.
Angelina just came back and I am already over her confrontation with Jenni, but she's partially at fault. She comes in hot, doesn't say hi to Jenni, which makes her not receptive at all and gives Angelina the cold shoulder. Understandable, I would too. But Angelina has to say why she's coming in hot. She does not want to be mowed down and become a 'chew toy' for Jenni, which I totally respect. But Jenni don't know that so she gets all defensive against Angelina too and shuts her out.
At the pool Angelina gets advice from Mike about how to talk to Jenni and smooth things over.
Hopefully she can use that advice to get on her good side, but I highly doubt Jenni will open up to her.
From Jenni we move to Vinny, another relationship Angelina has to smooth over. They actually have had a sexual thing back all the way in season 1, which Ronnie points out that maybe they should revisit that moment. Both Vin and Angelina refuse. She then takes a shot a Vinny's plumbing, saying she don't remember it. This leads to Vinnys lesson on 'guidometrics', using food as a measurement to describe the size of…you know. Think a quart of milk, eggplant, you see where I'm going with this. But it looks like this relationship is making more progress than the Jenni/Angelina relationship.
At the end of the day the group head to the club to have some fun.
At the club while Ronnie pounding down the drinks and is busting out the OG season 1 dance moves. Angelina tries to warm up to Jenni but gets shot down big time. Jenni, just HEAR HER OUT. GROW UP. After Nicole playfully puts ice down Angelina's shirt Angelina thinks it's a good idea to put ice down Jenni's. Talk about taking the term 'breaking the ice' to a whole new level. Jenni gets weirded out and has had enough and decides to put her in a headlock.
After the club they head back to the room and go to sleep.
Vinny then gets some unexpected news. His Uncle Sal passes away which prompts him to go back home. But as Vinny leaves Pauly comes back and gets the surprise of his life, finding Angelina in his bed.
So as this goes on Jenni is getting more and more annoyed with Nicole now because she is acting friendly towards Angelina. Then the icing on the cake comes as Nicole invites yet another person to Vegas, this time her super extra friend Joey. The roommates have no problem with this save for Jwoww. She is actually bitter because she says this vacation has gone from a family vacation to a 'third wheel friend' vacation. All she wanted to do was hang out with her roommates. I can get behind her with his, don't invite other people without getting the group consensus. She is so mad at Nicole now she declared at family dinner that she is going home.
Mike getting a midday mask is so funny.
Vinny's separation anxiety from best boyfriend Pauly D is really strong.
Ratchet Ronnie dancing is everything.
Catch 'Jersey Shore: Family Vacation Part 2' Thursdays on MTV and catch the recap with Jv Joe every Friday on SoJO1049.com!