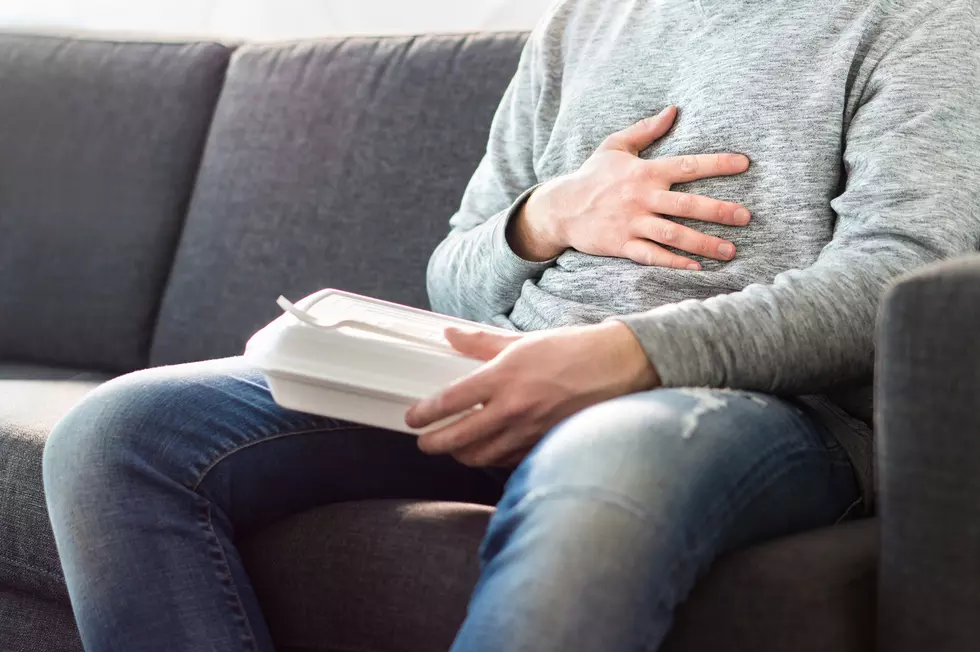 Six Alternative Ways to Treat Heartburn
Tero Vesalainen/Getty Stock/ThinkStock
Did you ever feel like your chest was on fire after eating a big, spicy, and greasy meal? Heartburn, also known as acid reflux is common, but it can be severe in some people leading to difficulty swallowing and other complications. Usually over-the-counter drugs can give us some relief. However, in the wake of the FDA reporting harmful chemicals in some of these medicines, many pharmacies have recalled several heartburn products. Fortunately, there are natural remedies and lifestyle choices can helps us avoid or treat acid reflux. Here are six alternative ways to treat or prevent it.
Nicolas Armer/Getty Stock/ThinkStock

Nicolas Armer/Getty Stock/ThinkStock

1

We may think that consuming three large meals throughout the day can fill us up. Unfortunately,  big portion sizes put pressure on a muscle that keeps acidic contents going up into our esophagus. This can trigger and worsen heartburn while making it difficult for our stomach to digest food.

Consider eating 5-6 smaller sized meals a day to lower your chances of getting acid reflux. Also, avoid consuming food that causes heartburn, such as chocolate, citrus fruit and juices, and high-fat or spicy food. Also, make sure to eat slowly to allow for better digestion.

Urbano Delvalle/Getty Stock/ThinkStock

Urbano Delvalle/Getty Stock/ThinkStock

2

CHEW SUGARLESS GUM AFTER A MEAL

As strange as this sounds, carry a pack of sugar-free gum wherever you go eat. It turns out that chewing sugarless gum for a half-hour after finishing your meal can also reduce acid reflux.

When you're chewing gum, it increases saliva production that can neutralize the acid from your esophagus. Yet, refrain from chewing on peppermint-flavored gum,  as it also triggers heartburn.

Stephen Lovekin/Getty Stock/ThinkStock

Stephen Lovekin/Getty Stock/ThinkStock

3

MIX BAKING SODA WITH WATER

Consider checking your kitchen counter to see if you have baking soda to reduce heartburn. Mixing a teaspoon of baking soda in a glass of water can help clear stomach acid. Once again, be sure to drink it slowly to allow for better digestion.

However, do not surpass seven doses in one day. Also, avoid using this home remedy for more than a week because of its high salt content that can cause side effects such as swelling and nausea.  Speak with your doctor if you're also on a low-sodium diet.

James Martin/Getty Stock/ThinkStock

James Martin/Getty Stock/ThinkStock

4

You may want to loosen your belt or ditch your tight pants. Wearing compact clothing adds force to your stomach by lifting the food that you eat into your esophagus. The acid then burns the tissue, which can give us heartburn. Simply wear loose and comfortable clothes to avoid pressure on your abdomen.

5

Some of us may also experience acid reflux at night or when we're trying to sleep. If that's the case, tilt the head of your bed at an angle that can lift your upper body. However, if you do not have an adjustable bed,  insert a wedge pillow between your mattress and spring box to elevate your upper body.  Do not raise your head and shoulders on regular pillows as it will compress your abdomen.

Sleeping upright keeps your stomach content down. Make sure to eat 3-4 hours before you sleep so that your food is fully digested.

Aquarius83men/Getty Stock/ThinkStock

Aquarius83men/Getty Stock/ThinkStock

6

Smoking cigarettes or using vaporizers contain chemicals that can dry your mouth. Without saliva, this allows more acid to form in your stomach. This can aggravate your esophagus and worsen your heartburn. Just another reason to quit smoking or vaping to improve your health.