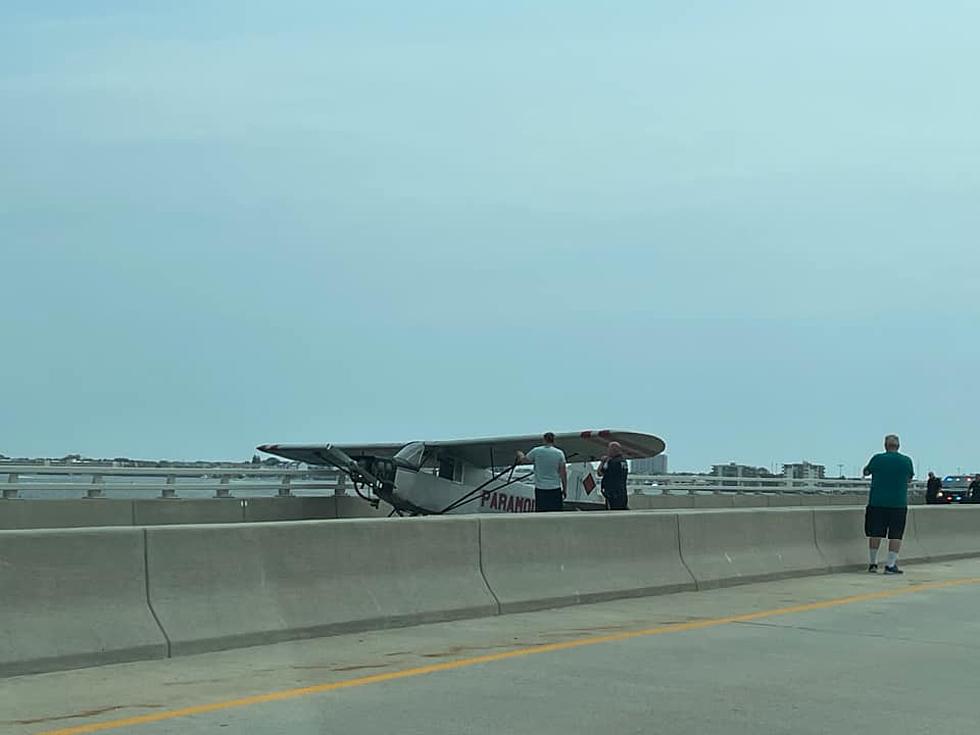 SPOTTED: Small Plane Makes Emergency Landing on Ocean City's 9th Street Bridge
Kelly Jo/Facebook
An airplane landing on the lanes of a busy bridge isn't something you see everyday. Nor should you. But that reportedly happened today in Ocean City.
I began receiving text messages and Facebook alerts a short time ago that a small aircraft was spotted ON the causeway of Ocean City's 9th Street bridge. Nothing like an emergency landing in the middle of a summer beach day at the Jersey shore, huh?
Over on the OCNJ Drone Facebook page, there it was (talk about timing, right?). A white plane with red stripes on its wings hovering between the bridge's right lane and the shoulder. Luckily, this did not occur along the span of the bridge where there's a pedestrian walkway. The situation could have been very bad.
Off Course! Boat Runs Aground on North Wildwood Beach
The plane's pilot, Landon Lucas, 18, was reportedly near Steel Pier in Atlantic City when the aircraft started experiencing engine trouble. He was trying to get to Ocean City's Municipal Airport but ended up on the bridge instead, according to OCNJ Drone/Facebook.
Lucas, who was flying for Paramount Air Service, picked the right time as the causeway's westbound lanes were clear at the time of his emergency landing. It's amazing he was able to troubleshoot the situation and seemingly keep a cool head under such pressure, especially at such a young age. Well done, Landon!
SOURCES: ocnjdrone/Facebook
More from SoJO 104.9
LOOK: What are the odds that these 50 totally random events will happen to you?
Stacker
took the guesswork out of 50 random events to determine just how likely they are to actually happen. They sourced their information from government statistics, scientific articles, and other primary documents. Keep reading to find out why expectant parents shouldn't count on due dates -- and why you should be more worried about dying on your birthday than living to 100 years old.
Most Expensive House For Sale in Atlantic County
Located on Bayshore in Margate, the 8,200+ square foot home is listed at $7.9 million. The home has seven bedrooms, eight baths, and 324 feet of total bay frontage. Outside, it has 2,500 square feet of deck space, a pool, and four boat slips. Property taxes for the home were $49,920 last year.
LOOK: Here are the 10 US golf destinations with the most courses per capita
Discover where you can find the best access in the country for your pick of courses, the unique terrain that lends itself to world-class golf, and what makes select clubs noteworthy.