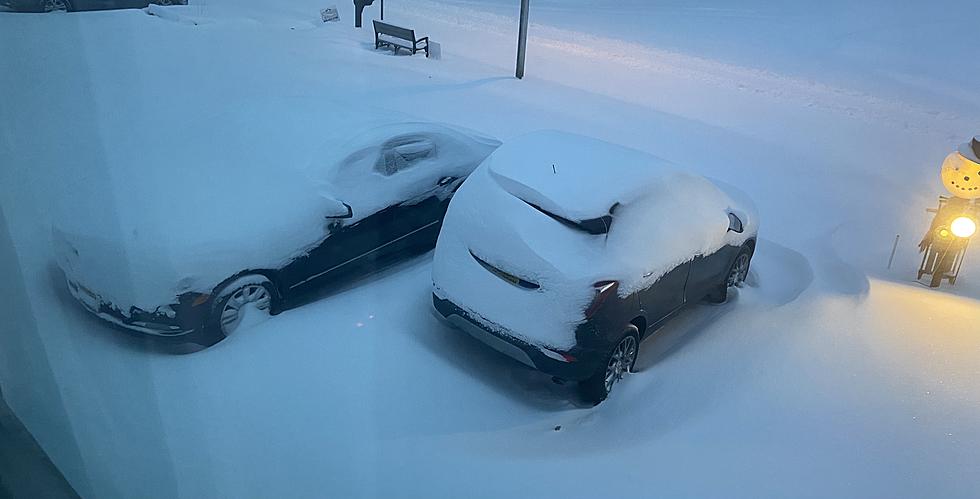 New Jersey: First Look At Snow Event At Sunrise
TSM Harry Hurley
Sunrise was at 7:08 a.m. this morning.
The snow came as advertised. It's still snowing now and the snow is forecasted to continue until 1:00 p.m. to 2:00 p.m. today, depending on your particular location.
At this time, on the mainland in Atlantic County, there is about 6 inches of snow, with at least several hours of more snow to go.
The Metro New Jersey Market forecasts are calling for a total of 9-14 inches of snow, depending on your location.
The Northwest wind has also delivered significant snow drifts.
It is beautiful. Your home and neighborhoods look like a winter wonderland.
It's also majestic to see the snow untouched at sunrise, or, when you wake up and look out of your window and see it for the first time undisturbed.
If you're off during weekend, the timing of this event couldn't have been more perfect. The snow's arrival waited until after your Friday workday and the roadways will be fine by the time you have to go back to work this Monday.
Here is a link to an article that we wrote yesterday, it will still provide you with some good information to consider for today and tomorrow.

Read More: NJ: Snow Is Coming - No Need To Panic -Do These Things To Prepare.
Here is exactly what it looked like from our front window at 7:08 a.m. this morning.
The below is a real time photo (7:00 a.m hour) from Kristin Hurley Baker. It perfectly illustrates the earlier point we made about the huge factor that the steady, heavy winds played during this snow event.
You can see the high drift of snow and the deck still clear.
The Atlantic City Electric grid has been holding strong. Keeping electrical power during a major snow event such as this is so important.
Please remember the preparation and safety tips that we provided yesterday (a link to this article is above) If you are elderly or dealing with health issues … please do not attempt to shovel the massive amount of snow which has fallen.
Please be safe and enjoy your snow weekend.
Take A Look At How South Jersey Is Enjoying Their EPIC Snow Days!
It's rare that South Jersey gets dumped with snowfall of this magnitude. Everyone's making sure they take FULL ADVANTAGE of all the fun!
15 Junk Food Snacks SJ Keeps Stocked for a Snowstorm
Sure, there are the necessary provisions: bread, eggs, and milk. Before a snowstorms those shelves are always empty. But, when South Jersey gets snowed in, snacks are a MUST. Here's what you want, what you really, really want.