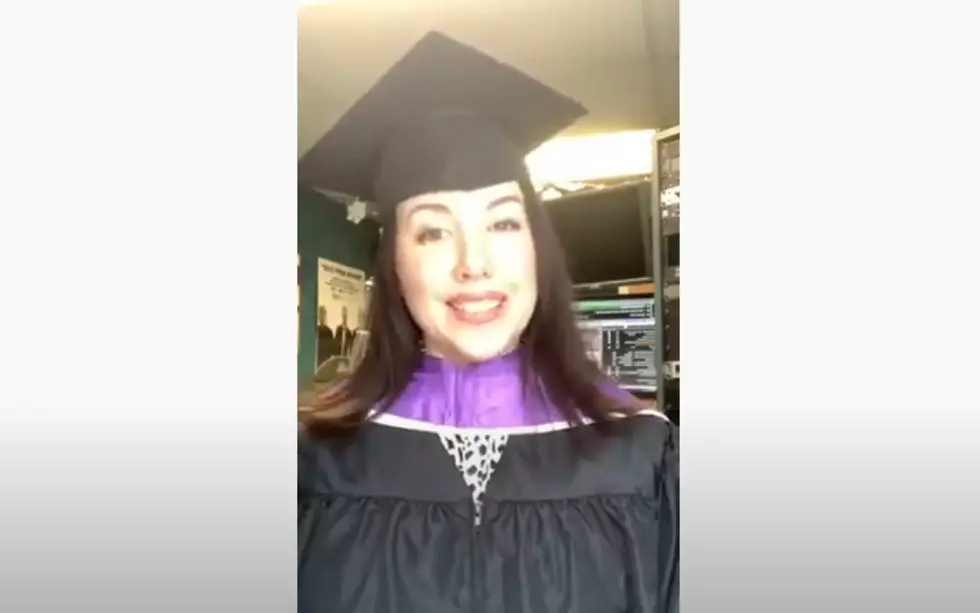 ICYMI: My Virtual Commencement Address to the Class of 2020 [VIDEO]
SoJO 104.9/YouTube
I don't know everything there is to know in life, but I know some things. And, I wanted to make sure I gave this year's graduates a bit of wisdom and appreciation for all they've been through.
Enter your number to get our free mobile app
Before the announcement came that schools in New Jersey would be permitted to hold outdoor commencement ceremonies this summer, I had written my own version of a commencement address to the Class of 2020 to read over Facebook Live. So, this past Friday, I followed through with my plan anyway, cap and gown, and all.
You can watch my virtual commencement below, but, in case you missed any of it when it aired live on the SoJO Facebook Fan Page, here's what I wrote:
Hello, I'm Heather DeLuca, I'm not a Class of 2020 graduate, but I play one on TV. To all the students out there from Pre-K to grad school, I just wanted to say congratulations on your achievement.

 

 

What a school year this has been. Interrupted and unpredictable. Finishing classes at home. Finding creative ways to connect with friends. 2020 has been playing out in a way no one could have fathomed.

 

Zoom parties, missed proms, uncertain graduation circumstances up until this week. You high school seniors, especially, have come of age like no others amid this pandemic. You'll be tied together for life in a different way than any of your predecessors. But you rose above it. And your moment in the sun is coming.

 

My colleague Robin Stoloff recently posted to her Instragram, 'One day you'll tell the story of how you overcame what you went through, and it will be someone else's survival guide.'

 

But, before you look forward, look back at all you've accomplished up until now. At the memories made, at the knowledge you've gained. At how far you've come, growing, learning, evolving, every step of the way. Some say it's not healthy to relive the past. But I think hindsight is a beautiful thing. And I'm so excited for your future and what's yet to come. While you won't know for sure all of what that entails, the future can be a thrilling ride I hope you all embrace.

 

Moving forward from high school to college, or from college into the workforce, I encourage you to remain inquisitive. Read, a lot. Go back to some of the books you felt 'forced' to read and read them again. I guarantee you'll find renewed interest and meaning. Start your day curious about what's going on in the world. Make that a muscle you exercise every day. Prepare your mind for the challenges of tomorrow. And when the time comes, you'll be ready.

 

However, opportunity may not always present itself. You may have to go looking for it. Don't wait for it to come to you. I didn't. I created my own opportunities where I could, I made sure to put myself out there, on no one else's timeline but my own. Because I truly believe persistence pays off. My impatience when it came to establishing my career was an asset. Because if you bang on enough doors, one is bound to open.

 

 

Having said that, always trust your gut. Have faith in yourself. Hard work is required, but so worthwhile when you set your sights on the horizon. Let no one tell you your vision of 'high' is too high. It's not their journey. It's yours. Never let anyone take that away from you. 'Haters gonna hate', and that's just a fact of life.

 

 

There's no harm in experimenting and stepping out of your comfort zone. But an important skill to hone is knowing when something isn't right for you. You're going to find yourself with internships that feel uninspired at times, in startup jobs that just miss the mark of where you hoped to be, but got you a foot in the door. I encourage you to dig in and do the work. American author Marianne Williamson once wrote, 'If the train doesn't stop at your station, it's not your train.' While paying your dues will pave the way toward your ultimate goal, when a job you hoped to land doesn't come through -- stay the course. Because maybe that job wasn't right for you. Your time will come.

 

And when that time comes, take ownership of your accomplishments. You got yourself HERE. Yes, with the guidance and belief of your parents, teachers, fellow classmates, and friends. But this is YOUR moment. YOU got yourself here, however bumpy the road may have been. Yes, even in a global pandemic. YOU did this. Take accountability for your achievements and your mistakes, but remember to give yourself some credit once in a while, while staying humble enough to give credit to others where credit is due. I promise if you lift others up, the way those who believed in you did you for YOU, you'll feel so fulfilled.

 

 

No, not everything will be rainbows and sunshine. What you've faced as the Class of 2020 has proven that life can change in an instant. More challenges will arise. You'll struggle. You'll be overwhelmed, conflicted even.

 

 

But Billionairz on Twitter writes, 'when you have overwhelming problems stressing you out, just focus on what YOU can do about it, and allow yourself not to beat yourself up about it any further. Define what you can do about it realistically and commit to that. And when the stress comes back, remind yourself 'I already know I have to do X/Y/Z', and outside of that it's just out of your hands'.

 

 

Your weapon against the world, and avoiding becoming your own worst enemy, is to always having a plan -- and a backup plan. When you do, and learn to have some forethought, and compassion for others, you'll always be prepared.

 

Now, you step forward, with the world watching. The world is with you because no one wanted to see you deprived of the recognition you worked so hard to receive. Own it.

 

 

And if you're moving from Pre-K to kindergarten, share your toys. In middle school and high school, stick up for people, let them sit with you at lunch. It's okay, I promise.

 

 

All along the way, look people in the eye. Really see them so they can see YOU. Speak up and out when you see injustice. It's such an uncertain time right now, but your generation can set the precedent for peace and tolerance. You can make the world a better place, and I believe you will. No pressure though, lol.

 

To the class of 2020, I salute you. And send my deepest wishes for an amazing life. One that sees you happy and fulfilled.

 

You made it!

 
Celebrity Kids Who Look Exactly Like Their Famous Parents