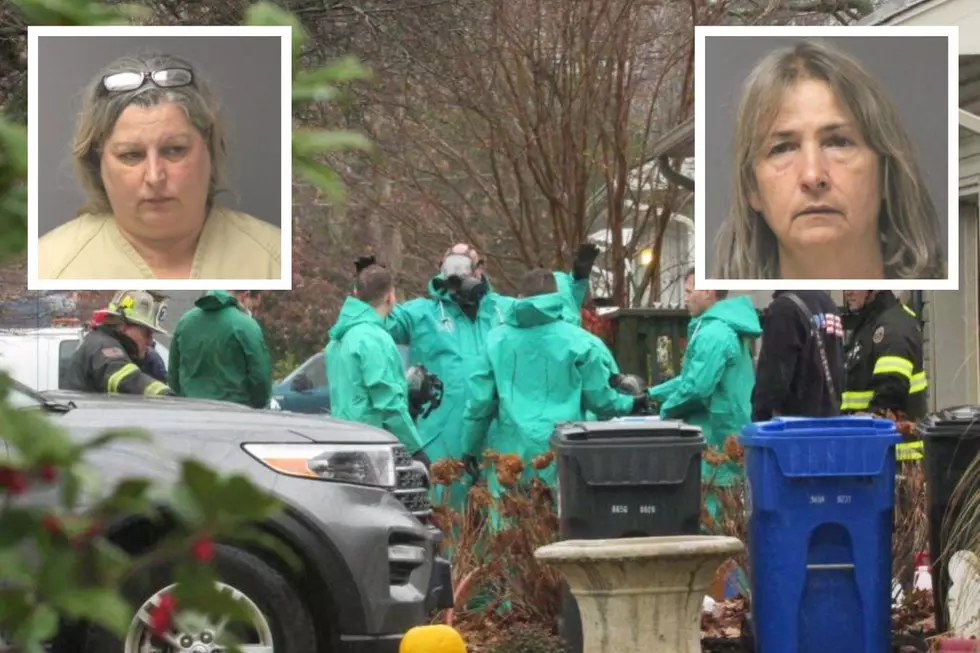 Brick, NJ women who run 'Crazy Ladies Sanctuary' turn down plea deal
Animal rescue workers in hazmat suits at a house in Brick with 180 animals inside 12/3/22 (OCSN), Aimee Lonczak, Michele Nycz (Ocean County Jail)
🔴 Aimee Lonczak and Michele Nycz turned down a plea deal for a year in prison
🔴 If they go to trial and are found guilty, they face 10 years in prison
🔴 All of the 180 dogs found in the Brick house have been adopted
---
BRICK — The two women found with 180 dogs and cats living in filth at their home rejected a plea deal from the Ocean County Prosecutor's Office.
The deal as reported by the Asbury Park Press and News 12 New Jersey would sentence Aimee Lonczak and Michele Nyczbe to 364 days in the Ocean County jail and to community service in exchange for guilty pleas on two counts of animal cruelty and child neglect.
Instead, the woman who ran what they called the "Crazy Ladies Sanctuary" will take their chances on whether or not a grand jury decides to indict them. If the case then goes to trial and a jury finds them guilty, they could be sentenced up to 10 years in prison.
Glenn Kassman, the attorney representing Lonczak, confirmed that both women rejected the plea deal. He did not disclose a reason why.
Police and animal rescue workers wearing hazmat suits removed the animals from the home on Dec. 3 and took them to the Ocean County Animal Shelter where the animals were examined and put up for adoption.
Lonczak's 16-year-old daughter also lived at the house and was removed from the home by New Jersey's Child Protection and Permanency
Two reunions
One potential issue that could come up during a trial is where the dogs came from.  Ocean County Assistant Prosecutor Alexander Becker said during the Lonczak and Nycz's detention hearing on Dec. 9 that he has received calls from Florida, Georgia and North Carolina about animals that came from their respective states to the home in Brick.
A New Jersey family was reunited with a collie named Rocky who was rescued from the house.
A family from Tennessee drove 11 nonstop hours to reunite with their bloodhound named Daisy after hearing about the house.
"When they found out that Daisy was up here in New Jersey they were completely surprised. They don't know how the pet made that journey all the way up here. But it did and after getting in touch with them and showing proof of ownership through rabies, vaccine records and licensing and vet records we were able to make that reclaim happen and reunite Daisy with their with their family," Ocean County Public Health Co-ordinator Brian Lippai told New Jersey 101.5.
Dan Alexander is a reporter for New Jersey 101.5. You can reach him at dan.alexander@townsquaremedia.com
Click here to contact an editor about feedback or a correction for this story.
LOOK: Here are the states where you are most likely to hit an animal
Hitting an animal while driving is a frightening experience, and this list ranks all 50 states in order of the likelihood of such incidents happening, in addition to providing tips on how to avoid them.
Play ball NJ: These MLB pros are from New Jersey
A fair amount of New Jersey born baseball players have made it to the majors. These pros, active to start the 2023 season, all have NJ roots.
Up or down? Average property tax changes in NJ in 2022
Below are the average property tax bills for every municipality in New Jersey last year.
The towns are listed from the biggest cut in the average bill to the highest increase. On the county maps, the deeper red color means a higher increase above 2% whereas the darker green signifies a smaller increase or a reduction.
Each listing also shows how the average tax bill is split among the county, school and municipal governments.