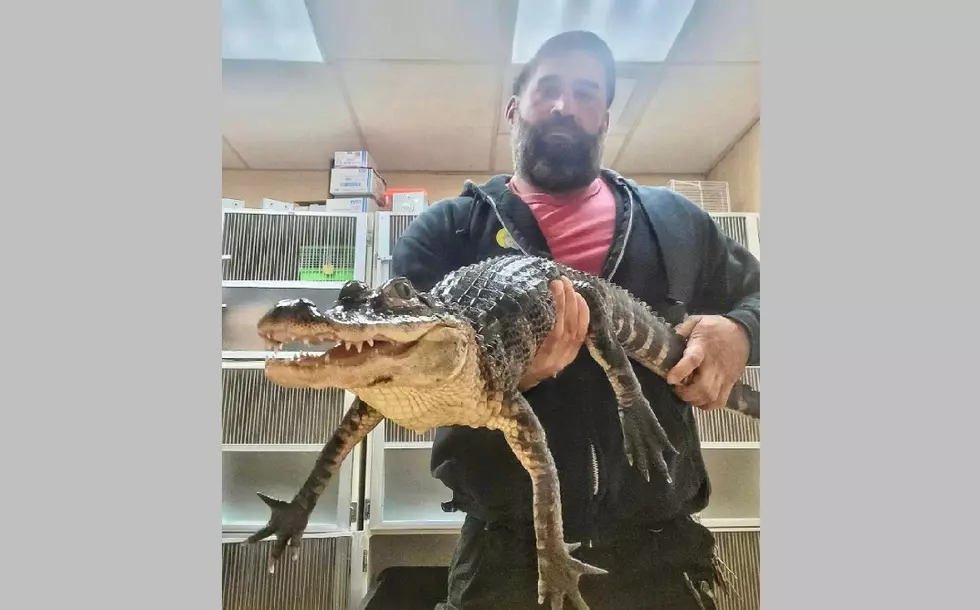 Alligator Dumped in North Jersey Finds a Home at Cape May Zoo
Monmouth County SPCA/Facebook
An alligator found in a plastic container dumped in an empty lot in Neptune Township on Sunday is headed for a safe and warm home in South Jersey at the Cape May Zoo.
The 3-foot-long gator, thought to be a juvenile based on his length, was found by a neighbor described as a good Samaritan who found the container next to his home and called the Monmouth County SPCA. They brought the alligator to their shelter and put him in a climate-controlled tank more favorable to the temperature an alligator prefers.
Alligators are cold-blooded, meaning their body temperatures aren't self-regulating and consistent like a human's. Their body temperatures fluctuate up and down with the environment, and when they become too cold, they can slip into a dormant state.
A cold January night outside in New Jersey would certainly not be to a gator's liking, or conducive to his survival.
As the Facebook post from the Monmouth Couty SPCA pointed out on Monday, it's also against New Jersey law to keep an alligator.
"It is illegal for New Jersey residents to keep alligators or caimans, which are considered potentially dangerous exotic species. Not only is it a danger to the public, but these animals, when kept in captivity, need very specific care that only professionals can provide."
By Tuesday afternoon, there was a happier tone to the follow-up post from the Monmouth Co. SPCA.
Update: Happy to report that this little cold-blooded cutie was picked up and will be heading over to Cape May Zoo thank you to everyone who helped make this happen!
The Cape May County Zoo has a surprisingly large reptile collection, including at least one alligator I am aware of, named Ike. I'm sure Neptune the gator(not his official name, just a suggestion) will be very happy at the Cape May Zoo.
Comparing the Most & Least Expensive Homes For Sale in Cape May
Cold Cases: South Jersey's Unsolved Murders & Mysteries