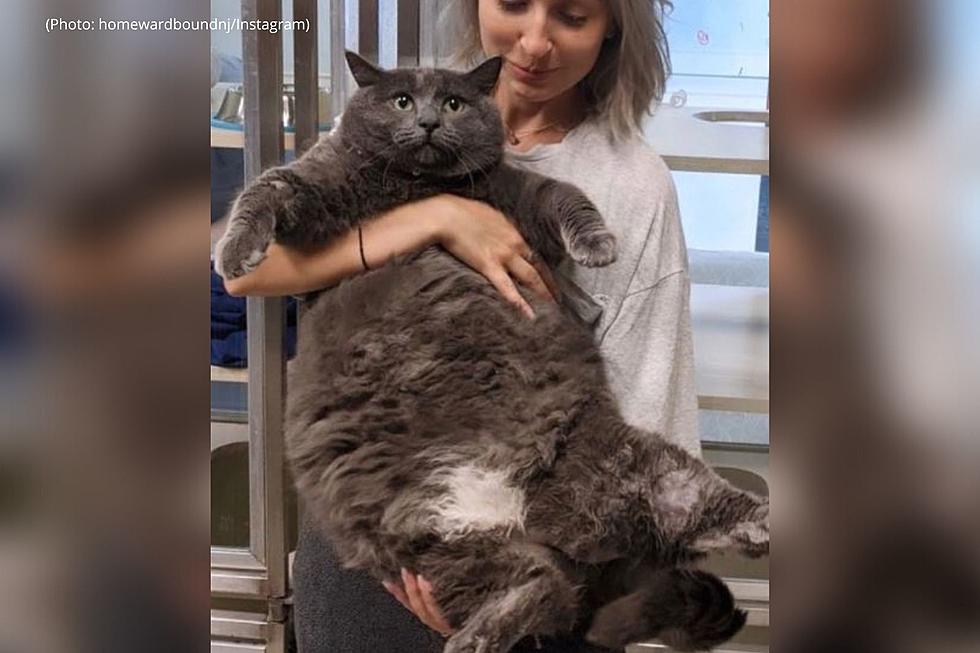 29 Lb. Cat Named St. Bubbles is Up for Adoption in Blackwood, NJ
Homeward Bound Pet Adoption Center at homewardboundnj/Instagram
A 29 pound cat was recently surrendered to a pet adoption center in Blackwood, Camden County and is in need of a new loving home...if you've got the room.

St. Bubbles is on the larger side. I would gather a veterinarian would call this big guy obese. I once had a 22 lb. cat and he was definitely on that scale.
According to Homeward Bound Pet Adoption Center, 2-year-old St. Bubbles, all 29.4 pounds of him, was given up because his family is going through a tough time. Homeward Bound says the fat feline barely fits in their kennels and is really desperate to meet his new fur-ever family.
But word to the wise: If St. Bubbles is a cat that like to share your bed, you may need to upgrade that, too, lol.
Incidentally, remember an even bigger cat from the same area of South Jersey a couple years back named Princess Chunk?
No judgment here, but how did THIS cat that's so young get so big? His former family must have loved him a lot and overfed him. I wish I could take him! I would smoosh and love on him all day long.
If you're able to offer St. Bubbles a new home, contact Homeward Bound Pet Adoption Center (formerly Camden County Animal Shelter) at (856) 401-1300.
Homeward Bound is a non-profit organization whose mission it is 'to end companion animal homelessness in Camden County through community awareness and responsible ownership.' They're located at 125 County House Rd, Blackwood, NJ, and online at homewardboundnj.org.
South Jersey's Most Adorable Pets That Will Melt Your Heart
South Jersey's most adorable and cutest pets submitted to us by listeners
LOOK: 30 fascinating facts about sleep in the animal kingdom
Most popular dog breeds that are good for families