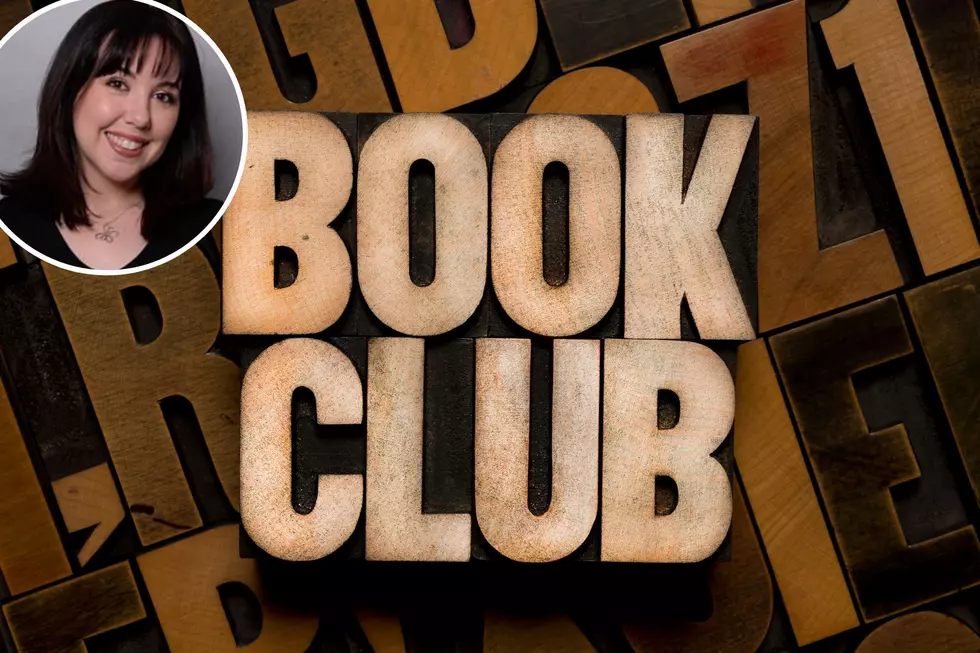 Hooked on White Lotus? Dive Into Heather's Next Virtual Book Club Selection!
Canva
We could all stand to read more, and it's nice to get suggestions on what to read next. Here's my next selection for my virtual book club so you can read along, too!
I've been in a book club with a dozen other women for about 15 years. This year, I thought, why don't YOU read along with US?!
If you're overwhelmed by the selection of books you see in stores but are committed to reading more, follow along with my book club. We read between 10-12 titles a year, selecting a new book about every 4-6 weeks.
My first selection for 2023 was the New York Times Best Seller Lessons in Chemistry by Bonnie Garmus. It follows Elizabeth Zott, and mid-century scientist struggling to be accepted in a field dominated by men. But after her life takes an unexpected turn, she ends up with an opportunity to apply her scientific knowledge to cooking and ends up becoming famous!
Lessons in Chemistry got one of my book club's highest ratings in recent years. Pretty much a perfect score. Personally, I adored it. I was riveted and entertained and learned so much! I can't wait to see the TV series based on the book that's set to star Brie Olsen.
Below is the next title in our series.
Heather's Book Club Selection: Feb/March 2023: The Villa by Rachel Hawkins
This one was actually my choice, since it was my turn to pick. I've been lucky enough to visit the Amalfi Coast. And having just binged Season 2 of The White Lotus on HBO, my brain is still stuck on the beaches of Italy. That's where The Villa takes place. I hope this one interests you!
'As kids, Emily and Chess were inseparable. But by their 30s, their bond has been strained by the demands of their adult lives. So, when Chess suggests a girls trip to Italy, Emily jumps at the chance to reconnect with her best friend.
Villa Aestas in Orvieto is a high-end holiday home now, but in 1974, it was known as Villa Rosato, and rented for the summer by a notorious rock star, Noel Gordon. In an attempt to reignite his creative spark, Noel invites up-and-coming musician, Pierce Sheldon to join him, as well as Pierce's girlfriend, Mari, and her stepsister, Lara. But he also sets in motion a chain of events that leads to Mari writing one of the greatest horror novels of all time, Lara composing a platinum album––and ends in Pierce's brutal murder.
As Emily digs into the villa's complicated history, she begins to think there might be more to the story of that fateful summer in 1974. That perhaps Pierce's murder wasn't just a tale of sex, drugs, and rock & roll gone wrong, but that something more sinister might have occurred––and that there might be clues hidden in the now-iconic works that Mari and Lara left behind.
Yet the closer that Emily gets to the truth, the more tension she feels developing between her and Chess. As secrets from the past come to light, equally dangerous betrayals from the present also emerge––and it begins to look like the villa will claim another victim before the summer ends.
Inspired by Fleetwood Mac, the Manson murders, and the infamous summer Percy and Mary Shelley spent with Lord Byron at a Lake Geneva castle––the birthplace of Frankenstein––The Villa welcomes you into its deadly legacy.'
Read with me and we'll reconnect in about a month to review and you can give me your opinion on the book we just read. I'd even love to have your suggestions for the NEXT read.
The 10 Worst Romantic Comedy Clichés Of All Time
Here are the most annoying tropes we're tired of seeing in rom-coms.
From coast to coast: The 20 best regional fast-food chains to try
From burgers to subs and even creamy milkshakes, these tasty fast-food chains, compiled by
Stacker
, are a must-try on your next road trip.