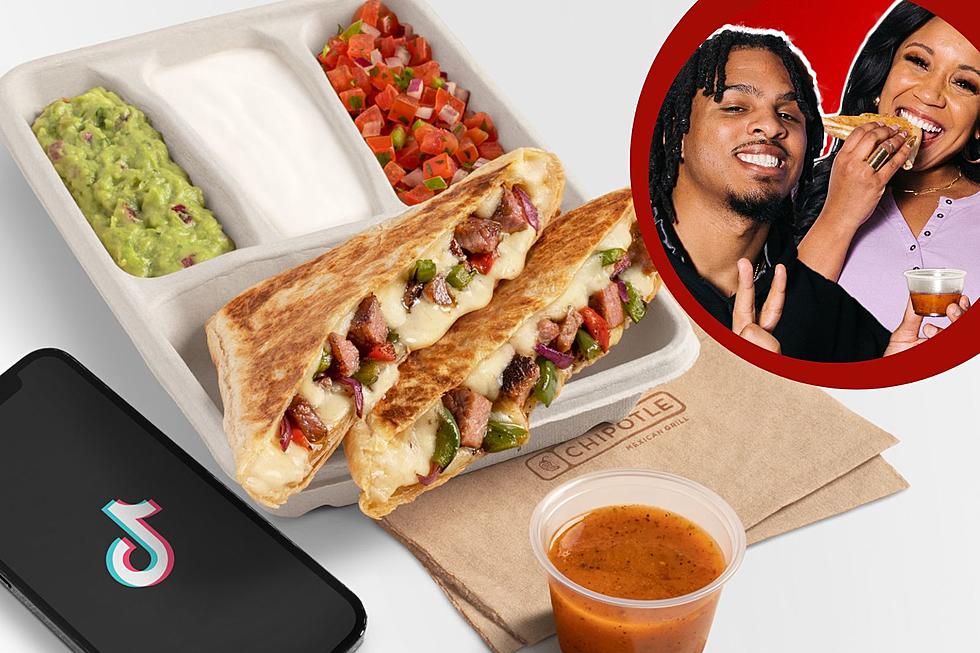 Viral TikTok Menu Item Headed To NJ Chipotle Locations This Week
BCW-Global/Chipotle/TikTok/Canva
Another menu item addition all thanks to the wonderful world of social media. This time around, you have TikTok to thank for this one.
How many times have you been scrolling through TikTok and have found yourself inspired by one of the amazing viral fast-food hacks someone's discovered and decided to try it out for yourself? This time, thousands of people tried out the fajita veggie quesadilla hack that was first brought to light by TikTok user Alexis Frost.
If you haven't yet heard of it, let me give you the skinny.
So, Alexis Frost got TikTok famous by recording her reactions to foods that employees from various restaurants recommended that she try. A Chipotle employee apparently gave her the recommendation that included a steak quesadilla with fajita veggies and a few other fixings to top it off. Well, it was apparently delicious and the video wound up going viral on the app. It racked up over 160k likes and over 500 comments.
All of a sudden, people all over the app were trying this recommendation. Chipotle has since taken notice and is now adding the option to the menu officially. You can now add meat to any of the fajita veggie quesadillas beginning on March 2nd here in the New Jersey and Philadelphia regions.
You won't be able to access it in-store, though. This menu item will only be offered on the Chipotle app and for digital orders. If you're a Chipotle rewards member, then you've likely placed a mobile order before. You'll be all set to order your fajita veggie quesadilla come Thursday, March 2nd.
Source: Newsroom.Chipotle.com
21 of the Best Places to Get a Hoagie (or Sub) in South Jersey (Besides Wawa)
From one side of South Jersey to the other, these are some of the best places to grab a hoagie... enjoy!
10 Go-to Restaurants in South Jersey that Shoobies Love the Most
Let's take a quick look at a handful of restaurants down the shore that will almost always have a car with Pennsylvania license plates in front of during the summer.
23 Places in South Jersey to Get a Damn Good Cup of Coffee
From one side of South Jersey to the other, here are nearly two dozen places where you can get a really good cup of coffee.