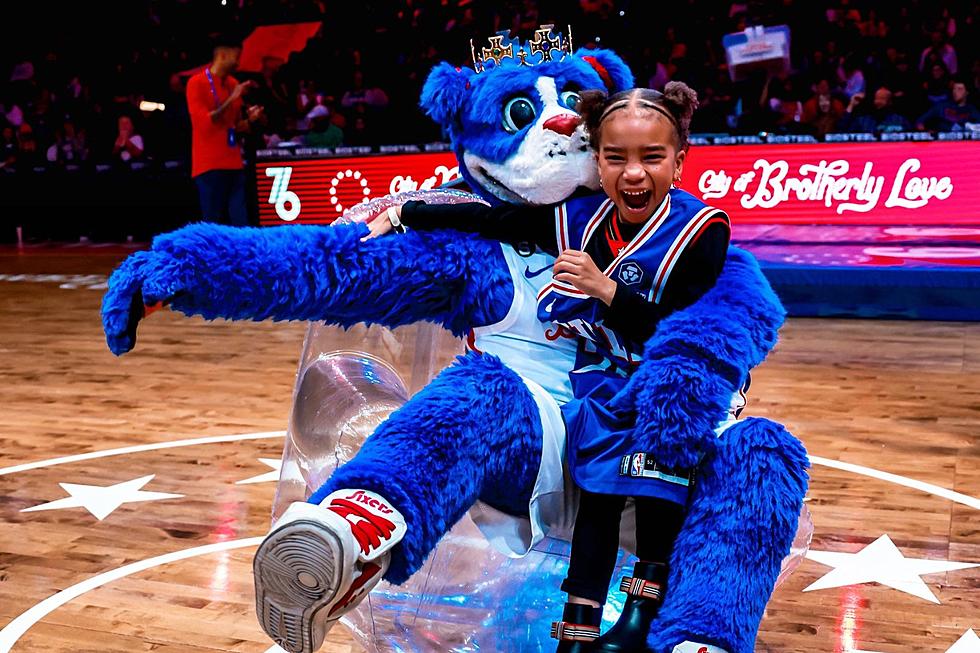 Philadelphia 76ers Might Want to Rethink Their Team Mascot
Franklin the Dog/Twitter
77 percent of NBA fans reportedly feel team mascots add to the experience of a basketball game, but it also sounds like Philadelphia could use some help in that area, according to a new survey.

Gonna be honest. I love my Sixers, but I miss the team's old mascot, Hip Hop. Hip Hop was a rabbit, yes, so that has little to do with Philly, but he was feisty, fun, had attitude, and serious acrobatic skills.
The 76ers recent mascot, Franklin the Dog, doesn't excite me as much. Yeah, he's big and blue and he's got pretty awesome sneakers, but I don't get into his appearances at games like I did when Hip Hop took the court. Franklin's not as odd looking at the Flyers' Gritty, but he's a close second.
Evidently, I'm not alone in my feelings. The website NJ.bet did a study during the 2022 NBA season to find out who amongst the mascots reigns supreme.
Methodology:
NJ.bet surveyed 900 NBA fans nationwide to get their thoughts on the league mascots. With each mascot achieving a possible score out of 5, NJ.bet determined the best mascot to be Grizz of the Memphis Grizzlies!
And while, out of 28 teams, Philly's Franklin the Dog didn't rank LAST on the list (that honor goes to Mavs Man of the Dallas Mavericks), he wasn't near the top.
Franklin the Dog is the 16th best mascot in the NBA, according to NJ.bet, with a score of 3.12. And, he's not considered the most or least intimidating mascot in the league, he's just NOT considered.
I bet if the Sixers still had Hip Hop, he'd be near the top of the most intimidating mascot list, AND rank better than 16th best mascot overall.
Do you want to see the Philadelphia 76ers bring back Hip Hop as their mascot? Let me know in our app.
Golden Nugget Atlantic City Incredible Never Before Seen Photos
From blueprints to a finished casino, see the never before seen photos of the Golden Nugget Casino in Atlantic City, NJ
Best Steakhouses In New Jersey