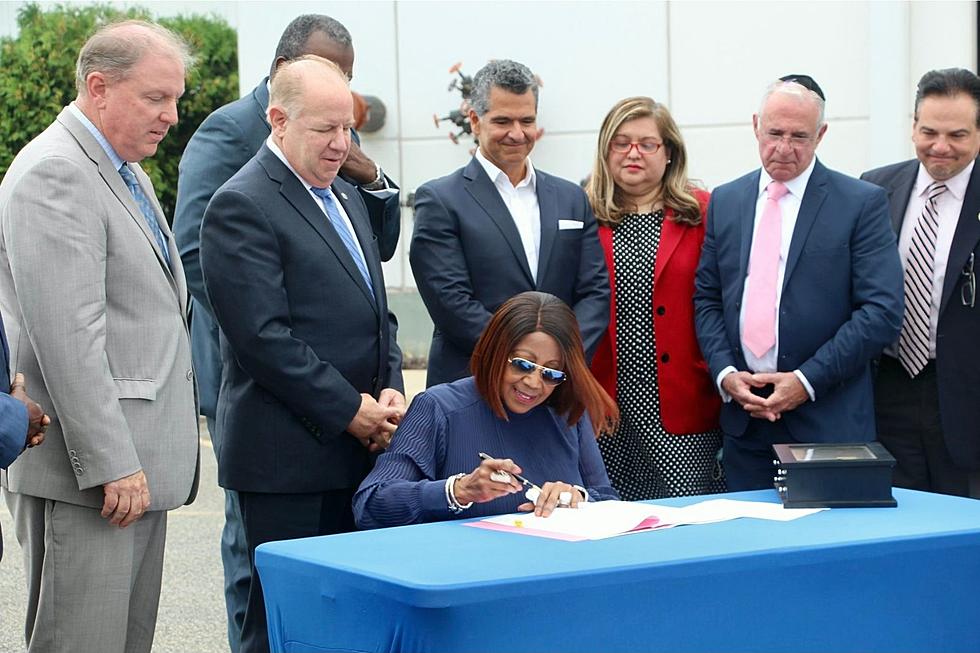 New Jersey Lieutenant Governor Sheila Oliver Has Died
Lt. Gov. Sheila Oliver, as acting governor, signs law revamping the Urban Enterprise Zone program. (@MayorBollwage
/Twitter)
New Jersey Lieutenant Governor Shelia Oliver was a real trailblazer, becoming the first African-American to serve as Speaker of the New Jersey General Assembly and the first African-American to serve as Lieutenant Governor of New Jersey.
Oliver passed away today at age 71.
I was previously advised that Lieutenant Governor Oliver was taken to the hospital.
ABC 7 was the first to report the news of Oliver's death.
Oliver's family has released the following statement:
"It is with incredible sadness and a heavy heart that we announce the passing of the Honorable Sheila Y. Oliver, Lieutenant Governor of the State of New Jersey. She was not only a distinguished public servant but also our cherished daughter, sister, aunt, friend, and hero. As we come to terms with this profound loss, we kindly request that you respect the privacy of the Oliver family during this difficult time as they grieve their beloved Sheila. Sheila Y. Oliver leaves behind a legacy of dedication, service, and inspiration. We will remember her commitment to the people of New Jersey and her tireless efforts to uplift the community. Further information and details regarding memorial arrangements will be provided in due course. Until then, we appreciate your understanding and support. May her memory be a source of comfort and strength to all who knew her."
We have just talked with New Jersey Senator Vince Polistina, R-2, who offered his deepest condolences, saying:
"I'm saddened to hear of Lieutenant Governor Oliver's passing. I had an opportunity to serve with her in the Assembly and in her capacity as the LG. I thoroughly enjoyed our work together and dialogue regarding Atlantic City and the County," said Polistina.
"The state has lost a passionate advocate for the things she believed in and a public servant who strived to make people's lives better. My thoughts and prayers are with her family," said Polistina.
New Jersey Governor Phil Murphy shared the following:
"When I selected her to be my running mate in 2017, Lieutenant Governor Oliver was already a trailblazer in every sense of the word. She had already made history as the first Black woman to serve as Speaker of the General Assembly, and just the second Black woman in the nation's history to lead a house of a state legislature. I knew then that her decades of public service made her the ideal partner for me to lead the State of New Jersey. It was the best decision I ever made," said Murphy.
SOURCES: ABC 7, Mahen Gunaratna - Spokesman for New Jersey Governor Phil Murphy & New Jersey State Senator Vince Polistina.
Atlantic City's Firsts Throughout History
carbongallery id="61aa59067d62e676c43a1902"]