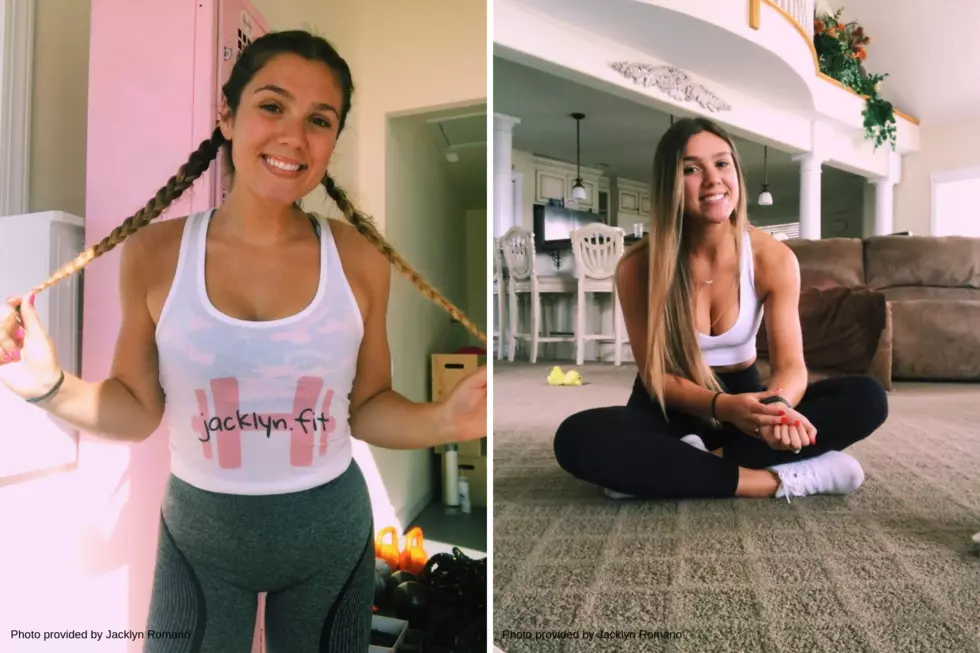 Meet Jacklyn Romano, Winner of Our Favorite Personal Trainer in South Jersey Contest!
Photos courtesy of Jacklyn Romano
After more than 200 nominations and over 5,600 votes across our Top 10 finalists, we have our winner for the first ever SoJO 104.9 Favorite Personal Trainer in South Jersey contest! Meet Jacklyn Romano!
Jacklyn runs jacklyn.fit out of Sea Isle City. Here are just a few of the words of praise we received from her devotees over the course of the nomination process:
'Her Booty Bands class has me sore for days!!!!!! I love that class because its fun, but very difficult! Big booty gang!'
'I love her. She loves what she does and makes exercising fun.'
'Last summer my girlfriend and I came late to one of Jacklyn's classes. She was sweet enough to give us our own personal class!!!! This was something no teacher would take the time to do. I appreciated that more than anything. So kind and caring for her clients, powerful class.'
'Best Personal Trainer in South Jersey for sure! Her workout programs come with her as your own personal trainer and coach! She was there for me any time I needed her. My results had friends and family asking me for her number!'
'Amazing trainer and motivator!! She walks you through every aspect of her program, even the part thats in your head... hahah... shes been on the journey herself and I love that she gives me all the tools and motivation to keep going , even on the days I don't want to! She takes the journey right next to you,every step of the way. She answers all my crazy and weird questions and always makes time for me. She is an incredible trainer and person!'
It's clear Jacklyn Romano is committed to making her clients as healthy and fit as she can. We wanted to get to know Jacklyn a little better, so here's a short Q&A with the trainer that we've personally found incredibly inspirational:
SoJO: When did you become passionate about fitness?
JR: 'I started to become passionate about fitness in high school. I was always involved in sports but began working out with a friend, and found myself in love with this feeling of pushing my mind, and body to the extreme. Once I discovered my passion for fitness, I stopped playing all sports and focused on what made me feel my best everyday.'
SoJO: When did you decide to make fitness a career?
JR: 'I began turning fitness into my career after graduating from Ocean City High School in 2016. My first year of college I felt inspired to share my workouts and story with others online. That is when I first created Jacklyn.fit. At first, it was just a page where I shared some workouts, but after time, I had followers asking for workout plans. Once I knew I wanted to help people feel as good as I did everyday from fitness, I decided to get my Personal Trainer Certificate and make Jacklyn.fit an LLC. After a few months of online training clients, I decided to create my own Bootcamp for women and men of all ages. Last Summer, I held many different types of classes 6 days a week at an outdoor location in Sea Isle City. The Jacklyn.fit Bootcamps were fun, motivating, and a way to get outdoors, get a good sweat, and meet new people in the local area who enjoy fitness as well. During the Winter Months, I am holding online Challenges for women and men across the country, including a few clients from Puerto Rico!'
SoJO: When did you begin training clients?
JR: 'I began training clients in October 2017, after receiving my certification. I was a full time student, taking 6 courses, training hundreds on people online, planning to open my own business, and trying to graduate in only 3 years. This year in 2019, I am still a student, in my last semester as a year-early graduate, training online, training clients in person, and had completed one Summer Season as a successful business owner.'
SoJO: What motivates you to stay fit?
JR: 'There are many things that keep me motivated to stay fit. I always tell others that going to the gym isn't just for me to look my best. Going to the gym is more for my mind. It is a form of therapy, a place where I can clear my mind. I feel my absolute best when I can crush a workout and that is what keeps me motivated to go back day in and day out. Another motivating factor is others telling me "You can't do that". People told me I was too young to run my own business at the age of 20 years old. I was able to prove them wrong and they're words only motivated me more. I am motivated by my clients, friends, and family to never give up. I am excited to have another Summer Season of Jacklyn.fit Bootcamps right around the corner!'
Hey, Jacklyn! You might just see some of the SoJO team showing up this summer for a serious butt-kicking!
For being voted South Jersey's Favorite Personal Trainer, Jacklyn wins a pair of tickets to see Justin Timberlake live in Philly in April, and a pair of tickets for the Queen + Adam Lambert show in Philly in August!