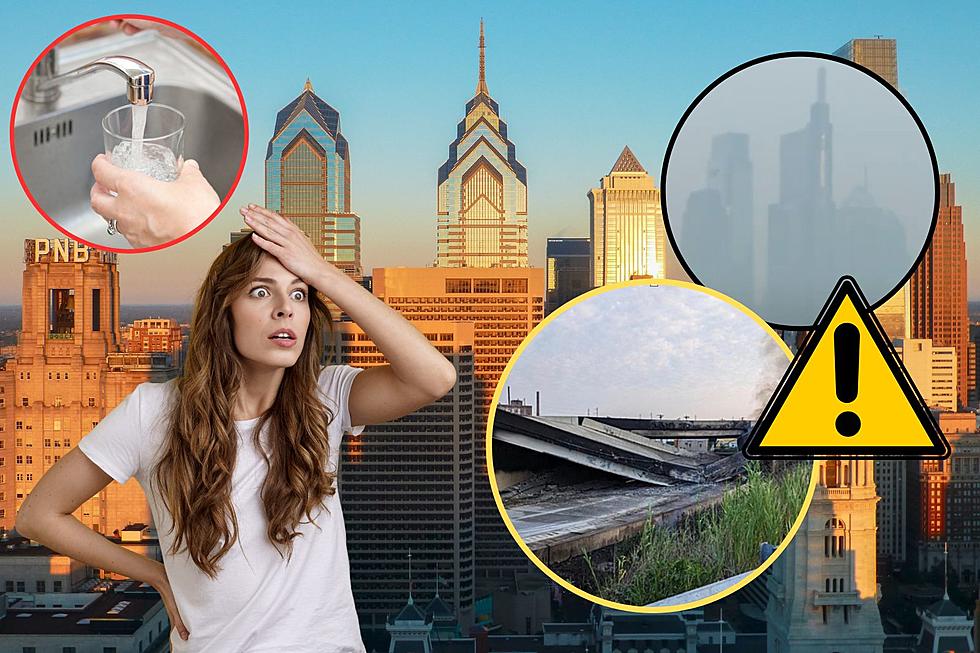 Bad Things Happen in Philadelphia: Here's Everything That's Gone Wrong in Philly So Far in 2023
Credit: Nick Fewings on Unsplash, Philadelphia OEM, YouTube @6abc Philadelphia 6abc Philadelphia, Getty Images
It's not always sunny in Philadelphia.
In fact, a lot's gone so far in 2023! I don't mean to be a pessimist here, but... jeez, can Philadelphia catch a break this year??
Now it's 2023's halftime, and things don't seem to be going exactly without a hitch in Philadelphia. From Philly sports, to dangerous weather, to city-wide warnings, and more shenanigans coming out of left field, this year has been kind of nuts so far. We need to speak to a manager!
Let's take a breath. And assess. Here's what gone wrong in Philly so far this year.
Philadelphia Eagles Lose the Super Bowl LVII
After the Phillies lost the World Series in November, Philadelphia was eager, even confident that the Eagles would pull out a W in Super Bowl LVII. Alas, it was a close, devastating loss against the Kansas City Chiefs in February. After a whole season riding high, the Birds lost Super Bowl LVII in a hard-fought 38-35 game. At least we got to see Rihanna.
The Philadelphia Water Crisis
I almost forgot this happened! For a few days in March, Philadelphia residents were warned against drinking and using the Philly tap water after a chemical spill occurred in Bristol, PA. Philadelphians were flocking to the grocery stores buying stacks of water bottle packs in a way that was reminiscent of 2020.
The April Tornadoes
On April 1, Mother Nature played a little April Fool's trick of her own in the Philadelphia/New Jersey regions. What started as a beautiful sunny day with clear skies turned into mayhem by sundown. An intense storm blew through, forcing us into a tornado watch. Several properties were damaged by the strong winds and tornadoes that touched down. Tornados in the Northeast... who'da thunk?
The 76ers Eliminated from NBA Playoffs
Another Philly sports loss. The Phildelphia 76ers were eliminated from the NBA Playoffs in a crushing loss against the Boston Celtics, 114-104. Days later, former head coach Doc Rivers was fired.
Smoky Air from Canadian Wildfires
A code red air quality alert was issued to Philadelphia and other areas in the Northeast like New York and New Jersey as a result of smoke blowing in from the Canadian wildfires. All outdoor activity was strongly advised against. For the second time this year, we saw 2020 behavior again as the face masks came back out. The sight of thick, hazy, orange skies and a blood-red moon was a bizarre sight before the smoke cleared up.
I-95 Collapses
This is perhaps the most bizarre freak incident that's happened in Philadelphia this year - maybe even ever! A huge portion of I-95 collapsed after a tanker truck caught fire underneath an overpass near Cottman Avenue. The wreckage is stunning. This will disrupt and alter commuter routes in Philadelphia for weeks - likely months- to come. Everything else we can handle, but this?? Not I-95!
This was minutes before it came collapsing down! Really scary.
Did we miss anything? Let's hope the second half of 2023 is a lot kinder to us!
---
These are the Hottest Pop Concerts Happening in Philadelphia in 2023
2023 will bring some of the best concerts from some of our absolute favorite artists to Philadelphia (including Taylor Swift, Ed Sheeran and P!Nk.). Here's a COMPLETE list of all of the shows (so far) & even details on how you can get tickets to Philadelphia's hottest concerts of 202
More than 80 Pennsylvania Towns Are on A Ticket Blitz
PennDOT has joined with the Pennsylvania State Police and more than 80 local townships across southeastern Pennsylvania to target aggressive driving with more tickets and citations possible. The 86 townships that are part of this initiative are located throughout Bucks County, Pa.; Chester County, Pa; Delaware County, Pa.; Montgomery County, Pa.; and even Philadelphia, Pa.