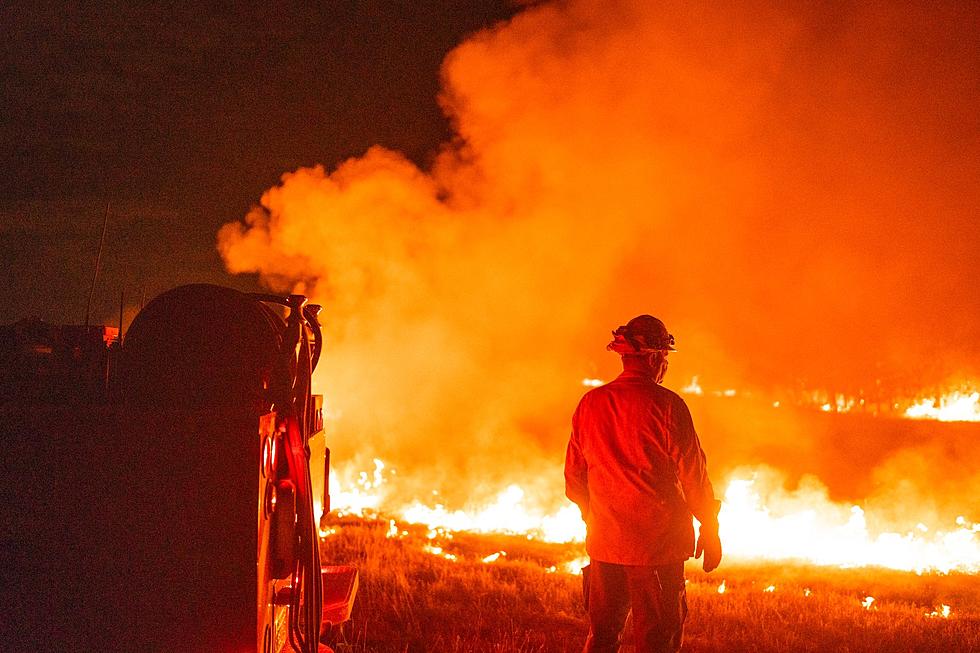 New Jersey continues to burn – Wildfires take toll on exhausted crews
NJ Forest Fire crews battle the Buzby Bogs fire in Evesham, NJ Photo Credit: Shawn LaTourette via Twitter
🔥 Two separate wildfires still burn in Burlington County, NJ
🔥 Hundreds of fires have burned in NJ so far this year
🔥 Fire crews have been working virtually non-stop for weeks
---
Crews remain on the scene of two large wildfires burning in Burlington County this morning.
The work has been exhausting as a series of forest fires have kept New Jersey's elite firefighters busy virtually non-stop for weeks.
The Buzby Boggs Wildfire in Evesham Township is nearly contained and has burned 700 acres.
A separate fire in the Brendan Byrne State Forest has burned 8560 acres in Browns Mills.
No buildings are threatened by either blaze.
Perhaps the best news for these fires is a forecast for rain.
New Jersey 101.5 Chief Meteorologist Dan Zarrow says some scattered showers could develop early in the day with heavier thunderstorms arriving in parts of New Jersey later this afternoon and into the evening.
In some areas, Zarrow says an inch of more of rain could fall, but no everyone will see a thunderstorm.
Without a soaking rain, the dry detritus on the forest floor could continue to smolder for weeks or months.
New Jersey has had less than an inch of rain since the last week of May.
The dry conditions have given birth to hundreds of wildfires so far this year, including a fire in Bass River State Forest that burned 5,475 acres.
All of New Jersey faces severe fire danger. The state has imposed outdoor burning restrictions that also restrict the use of some grills and fire pits.
Those restrictions will remain in place until the dry conditions no longer exist.
NJ's crazy haze, choking smoke, and sinister sky
Report a correction 👈 | 👉 Contact our newsroom