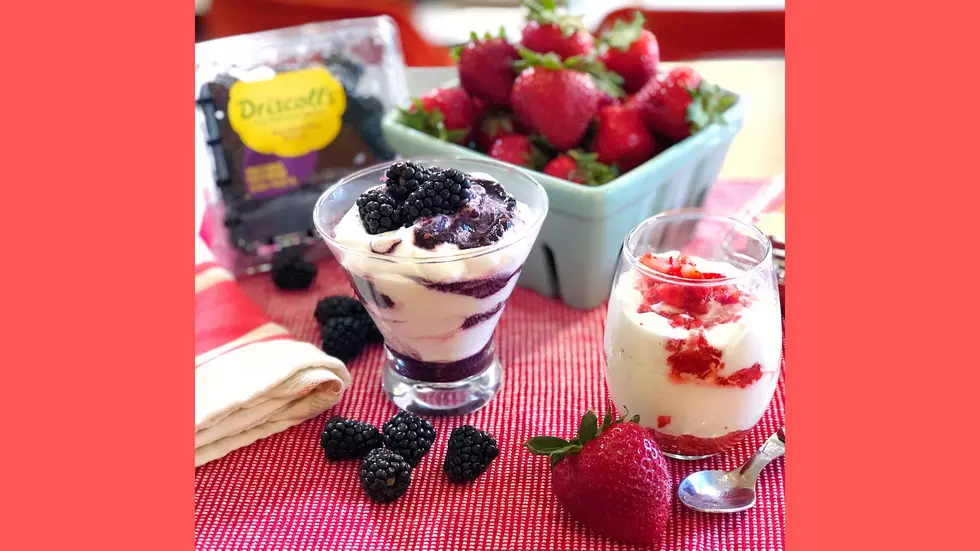 Enjoy Chef Chadwick Boyd's 3 Ingredient 'Berry Fool' Dessert This Weekend
Photo credit: Chadwick Boyd
You're going to love this super-easy, classic crowd-pleasing dessert from our friend and celebrity chef, Chadwick Boyd.  It's so easy, you'd be a fool not to make it!  I present to you a farm-fresh whipped cream Berry Fool!
This is a 3-ingredient recipe and requires no cooking.  We're talking whipped cream, confectioner's sugar, and mashed, ripe juicy berries.  Here we go:
On Chadwick's Checklist
Whip your homemade whipped cream in a metal bowl and let sit in the fridge to chill while you get the other ingredients ready.  Be sure to buy an extra container of blackberries for garnish (maybe some mint too).
Ingredients
12 oz fresh berries of choice
½ cup confectioner's sugar
2 cups heavy cream chilled
Steps:
Place berries in a food processor with ¼ cup confectioner's sugar (puree, don't pulse) for about 20 seconds

Add 2 cups heavy cream and ¼ cup confectioner's sugar and whisk by hand until soft peaks form (about 4 minutes)

In a medium bowl, fold together half of the berry puree and half of the whipped cream

In a stemless wineglass add a few tablespoons of the pureed berries at the bottom

Now add whipped mixture and repeat.  Garnish with whole berries on top and add mint for flair
You can also stir in 1-2 teaspoons of bourbon, vanilla extract, or rum into the whipping cream for a little extra somethin'- somethin'.  Enjoy!
15 Beloved New Jersey Italian Restaurants Too Delectable Not to Try
20 Restaurants You Want To Eat At This Summer In Monmouth County