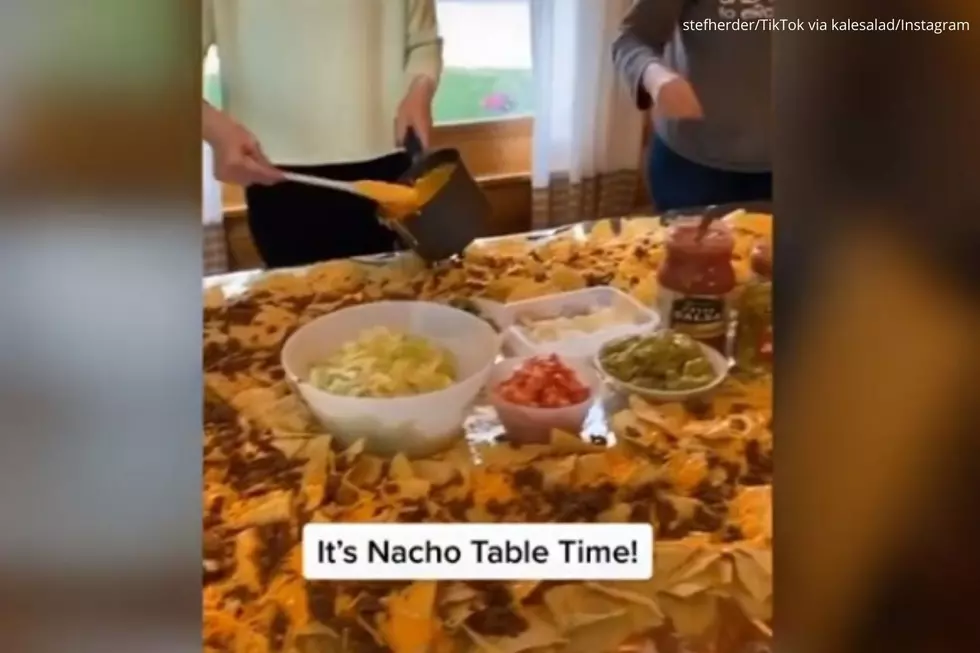 A Nacho Table is Everything We Want This Fourth of July
stefherder/TikTok via kalesalad/Instagram
Why limit oneself to just a PLATE of nachos, when you could have a TABLE of them?!
Enter your number to get our free mobile app
I regularly make a giant plate of loaded nachos for dinner. I throw the whole thing into the broiler to get everything all melty and crispy. My nacho platters are highly requested and envied by my friends and family, but I think I've been outdone.
One family took to TikTok to show how they make their loaded nachos on their kitchen table! And, not on a plate on the kitchen table, ON the table itself! They cover the whole surface in aluminum foil and mounds of nachos, before loading on toppings like ground beef and melted cheese.
When I saw this my jaw literally dropped to the floor like, 'why didn't I think of that?'
Not only is this a crowd please if you're hosting a gathering, but the possibilities are endless. You could make ONE end of the table one variety of toppings, or even section off spots for guests to build their own nachos!
Oh, I am SOOOO doing this for Fourth of July Weekend, and I'm not even having anyone over, lol.
How would you top a table full of nachos? Let us know in the comment box below.
KEEP READING: The Best Boardwalk Foods to Look Forward to Enjoying