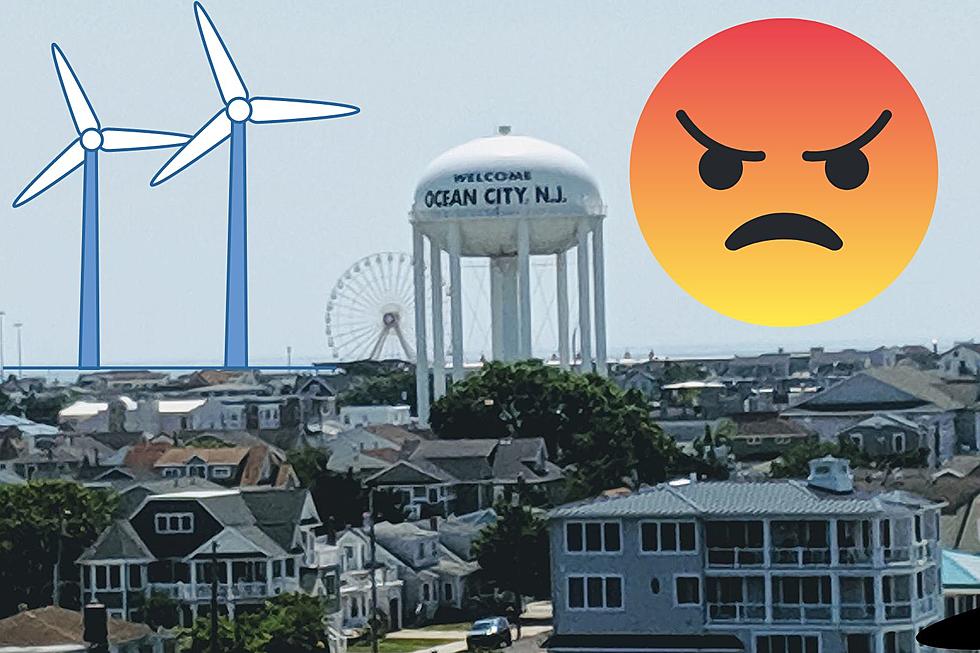 Wind company wants to dig up Ocean City, NJ, for power lines
Townsquare Media Illustration
😡 NJ mayor will fight plans to dig up his town and beaches
💨 A wind power developer wants to run transmission lines through town
😳 State regulators approved the plan with no local input
---
While much of the debate over off-shore wind projects has been focused on whether or not they are harmful to marine life, there is another battle brewing.
Once completed, how will the power generated get from the wind turbines to New Jersey homes and businesses?
Special transmission cables from the wind farm located approximately 15 miles off the Jersey coast would run along the ocean bed and then be brought on-shore for connection to a special sub-station seven miles away in Upper Township.
The state Board of Public Utilities approved a plan to bring those cables onshore at the 35th Street Beach in Ocean City.
The cables would not be visible on the beach, but instead placed in a trench some 50 feet below ground. That trench would then be extended under local streets and ultimately to the sub-station in Upper Township.
However, that plan was approved without input from residents or local officials.
Developer Orsted's Ocean Wind had planned to begin digging test holes soon, but Mayor Jay Gillian says the town will fight that and any continuation of the cabling project.
In a letter to residents, Gillian wrote, "Many of you may have read that Orsted's Ocean Wind has filed a lawsuit demanding that Ocean City issue street opening permits for a proposed transmission line under 35th Street. We did not issue those permits, and we're not prepared to do so at this time."
Gillian says most of the people who have contacted him about the project are opposed to it, and said, "It is disappointing that a project of this magnitude and widespread impact is being fast-tracked without the support of local officials and local residents."
A spokesman for Orsted refused to comment on pending litigation, but told NJ.com they were committed to helping New Jersey reach its green energy goals.
The path of electricity from wind turbine to home use is a complicated one.
Power generated by a wind turbine has a voltage too low to be transmitted long distances.
According to the Energy Information Association: The electricity from the wind turbine generator travels to a transmission substation where it is converted into extremely high voltage, between 155,000 and 765,000 volts, for long distance transmission on the transmission grid. This grid comprises a series of power lines that connect the power sources to demand centers.
In New Jersey, that substation will be located at the site of the former Beesley's Point Generating Station in Upper Township, Cape May County.
Sitting on the banks of the Great Egg Harbor River, the facility had provided approximately 450 megawatts of generating capacity from three generating units using coal.
The plant was decommissioned in 2019, but high voltage connections to New Jersey's power grid remain viable for use in the transmission of green energy.
It is how the power gets to the facility that has Ocean City at odds with Orsted and the state utility regulators.
The issue now moves before a Superior Court judge.
I will continue to work with City Council to make sure this project is properly and thoroughly reviewed before any final decision is made," Mayor Gillian said in a statement.
Eric Scott is the senior political director and anchor for New Jersey 101.5. You can reach him at eric.scott@townsquaremedia.com
Click here to contact an editor about feedback or a correction for this story.
Top 20 highest average property tax bills in NJ for 2022
Based on the average residential property tax bill for each town in New Jersey in 2022, these are the 20 highest.
Top 20 lowest property tax towns in NJ in 2022
In descending order, these 20 towns had the lowest average property tax bills in 2022.
Up or down? Average property tax changes in NJ in 2022
Below are the average property tax bills for every municipality in New Jersey last year.
The towns are listed from the biggest cut in the average bill to the highest increase. On the county maps, the deeper red color means a higher increase above 2% whereas the darker green signifies a smaller increase or a reduction.
Each listing also shows how the average tax bill is split among the county, school and municipal governments.