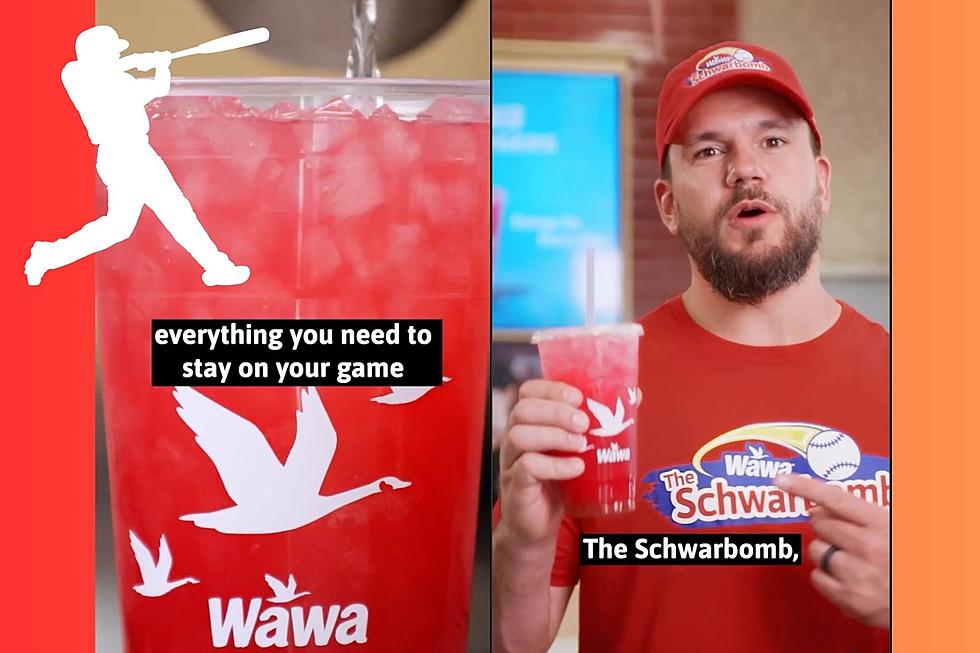 Wawa Teams Up With Phillies' Kyle Schwarber with New "Schwarbomb" Drink!
Credit: Instagram @wawa
Here's a new home run of a drink to quench your thirst this season!
Wawa has teamed up with Phillies' outfielder Kyle Schwarber for a brand new promotional drink to celebrate the start of baseball season. Stepping up the plate: Introducing the "Schwarbomb" drink!
They made the announcement on social media on Thursday to kick it off! Check out the cute video down below!
It doesn't exactly roll off the the tongue, but that's ok!
You probably remember that first, there was the Schwarberfest last year for Wawa's Hoagiefest during the Phillies' playoffs run last year. Now they're keeping the same theme going - but for a drink this time!
What flavor is the Wawa "Schwarbomb"?
The "Schwarbomb" is a Wawa Recharger drink with mango and dragonfruit-flavor, available in iced of frozen, according to Philly Voice. Rechargers are part of their vitamin-infused drink line that give you an extra boost of energy. The whole drink is a fun, poppy red color to represent the Phillies. Looks so refreshing!
It's available for a limited time only at $4.88, in honor of his 488 foot home run Game 1 of the 2022 NLCS in San Diego.
I wonder what other Wawa promotions we'll be seeing in honor of our Philly sports stars in the future.
Will you be grabbing a Schwarbomb before they're gone? If you've tried it already, let us know if it's a home run in the comments!
Go Phils!!
---
The Most Popular Menu Items At Wawa
In celebration of Wawa being open for 58 years, here are people's go-to Wawa menu items. From their mac and cheese to the coffees, here's what the people of Facebook voted as their go-to purchases.
These are the Hottest Pop Concerts Happening in Philadelphia in 2023
2023 will bring some of the best concerts from some of our absolute favorite artists to Philadelphia (including Taylor Swift, Ed Sheeran and P!Nk.). Here's a COMPLETE list of all of the shows (so far) & even details on how you can get tickets to Philadelphia's hottest concerts of 202