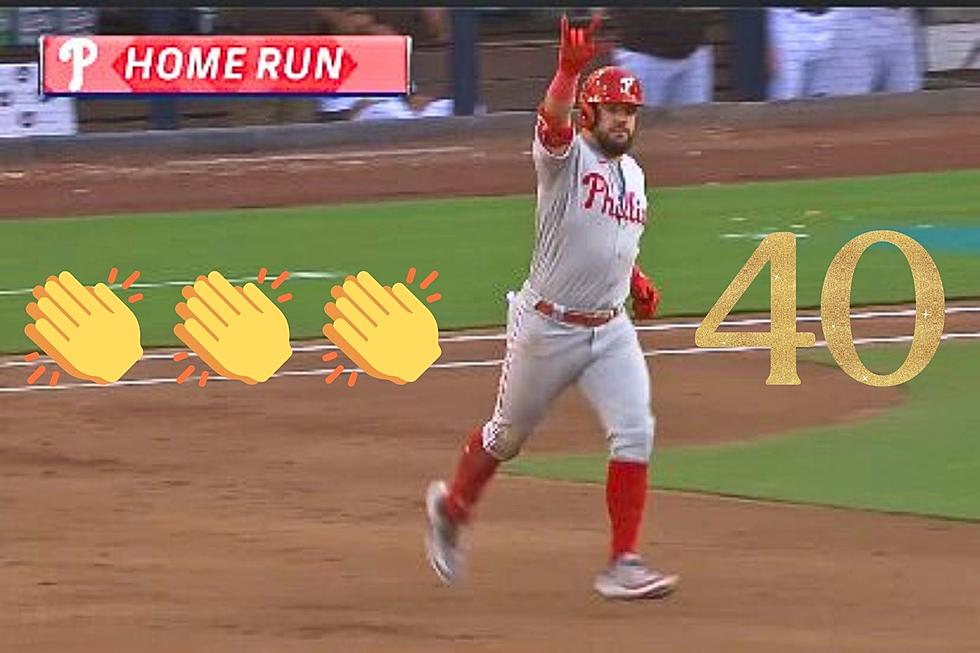 Phillie Kyle Schwarber Knocks Out a Beauty of a 40th Home Run of the Season
Philadelphia Phillies/Facebook
SCHWARBOMB! And it wasn't just any homerun for Kyle Schwarber Sunday in San Diego, it was his 40th of the 2023 season.
Congratulations to my future ex-husband, Kyle Schwarber! Lol. Just kidding. Sort of. Not really. Call me, Kyle!
There are few things more exciting when watching the Philadelphia Phillies than when Schwarber knocks out a home run.
Kyle's career milestone came during the fifth inning during the Phillies first game in a series against the Padres in San Diego.
Schwarbs is just the fifth Phillie in franchise history to have 40 homers in back to back seasons, putting him in the company of Ryan Howard ('06, '07, '08, and '09), Chuck Klein ('29 and '30), Mike Schmidt ('79 and '80), Jim Thome ('03 and '04).
After leading the game 8-1 early on, the Phillies struggled to hold onto their lead, nearly blowing the game, but Alvarado pitching them to success in the 9th inning and giving the Phillies a 9-7 victory. I love this team so much but they are out to give me a heart attack, lol.
Kyle Schwarber had 46 home runs in the 2022 regular season. We'll be watching to see if he can break his own record before this season comes to a close.
Relive some of Kyle's 2022 SCHWARBOMBS below!
Bruce Springsteen & The E Street Band Return To Jersey!
Scenes from the 2023 Tour Stop at MetLife Stadium in East Rutherford, New Jersey
5 Haunted Attractions in New Jersey That Will Scare You This Fall