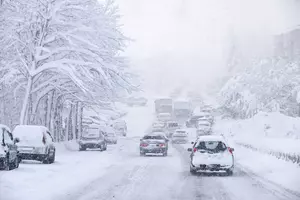 Thanksgiving Snowstorms – New Jersey Has Had Them
ThinkStock
We do not have snow in our forecast for this Thanksgiving, but that doesn't mean a Thanksgiving snowstorm has never hit the Garden State.
As a matter of fact, back on Thanksgiving 1989, the Garden State was blanketed with a rare Turkey Day snowstorm, which left parts of the state covered in a half foot of accumulations.
The storm was all because of low pressure across North and South Carolina that brought rain to the southern Atlantic states and snow to the mid Atlantic states and southern New England, including New Jersey, according to the Old Farmer's Almanac.
So how common is a Thanksgiving snowstorm for the area? Actually, it's extremely rare. As a matter of fact, before the 1989 storm, you'd have to go back to 1938 in New York's archives to find Thanksgiving snow, according to the New York Times.
It is worth mentioning that a few years back (2014) North Jersey dealt with a nor'easter on Thanksgiving Eve that had Winter Storm Watches in effect for Bergen, Essex, Hunterdon, Mercer, Morris, Passaic and Warren Counties, according to nj.com.
The good news for us is there are clear skies in the forecast for us this Thanksgiving and Black Friday, but the daytime high is not expected to get above 30 degrees for Turkey Day, and Friday just a few degrees warmer, according to our Chief Meteorologist Dan Zarrow.
So you can put the snow shovels down for now, but by all means grab some gloves, hats and scarves, and let's get ready to celebrate Thanksgiving Day 2018...snow free!