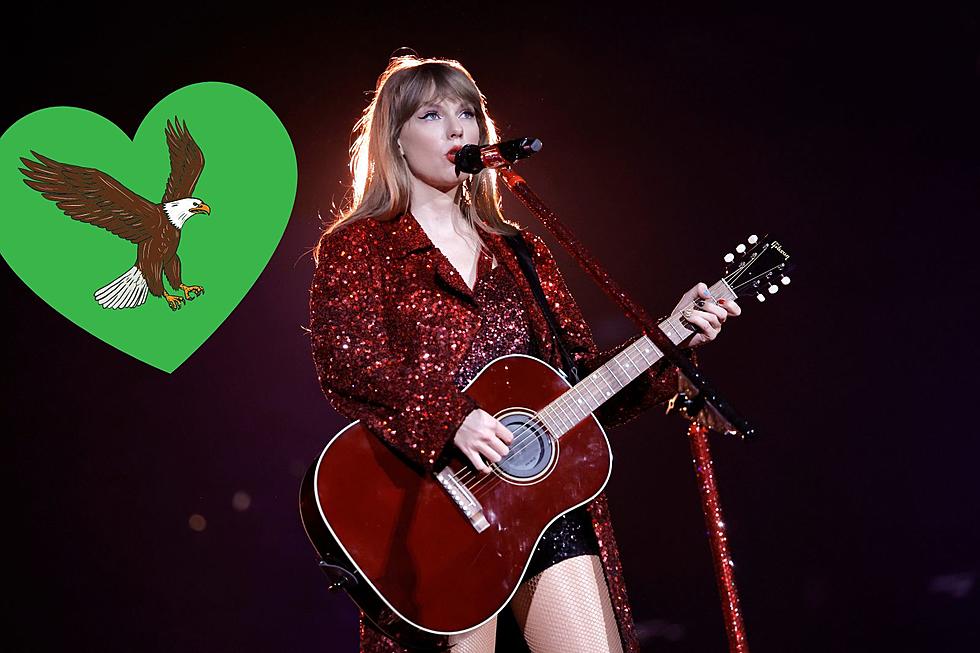 Taylor Swift Spotted Supporting the Philadelphia Eagles
Getty Images; Canva
Admit it, when you see Taylor Swift nodding to her old hometown it makes you feel warm and fuzzy inside.

The just-outside-Philly native, raised in Reading, Pennsylvania, was just spotted out and about sporting Philadelphia Eagles gear.
Yeah! She's one of US!
Taylor was seen wearing an oversized grey sweatshirt emblazoned with the Eagles logo and we couldn't be more excited to see her in it.
It's just a way of letting her local fans know she hasn't forgotten where she comes from.
Back in May, during the first night of her Eras Tour stop in Philly, Taylor cleared up some rumors about her song 'Gold Rush', which features the lyric an 'Eagles t-shirt hanging from the door'. Swift confirmed, once and for all, the song references the PHILADELPHIA Eagles, and not the BAND The Eagles. Though she never really had to, because we know. We know, lol.
Side note, and I'm off in my own world thinking this (probably), I'm wondering if Taylor wearing NFL gear (which she knows she'll be photographed in) could be a sign that she's dating Jets QB Aaron Rodgers or former Cleveland Brown Joe Burrow? She's been linked to both since her split from Matty Healy. Hmm. Rodgers WAS having a blast at her MetLife Stadium tour stop last month.
You'll be the prince and I'll be the princess? Check out celebs these who married into royalty.
Celebrities Who Dated or Married Into Royalty
Check out 13 Hollywood stars who reportedly dated or married into royalty or nobility.
Inside Lady Gaga's Iconic $6.5M Hollywood Hills Home
Take a tour of the iconic $6.5 million Hollywood Hills home, previously owned by Frank Zappa and Lady Gaga, which is now owned by Lizzy Jagger, a.k.a.
Mick Jagger's
daughter.