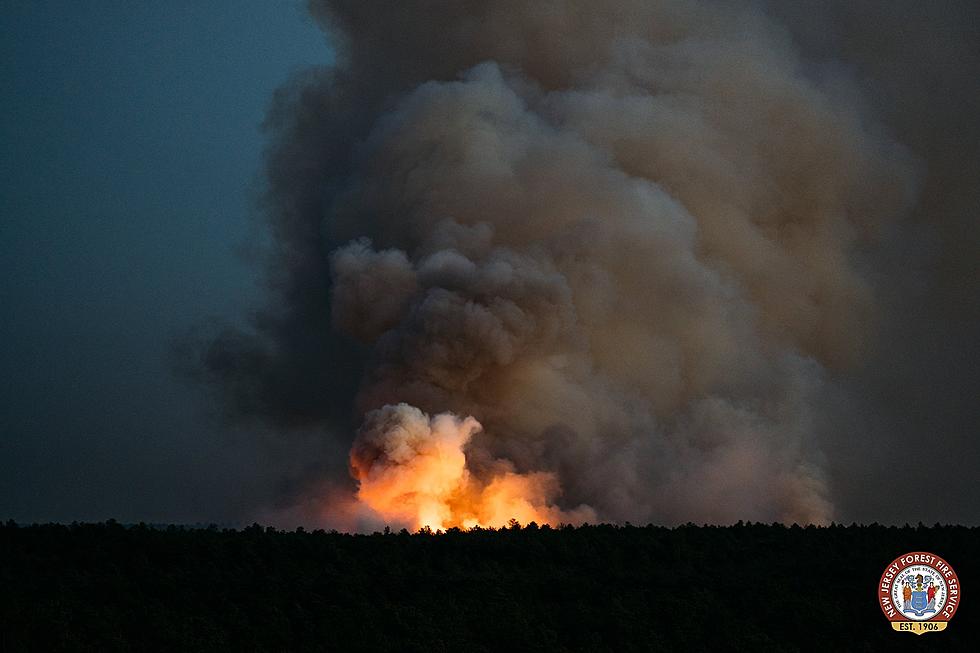 South NJ Engulfed by Smoke from Pinelands Forest Fire
New Jersey Forest Fire Service
If you saw the smoke today, and thought it was a controlled burn, you weren't alone.  Travelers along the Garden State Parkway Monday, saw signs advising that a controlled burn was in progress, "Do Not Report."
However, Tuesday, the smoke that was visible for miles, was from an actual wildfire.
The Stafford Forge Wildlife Management Area, in Little Egg Harbor Township burned throughout the day.  The fire, which was fanned by gusting winds throughout the day, has consumed over 400 acres.
Although the fire was burning in a remote area, there was concern that homes in the area would be at risk if the fire continued to spread.  Local volunteer firefighters set up a front line near these homes, ready to preserve them should the fire threaten.
Updated
As of 7:30pm, NJ Forrest Fire Service has declared the fire 100% contained.  No evacuations were needed, and no injuries were reported.  In all, 418 acres were burned in this fire located off route 539.
Authorities have not yet determined the cause of the fire in the Southern part of the Jersey Pinelands that was originally spotted by an arial tower observation tower just before noon.
The middle of March through May is considered the peak wildfire season in New Jersey.  The New Jersey Forrest Fire Service says there are typically, a staggering 1500 forest fires each year in New Jersey that burn over 7,000 acres of forest land.  Sadly, nearly every single fire is caused by humans.
In a sign of the times, the Fire Service reminds us that drones are a danger to firefighter aerial equipment.
NJDEP | New Jersey Forest Fire Service
Wind-blown New Jersey Pinelands fire threatens 16 homes (msn.com)
More South Jersey Things That Aren't There Anymore