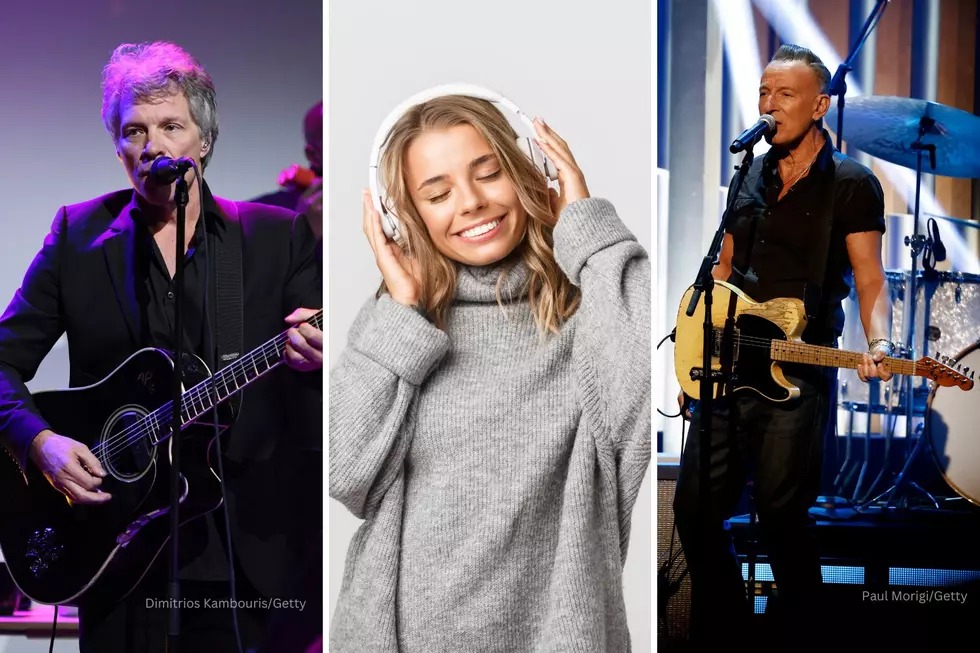 Songs That All New Jersey Residents Are Required to Know
Getty Images/Canva
I was recently presented with the challenge of coming up with a list of songs that exude the feel of New Jersey.  So let me start by addressing the obvious.  I could easily choose 20 Bruce songs or 20 JBJ songs, and I'd still be leaving out songs.
So, for the sake of variety, and to intentionally create conversation about what songs I left off, I selected a swath of songs from various generations, different styles, and eclectic artists.
First up, a band named after a garden shop that used to be located off route 3 in Wayne.  Fountains of Wayne was a quirky band formed by a couple of college friends in the mid '90s.
They were nominated for a Grammy for their catchy single "Stacey's Mom" in 2004.  Another song on their Welcome Interstate Managers album was their homage to Hackensack, called "Hackensack." Sadly, founding member Adam Schlesinger was a victim of Covid-19 in 2020.
Next up is a song written by Tom Waits for his 1980 album titled, Heart Attack and Vine.  "Jersey Girl" was a nearly perfect tribute to that species of females that are like no others anywhere in the world.  Simple lyrics punctuated with some "sha-la-las," made this a good tune.  Then, the Boss discovered it.
In 1984, Bruce Springsteen recorded a live version and made it the B-side of his Cover Me 45 (remember those???)  Then, in 1986, The Boss used the live version of "Jersey Girl" as the closing track of his much-anticipated live box set.  Additionally, for a time, the song became a fixture of Springsteen's Jersey and Philly concerts.
Back before there was a Great Adventure or American Dream, there was an amusement park in Bergen County called Palisades Park.  You couldn't put the tv on without seeing their commercials, complete with its catchy theme song, and, of course, the footage of their giant wave pool.  Who wouldn't want to go there?

Freddie Cannon recorded a tribute to this Jersey landmark called "Palisades Park."  It was his biggest hit and reached #3 on the Billboard charts.

Through the years, I've grown up in Jersey, and couldn't wait to leave, then I missed New Jersey, moved back, and repeated the cycle a few times.  Jon Bon Jovi and Ritchie Sambora summed it up perfectly in the 2005 Bon Jovi hit, "Who Says You Can't Go Home."
"I spent 20 years trying to get out of this place

I was looking for something I couldn't replace

I was running away from the only thing I've ever known"
Who says you can't go back?
Been all around the world and as a matter of fact
There's only one place left, I wanna go
Who says you can't go home?
 If the previous song represents the return to my roots, then my next pick can be considered the prequel.  Fans of Bruce can probably come up with a million different songs they believe reflect life in Jersey.  However, there is only one anthem that speaks to the longing to leave.
There are songs and then there are anthems.  Natives of New Jersey, wherever they may be, stand and face the direction of the Garden State when "Born to Run" comes on.
Even the most casual of New Jersey music fans know this anthem.
The final entry to this list is a song by Bon Jovi.  "Living on a Prayer" is to Bon Jovi is what "Born to Run" is to Bruce.  The song embodies the struggles of the blue-collar New Jersey native with the promise of better things to come.
Photo Resources:
Tom Waits - JERSEY GIRL- Live at Premio Tenco, San Remo 1986 - YouTube
Bon Jovi and Jennifer Nettles "Who Says You Cant Go Home" Live - YouTube
Bruce Springsteen - Born to Run (Official Video) - YouTube
20 Unforgettable Concerts That Happened At The Stone Pony In Asbury Park
28 SJ & Philly Concerts to Look Forward to in 2023
The 2023 concert calendar for the South Jersey and Philadelphia area is already FULL of superstars (with plenty more to come). Check out who's coming around this year.
Legendary Concerts That Have Taken Place At Convention Hall In Asbury Park