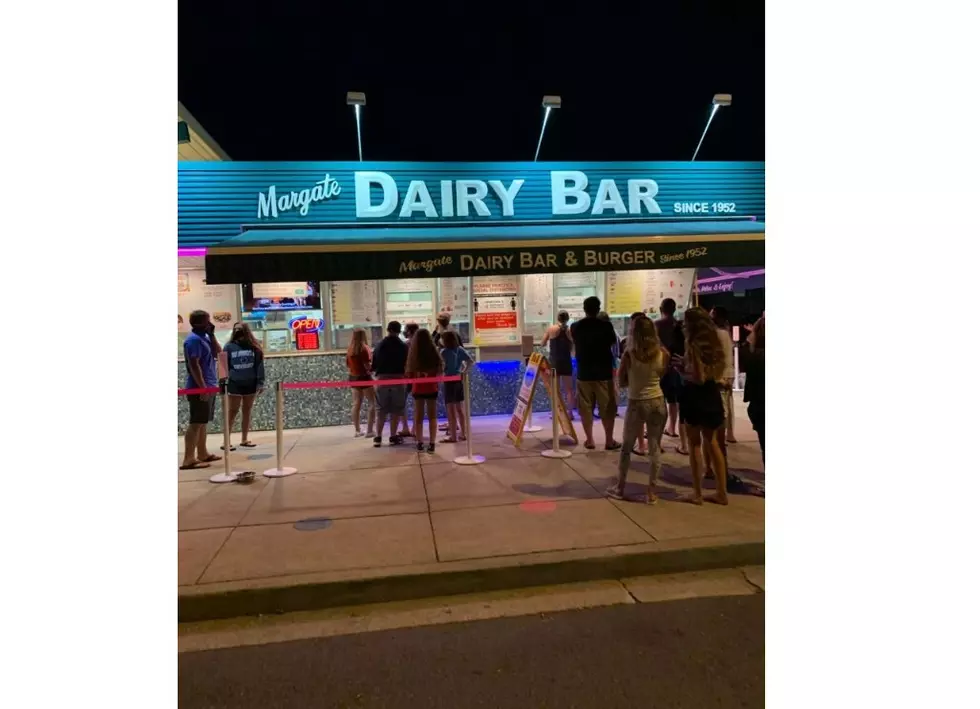 Some Favorite South Jersey Ice Cream Spots Reopening Dates
Bridget Roach
Spring is here and ice cream season is approaching. I've put together a list of seasonal reopening dates for some of your favorite ice cream and custard shops in South Jersey.
While we are still waiting to hear back from several of your seasonal ice cream places, these eight businesses are all well-established and delicious choices for ice cream, custard, milkshakes and more. They are all about to reopen or are already open now!
1- Little's Dairy Bar, 617 Zion Rd Egg Harbor Township, the place with the 20-foot papier-mache California Raisin statue in the parking lot was opened in May 1973 by Mr. Robert Little. The LaPorte family took over in 1999, serving old fashioned soft serve ice cream, delicious shakes & sundae's, water ice and more. Little's opens Friday, March 26.
2- Lindy Hops Homemade Ice Cream, 401 S Pitney Rd Galloway,  a 50's themed homemade ice cream parlor, with water ice, cakes, pies, and other treats. Their homemade ice cream is made with a 14% butter fat and contains no eggs. Try their homemade hard ice cream and water ice, soft serve ice cream and non-fat frozen yogurt with live cultures and probiotics.
3- Buddy's Ice Cream, 1943 US. Rt 9 N., in the Woodland Village, Clermont, opened Spring 2020. But Buddy's Ice Cream Truck has been an Ocean City tradition for more than 20 years. Buddy's is opening weekends on March 27, and opening daily for the season on Friday, April 16.
4- Margate Dairy Bar & Burger, 9510 Ventnor Ave, Margate, in business since 1952, will be serving serving up delicious ice cream, milkshakes, and other frozen delights again beginning on Friday, April 2. They've also added burgers, fries, hot dogs, and pretzels. There's a long line outside, every night, all summer at Margate Dairy Bar.
5- Custard Castle, 6087 Black Horse Pike, Mays Landing.  You can't go wrong with anything you order; the soft serve is really creamy, and the hot fudge sundaes are delish. Custard Castle reopens for the 2021 season on Friday, April 2.
6- Fleck's Ice Cream,1600 Bayshore Road, Villas. Donna & Joe Fleck and their 7 children put lots of love and time into making Fleck's the business it is today. They strive to create a family atmosphere with affordable family prices since 1993. Fleck's has been open year round.
7- Jeffreeze Old-Fashioned Ice Cream, 381 Rt 9, West Creek, Ocean County. Known for their wonderful ice cream, Almond Joy Sundae and, especially their ice cream pies.  They certainly don't skip on their servings. Jeffreeze is now open.
8- Lloyd's Country Custard, 2212 Ocean Heights Ave, Egg Harbor Township. Lite Rock listener Ben raves, "Great place for ice cream. Gets busy fast in the summer. Large selection of flavors. Soft serve, hard ice cream, Italian/water ice. A great way to relax and enjoy a cold, refreshing treat." Lloyd's opened on Sunday, March 21.
Some Favorite South Jersey Ice Cream Spots Reopening Dates
Spring Day Trips That Are Two Hours or Less Away From South Jersey
LOOK: The most popular biblical baby names