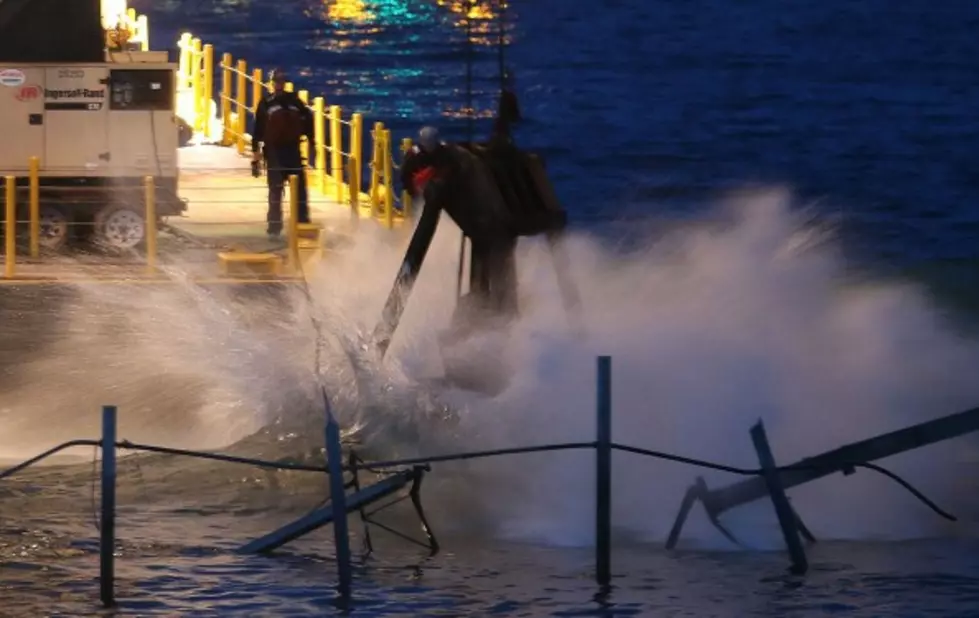 SoJO to Commemorate Superstorm Anniversary with Lighting Ceremony
Hurricane Sandy impacts Seaside Heights, N.J.; photo courtesy of Mark Wilson/Getty Images
When I think back to the night Hurricane Sandy slammed into New Jersey, I think darkness.  I remember pulling an all-nighter (and then some) here at the radio station, the Superstorm impacting all around outside.  The fact that the eye of the weather system was making landfall under the cover of night made the situation all that more ominous.  So as the first anniversary of Hurricane Sandy approaches I'm looking forward to standing with you on Brigantine Beach to light up the night on October 29th.
It was gutwrenching at times to be within the safety of my studio walls on the night of October 29th, 2013 while television coverage and phone calls from listeners poured in about the wind and water damage your town and home was sustaining.  We were proud to have been able to remain on the air to bring you the latest information, but also to give you someone to reach out to to vent about what was happening where you were.  I slept on the floor of my office that night, and my home in Galloway lost power for 5 days due to downed trees and power lines.  But that was a minor inconvenience compared to what was happening up and down the coastline, entire boardwalks shredded, sand pushed onto land and city streets for miles, boats uprooted and thrown around like toy cars.  It was heartbreaking, and I just searched for any way I could help those around me who were losing, or had lost, everything.
One year later the recovery efforts continue.  Lives will never be the same as some of you were forced to leave your homes never to return and make a new path for yourself.  That is why on October 29th, we will stand with you to show support for those impacted by Hurricane Sandy, physically, financially, and emotionally.
Join SoJO 104.9 at Laguna Grill & Rum Bar on Brigantine Beach near 17th St. on October 29th at dusk.  You can be there as we all take part in 'Light Up New Jersey'.  We'll light up the night sky with flashlights in rememberance of all that was lost to the storm.  Pre-register and receive a commemorative flashlight.  CLICK HERE TO REGISTER
If you can't join us, show your support by stepping outside your own home on October 29th with your own flashlight.
We may see more hurricanes, we may face more hardships.  But come what may we will all stand together as a community.