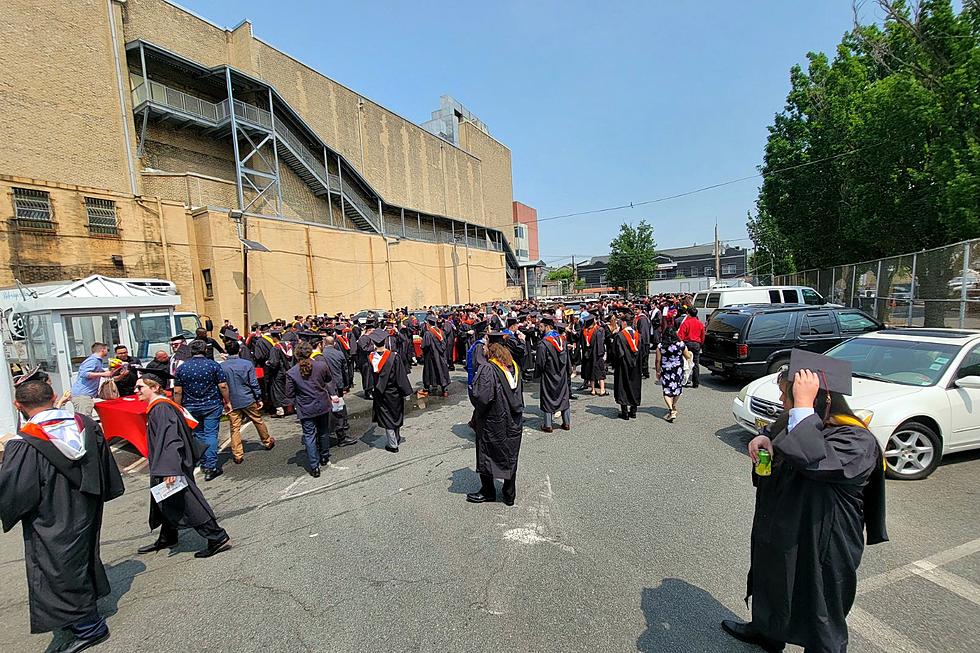 NJ college issues refunds for graduation disaster
Commencement crowd outside Newark Symphony Hall (listener submitted)
🔴 Commencement ceremonies held at three venues
🔴 One ceremony had 800 people who had to be turned away
---
HOBOKEN — The Stevens Institute of Technology will refund every graduate $250 following the snafus of their commencement ceremonies.
The school also said it "separated the person in charge of university events, who demonstrated a complete lack of effective planning and a failure to respond to problems as they occurred."
After a ceremony for the school's 2,800 graduates at the Prudential Center in Newark featuring an address from Gov. Phil Murphy, the commencement moved to two smaller venues, NJPAC and Newark Symphony Hall, where the university's four colleges held name-reading ceremonies for graduates and undergraduates.
The School of Business naming ceremony for undergraduate students at NJPAC went off as scheduled with all attendees accommodated and students getting their diplomas without disruption.
It was the third event of the day, the Schaefer School of Engineering and Science and the School of Systems and Enterprises naming ceremony for undergraduates at Newark Symphony Hall, where things turned bad.
Scanners for tickets failed and 800 more guests than could be accommodated showed up.
Some of the ceremonies were successful
About 600 graduates were forced out on the recommendation of Newark public safety officials on a first-come, first-served basis. This approach delayed the start of the ceremony by two hours.
The College of Arts and Letters naming ceremony for undergraduate students at Newark Symphony Hall's Terrace Ballroom was slightly delayed along with the School of Business naming ceremony at NJPAC. Diplomas were handed out without any problems at both ceremonies.
The Schaefer School of Engineering and Science naming ceremony for graduate students was at Newark Symphony Hall Concert Hall and the School of Systems and Enterprises naming ceremony for graduate students at the Terrace Hall. Their start times were delayed and the program was modified.
At the Schaefer School ceremony, the dean of engineering was booed off the stage after giving a speech without students present.
The name-reading ceremony for one of the schools wound up taking place in the parking lot.
School event executive takes the fall
Stevens President Nariman Farvardin later offered his "heartfelt apologies" for a chaotic day that should have been one of pride and celebration. He attributed the mistakes to "poor planning," including too many tickets issued, which led to last-minute logistical, crowd control and fire safety issues.
"While this gesture does not make up for the irreplaceable moments that were missed, we hope that graduates and their families will accept our acknowledgment of our mistakes and our promise to do better," Farvardin said in a written statement.
The refund will cost the school an estimated $700,000.
One angry parent whose son received a mechanical engineering degree told New Jersey 101.5 the gesture is "a load of crap." She asked not to be identified for fear of retribution against her son.
"I think it was actually criminal what they did to the students. They actually took the engineering school and put them in the parking lot, under the sun in their caps and gowns, to then be able to fit more people into the Newark Symphony Hall. Half of those kids did not end up walking the stage because then they had to stop and start the ceremony for the master's program," the mom said.
'We don't give a s**t about next year'
She felt bad for the parents who supported their children for four or five years and also for parents who traveled a great distance to attend the commencement and had to pay for plane tickets and accommodations.
Her son is sad about the day's events, which is what bothers her most about the day.
The mother admitted she doesn't know what the school could do to make graduates whole but she is not impressed by the school's promise to do better in the future.
"I don't think the bulls**t emails that have been going back and forth from the administration saying 'we'll do better next year' mean anything because you know what, unfortunately, as parents, we don't give a s**t about next year. We care about what happened this year and about the s**tshow that it was These kids work so hard and for a school like Stevens with a curriculum that is ridiculously tough. And I saw my son go through years and years of frustration and pressure. And this is what it culminated to," the mother said.
All students have been notified about the refund and will be processed by June 30.
EDITOR'S NOTE: An earlier version of this article and a previous headline incorrectly reported that Stevens had fired its executive director of university events.
Report a correction 👈 | 👉 Contact our newsroom
How to pronounce these 20 town names in NJ
How many of these New Jersey municipalities and neighborhoods have you been pronouncing wrong?
A look back at the NJ Garden State Parkway token
A nostalgic token of NJ history dating back to the 1980's.
Awesome one-of-a-kind old school eatery in South Jersey