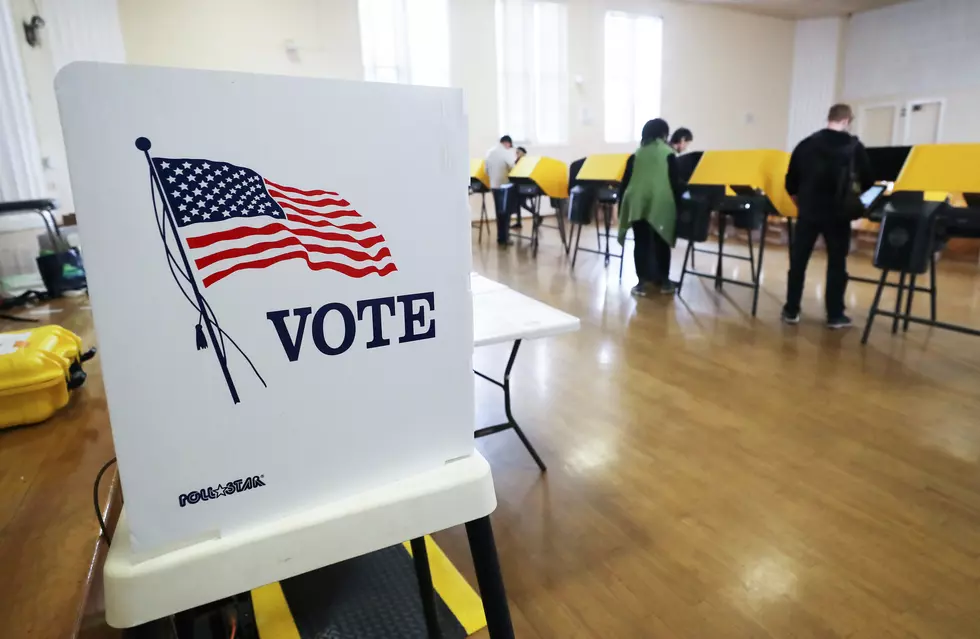 New Jersey's Law on Voter Intimidation
(Photo by Mario Tama/Getty Images)
With 15 days to go until the presidential election, some voters may be worried about intimidation tactics should they choose to visit the polls in person.
Enter your number to get our free mobile app
Here is what the actual statute (found on nj.gov) says regarding voter intimidation in the state of New Jersey:
NJSA 19:34-6 Prohibited actions in polling place on election day; exception for simulated voting
a. If a person shall on election day tamper, deface or interfere with any polling booth or obstruct the entrance to any polling place, or obstruct or interfere with any voter, or loiter in or near the polling place, or, with the purpose to obstruct or interfere with any voter or to unduly delay other voters from voting, spend an inordinate amount of time in the polling booth, or do any electioneering within any polling place or within one hundred feet thereof, he shall be guilty of a crime of the third degree.
b.This section shall not be construed to prohibit a minor from entering a polling place on the day of an election to vote in a simulated election at that polling place, or persons from supervising or working at a polling place in a simulated election in which minors vote, provided that the county board of elections has determined that the polling place can accommodate simulated election activities without interfering with the orderly conduct of the official voting process.
Amended 1940, c.199, s.3; 1948, c.438, s.12; 2000, c.173, s.2; 2005, c.154, s.26.
In many states, where voters are already heading to the polls, instances of voter intimidation have been documented, like that of Fairfax, Virginia, where Trump supporters were chanting and waving banners outside of polling locations where voters were waiting in line, NJ.com reports.
Former New Jersey Gov. Jim Florio stated, "It's easy to do. Hire people to show up on election day to intimidate people not to participate, and then they don't participate," he told NJ Advance Media.
As for the presence of police at polling places, possibly considered an unintentional form of voter intimidation, New Jersey Attorney General Gurbir Grewal reminded law enforcement last week that 'civilian officials run the elections and officers can do only what they must to maintain public safety at the polls', reports northjersey.com. Grewal reportedly sent a letter to prosecutors, police chiefs and sheriffs throughout the Garden State advising municipalities should choose one person in their office to serve as a the point person for all election-related issues.
While, at first, I had planned to vote in person, no matter how long I had to stand in line, the notion of being harassed by supporters of any one candidate, whatever the side of the aisle, changed my mind. The last thing I'd want on Election Day is to have some sort of confrontation that would impede my ability to even cast my ballot.
What are your thoughts on potential voter intimidation at New Jersey polling venues? Take our poll below.
NEVER FORGET: Images from 9/11 and the days after