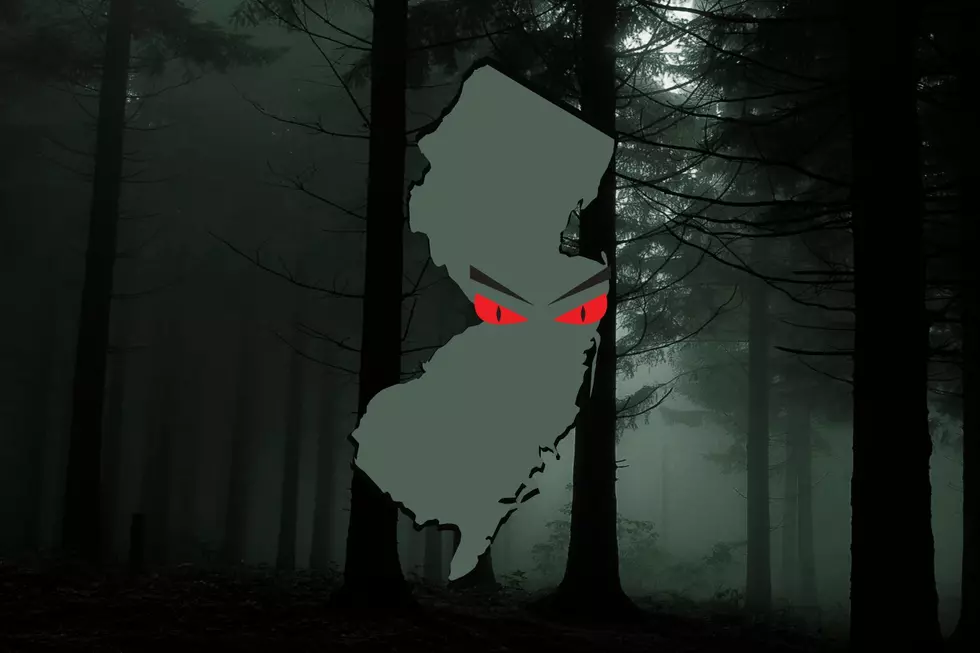 New Jersey Strange Haunts, 'Jersey Devil' & Other Oddities
Canva
We have written several detailed articles about "The Jersey Devil."
The book, "Devil Leeds" by local author Scott Macom paves new ground that we have chronicled together on-air and on the digital platform of WPG Talk Radio 95.5
New Jerseyans appear to be divided right down the middle regarding "The Jersey Devil." About half believe in the existence and the same number are not believers.
If you missed it, here's a link to one of our definitive articles, partnering with Scott Macom.
Read More: Do You Believe In The Existence Of The Jersey Devil?
Throughout hundreds of years of recorded history - with stories dating back to 1735 - The Jersey Devil is  also known as The Leeds Devil.
Macom calls it Devil Leeds.
Is it real, or, do you believe that The Jersey Devil is just old folklore, simply tall tales that parents would tell their children during bedtime readings?
The story begins in the 18th century in the Pine Barrens of Atlantic County, New Jersey allegedly with the birth of a 13th child to a woman known as Mother Leeds.
As the legend goes, Mrs. Leeds cursed the baby as the Devil's own. The baby supposedly morphed into a winged phantasm and is said to have killed a midwife before flying up the chimney, and is said to have lived in the Pine Barrens ever since.
According to the legend, the baby was born as a normal human child but soon transformed into a creature with the head of a goat, cloven hooves, glowing red eyes, a forked tail, and bat-like wings.
It allegedly ran off to live in isolation of the Pine Barrens, where some say that its blood-curdling shrieks can still be heard to this day.
I've interviewed local author Macom several times
about the Jersey Devil. Macom is a lawyer, who has done a great deal of original research into the Jersey Devil.
When I've talked to listeners, at least 1/2 of our callers have confirmed that they believe in the Jersey Devil.
Our unscientific sampling is about the same result as the general population as a whole.
Here are more haunts and oddities around the state of New Jersey:
AMATOL GHOST TOWN - HAMMONTON, NEW JERSEY
In Hammonton, New Jersey, located in the western portion of Atlantic County … hidden in the woods are the remains of an abandon World War I era munitions depot … along with a circa 1920's wooden racetrack.
No doubt, it's spooky.
THE RIVER HOT DOG MAN
In Milford, New Jersey, there is actually a famous hot dog man.
He floats down the Delaware River in a tent covered mobile hot dog restaurant.
You can eat a hot dog from this roving establishment.
I'm including it as an oddity… However, I think it's great.
PARANORMAL BOOKS & CURIOSITIES - ASBURY, NEW JERSEY
What better way to learn about the many different  New Jersey myths, urban legends and real oddities than a trip to this establishment, which is located at 621 Cookman Avenue in Asbury, New Jersey.
CLIFTON'S GATES OF HELL
Located in Clifton, New Jersey … this is part of Clifton underground drainage system, right behind the old Black Prince Distillery.
There are tunnels and other scary places within this system.
Legend has it that these winding tunnels once served as the meeting location for devil worshippers and the Ku Klux Klan.
The tunnels are filled with graffiti and scary messages warning traffickers to "turn back before it's too late."
SHADES OF DEATH ROAD - WARREN COUNTY, NEW JERSEY
Shades of Death Road actually exists. There is no absolute truth about how this rise got its name.
Some say it was because of murders that were committed underneath trees.
Other urban legends blame it on a malaria outbreak, or, outlaws that ran the lands in the early days.
Another myth says that visitors witnessed strange occurrences on this road.
Next, we have a real creepy one:
JENNY JUMP STATE FOREST
The name appears to come from a story that date backs to the mid-1700's, when a girl allegedly jumped from one of the cliffs.
Located within this state forest are Shades of Death Road, Ghost Lake, and the Fairy Hole.
Very creepy!
"WAR OF THE WORLDS MONUMENT" - GROVER'S MILL PARK, NEW JERSEY
This monument memorializes the sensational stunt pulled by Orson Welles on the evening of October 30, 1938.
Welles gave one early disclaimer, however, those who joined the broadcast later believed that America was being invaded by aliens.
The slurred alien-invasion took place in Grover's Mill Park in New Jersey.
The park contains a monument and information about Welles broadcast.
To this day, almost 100 years later, it still remains one of the most memorable stunts of all time.
DEVIL'S TREE - BERNARDS TOWNSHIP, NEW JERSEY
We end with this very disturbing item.
There is a tree, located in a rural corner of Bernards Township, New Jersey.
It is said, but, not proven that murders took place during the dark days of lynchings at the sight of this tree.
What is not in dispute is that Ku klux Klan gatherings and initiations took place near this tree.
Teenagers are said to have have defaced the oak tree.
Legend has it that if you touch the trunk or damage this tree that you will be cursed.
You don't have to believe any of this … however, I'd say that it is a good idea to stay away from this tree.
Why tempt fate?
PROGRAMMING NOTE: On Friday, July 14, 2023, for the entire 7:00 a.m. hour, we will visit on-air with Don Hurley  and Chuck Turner. Turner is the author of his new book "From The Pinelands" … a book about The Jersey Devil. Chuck is also going to be giving away gifts for listeners, including Philadelphia Phillies tickets.
SOURCES: V. Scott Macom & http://atlasobscura.com
Atlantic City's Firsts Throughout History
Never Before Seen Golden Nugget Construction Photos