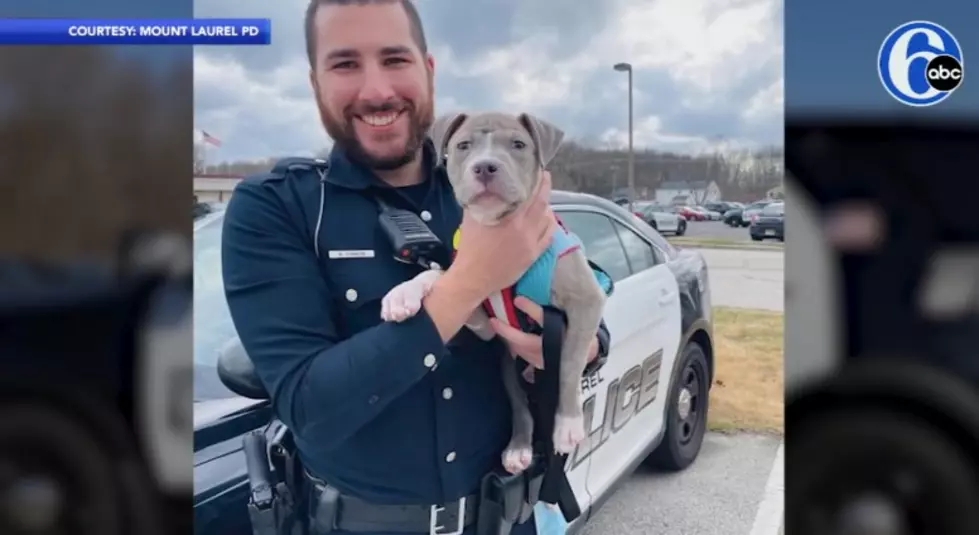 Mt. Laurel Cop Rescues, Then Adopts Pitbull Puppy [VIDEO]
courtesy 6abc.com via Mt. Laurel PD
We're melting, not just from this South Jersey Pitbull pup's cuteness, but from the story behind finding his fur-ever home.
Enter your number to get our free mobile app
Meet Thor, reportedly found wandering a business-district in Mt. Laurel, according to 6abc.com. The dog had no I.D., and appeared to have suffered an injury his forehead.
Luckily, he was spotted by 26-year-old Mt. Laurel Police Officer Matthew O'Hanlon, who got the puppy help at Burlington County Animal Shelter.
SJ Couple Turns Making Homemade Gravy for Dogs into Small Business
But O'Hanlon took a special interest in Thor, telling 6abc.com, "My fiance and I were looking to get a pitbull, and when you see a pit bull puppy with an injury, it's hard to pass up on." He expressed interest in adopting Thor himself if no one surfaced to claim him.
And it sounds like mighty Thor has hit the 'forever family' jackpot. "Boy, it makes you feel good that you can help a little puppy like that go from whatever happened to him to now knowing how spoiled he's going to be for the rest of his life," Officer O'Hanlon told 6abc.com. He knows from experience that despite their often negative reputation, Pitbulls can be loyal, affectionate companions.
We wish these two new besties a lifetime of happiness together. Thor is one gorgeous puppy and is going to grow up into a beautiful dog!
SOURCES: 6abc.com
More from SoJO 104.9
Check out these 50 fascinating facts about dogs: