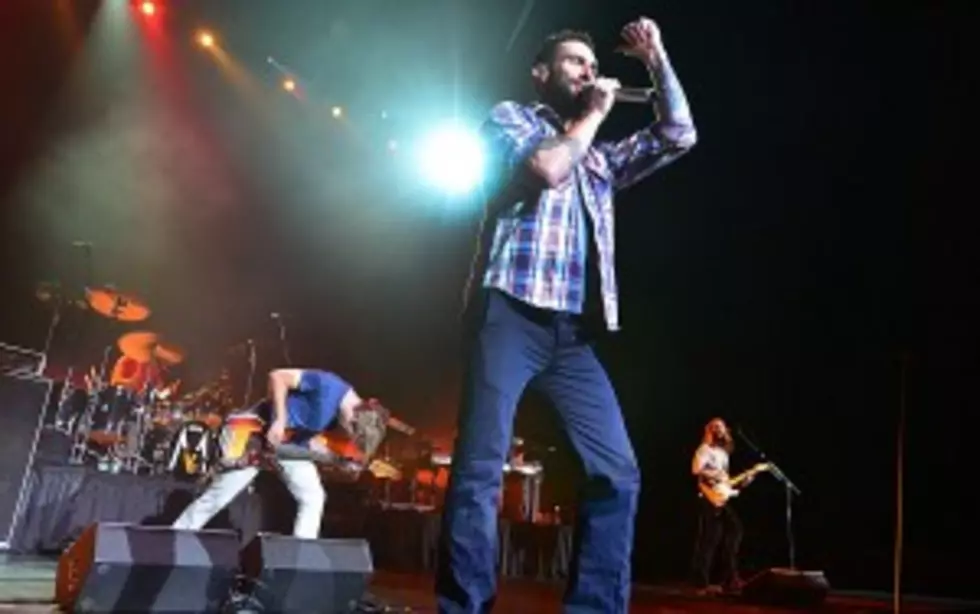 Maroon 5 Wows Crowd At New Revel Resorts [REVIEW]
     Now, I AM writing this review as one of Maroon 5's biggest fans.  I've seen them live 5 times before their debut performance at Revel, but something told me the energy of the audience would be taken to another level simply because of the buzz and fan fare surrounding Atlantic City's newest resort. 
SoJO On The Go and I had some pre-show fun just outside Ovation Hall catching up with fans and listeners, and in our own way, giving them a chance to have a photo taken with Adam Levine!
Doors opened at 7:30 p.m. and before the main act we were treated to a warmup by 'The Voice' first season winner Javier Colon.  To say that I was impressed by HIS vocal prowess would be an understatement.  Javier's incredible singing range was a perfect match for the horseshoe shaped arena (which was said to be modeled after Caesars Las Vegas concert hall).
Frontman Adam Levine and his Maroon 5 bandmates hit the stage at 10 p.m. sharp, right on time.  But even if they'd have been late, I wouldn't have minded.  The seats in Ovation Hall's mezzanines were built for comfort.  They were so cushy, like the best movie theater seat ever and a favorite armchair all rolled into one.  But who cares how accommodating my seat was?!  Once Adam broke into 'Stereo Hearts' and the show officially kicked off I was on my feet.  The band threw out hit after hit for the first quarter of their set:  'This Love', 'Harder To Breathe', 'Sunday Morning', 'If I Never See Your Face Again', 'Misery', 'Makes Me Wonder'.  And then came the moment I'd been waiting for, a preview of Maroon 5's upcoming fourth album Overexposed.  The track 'One More Night' was a fusion of reggae and rock, a sound that seems fresh for the band.  It felt bitter sweet to hear considering the band's recent remarks that the forthcoming disc could be their last.
Throughout the evening Adam Levine, who's come to recent notoriety for his participation as a team leader on NBC's 'The Voice', engaged the audience like he was catching up with old friends.  He was so adorable and casual in his plaid shirt and jeans.  Boyish, coy, and even a little shy sometimes, all of which made him even more charming.  Halfway through the show Levine was joined by the champion he coached to victory on 'The Voice'.  Adam and Javier roused the onlookers with a moving duet of Michael Jackson's 'Man In The Mirror'.  It was great for fans of the TV talent competition to see the two interacting.  You could tell Adam was a judge who really cared about the contestant he mentored.
The string of hits continued with 'Won't Go Home Without You', 'Wake Up Call', the fan favorite 'The Sweetest Goodbye', and the bands newest single 'Payphone' which has become one of the fastest selling digital tracks of all time.
And then, finally, the song we'd all spent the night pining for, the #1 song 'Moves Like Jagger'  opened up the encore.  Screams took the volume inside Ovation Hall to a shreaking level.  I was even more excited when they kicked into 'Hands All Over', the title track of Maroon 5's album of the same name.  It was one of the night's most rockin' and most unexpected suprises.  But the sweetest moment came when Adam spotted two teenagers in the crowd with a sign that stated they'd skipped their prom in favor of attending the concert.  Adam seemed moved having had his own less-than-perfect prom memory.  Somehow in 20 years I doubt these two girls will be reminiscing about missing some high school dance, especially when they got to slow dance with one of the world's biggest singers to one of his biggest hits, 'She Will Be Loved'.
All in all, this was one of Maroon 5's standout concert appearances.  And my first look at Revel's Ovation Hall was well worth the anticipation.  With accommodation for general admission standing and unobstructed stadium seating for every chair, there is not a bad view in the house.  Ovation Hall provides something for everyone.  And it's swanky and beautiful to boot.  I highly approve.  It's the only aesthetic that could have been worthy of competeing with Adam Levine's megawatt smile and good looks ;-).  Check it out if you can.  Upcoming shows at the venue include Nickelback, Def Leppard and Poison, Kid Rock, and of course next weekend four-night come back of Beyonce.