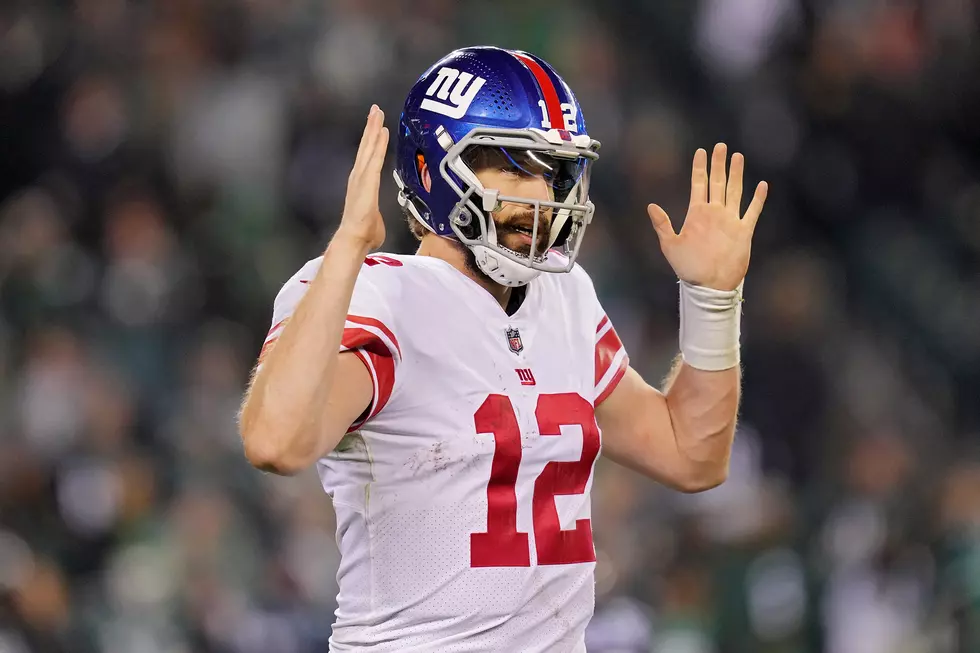 Eagles Fans Shocked At All The Giants Fans Surfacing In South Jersey
Mitchell Leff/Stringer/Getty Images
It's sad but true, Eagles Nation. There seems to be a lot more fans of the New York Giants here in South Jersey than we ever before realized.
It may not be a matter of them not ever existing here before, but simply one of them keeping quiet about their fandom. That is, until now. Of course, they're all voicing their support for the Giants ahead of this weekend's playoff game.
The Eagles are set to take on the Giants this Saturday night at Lincoln Financial. I'm an Eagles fan. Both my parents are from Philadelphia. I was born to bleed green. Now, all of a sudden, I am SHOCKED to see how many people are coming out of the woodwork in South Jersey-based Facebook groups showing their unfailing support of the team to the far north.
Egg Harbor Township, I'm looking at you. I was on an EHT-based Facebook group today and couldn't believe what I was seeing! Soooo many people were voicing their support for the Giants! 😡 I am appalled, fam. So disappointed! 😔
I do have to confess, however, that I should have known. I brought one of them to Atlantic County. My boyfriend is a diehard Giants fan because his stepfather is from Long Island. His stepfather raised him and he's a Giants fan, so naturally, my boyfriend followed suit.
My one question is, though, where have you people been hiding?? I had NO IDEA there were so many of you taking up residence in the deepest parts of South Jersey! Sure, once you start dipping into Ocean and Burlington Counties you're bound to come across a lot more Giants fans, but here in the deepest part of Eagles country? Ugh! It crushes my soul.
It's not like I didn't expect there to be any Giants fans here in South Jersey at all. I'm not an idiot. I do realize that Giants country is only about a 45-ish minute drive from this part of the state. Still, seeing that many concentrated here in Atlantic County? I was shook.
Don't worry, Eagles Nation. We'll see who erupts in celebratory chants come late Saturday night.
FLY, EAGLES, FLY!
Source: Facebook
12 Jersey Girls Cheering for the Philadelphia Eagles This Season
Even though they perform in Philadelphia, New Jersey will be well-represented on the 2022-2023 Eagles cheerleading squad.
Look Back at Past Philadelphia Eagles' Uniforms
We have your look back over the decades of Eagles' uniforms.
The Worst Gifts You Can Give An Eagles Fan
We all have that one friend who is a diehard Philadelphia Eagles fan. When you don't know what to get them for their birthday or a special occasion you usually just go for some birds gear. In all honesty, not all Philadelphia Eagles memorabilia is as cool as you may think. We were able to find some really bad ones that no Philadelphia Eagles fan should ever have.
Some of them probably should not be given out as a gift and perhaps not even purchased for yourself.