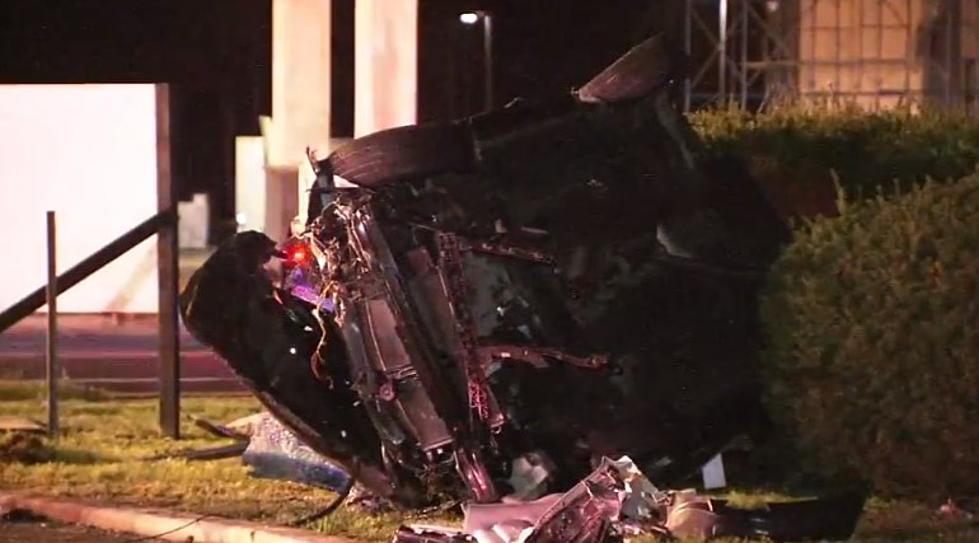 Driver Travelling at High Rate of Speed Crashes in Clementon
courtesy 6abc.com
Police in Clementon, Camden County say a driver travelling at a high rate of speed lost control of the wheel and crashed off the White Horse Pike early Wednesday morning.
The driver of that vehicle must not have been paying very close attention to the news lately, and certainly didn't learn from Tiger Woods' recent accident that authorities in California determined to be the result of excessive speed.
The accident in Clementon reportedly happened around 1:30 a.m., 6abc.com reports.
The sedan involved reportedly rolled over 10 times, according to police, taking out a traffic light and crashing into a shopping center off Route 30 near Trout Avenue.
Pedestrian Killed on Route 40 in Atlantic City
First responders had to work to free the driver from the twisted heap of metal before transporting him to an area hospital where his condition is reportedly critical.
The identity of the driver is unknown. Also unknown is if there were any extenuating circumstances the lead to the crash besides excessive speed, such as distracted driving or driving under the influence.
Fentanyl and Heroin Ring Busted by Cops in Gloucester Township
I wish people would stop treating our South Jersey roads like an installment of The Fast & The Furious. Even at 1:30 in the morning this driver could have killed someone else. Please be safe out there!
Man Admits to Illegally Selling Erectile Disfunction Drugs in New Jersey
SOURCES: 6abc.com
More from SoJO 104.9
MUST SEE: Weird New Jersey Town Names
READ ON: See the States Where People Live the Longest
Read on to learn the average life expectancy in each state.
Lizzie Borden's Maplecroft Is Back on the Market in Fall River, Massachusetts
A photo gallery of 'The Silence of the Lambs' house