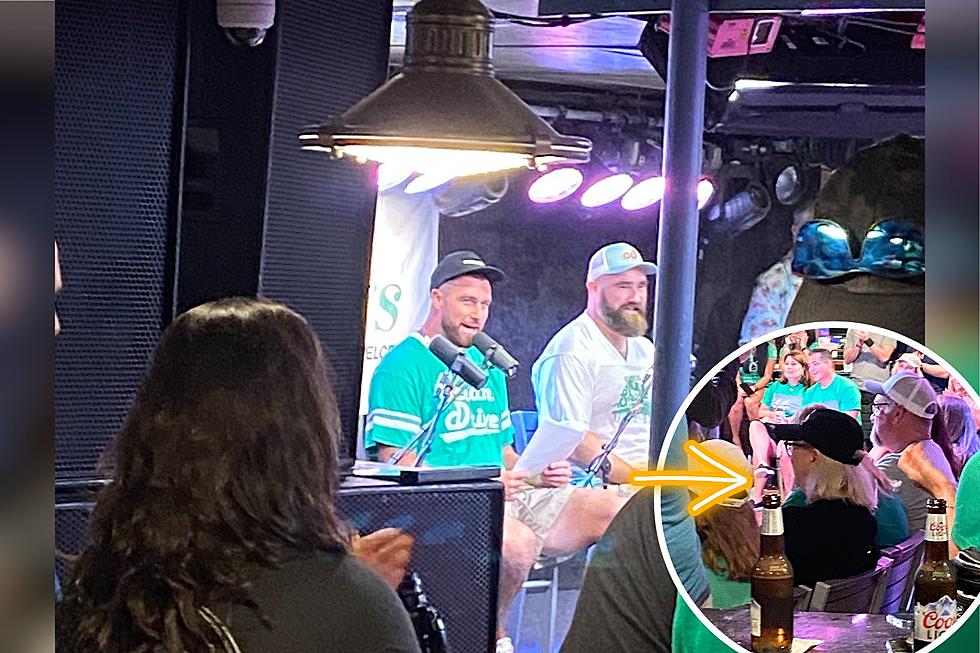 Mama Kelce Spotted at Jason and Travis' Podcast Taping in Sea Isle City, NJ
courtesy Nicole Destralo; Canva
NFL players and brothers Jason and Travis Kelce are at the Jersey Shore today for multiple celebrations with fans, but their biggest was spotted in the audience: Mama Kelce.

We love Philadelphia Eagles center Jason Kelce. We love Kansas City Chiefs tight end Travis Kelce (maybe a little less after the recent Super Bowl), but we STAN Donna Kelce.
Donna is always there to support her boys, not matter the season, no matter the event.
Jason and Travis are in Sea Isle City in Cape May County on behalf of the Eagles Autism Foundation and Team 62.
Earlier in the day, the brothers staged a taping of their New Heights Show podcast at The Ocean Drive. And there was Mama Kelce, in attendance as always.
Jason's Eagles teammate Landon Dickerson also popped in.
We hear Papa Kelce made an appearance, too.
After the podcast taping, there's a VIP event at O'Donnell's Pour House, followed by Jason guest bartending at the OD starting at 4 p.m.
I highly recommend New Heights Show podcast, by the way. I look forward to every episode just to hear Jason and Travis Kelce banter. It's pretty hilarious and they have awesome guests.
These are the best NJ high schools for sports
Stacker
put together a list of the best high schools for sports across New Jersey — using data from Niche that included sports championships, family surveys, student enrollment, athletic participation rate and sports options. Here's the top 25.
GO INSIDE: Atlantic City Rentable Beach House Has Its Own Lighthouse!
This home listed for rent on
Vrbo
might be the beachiest home for rent at the Jersey Shore, complete with its very own lighthouse.