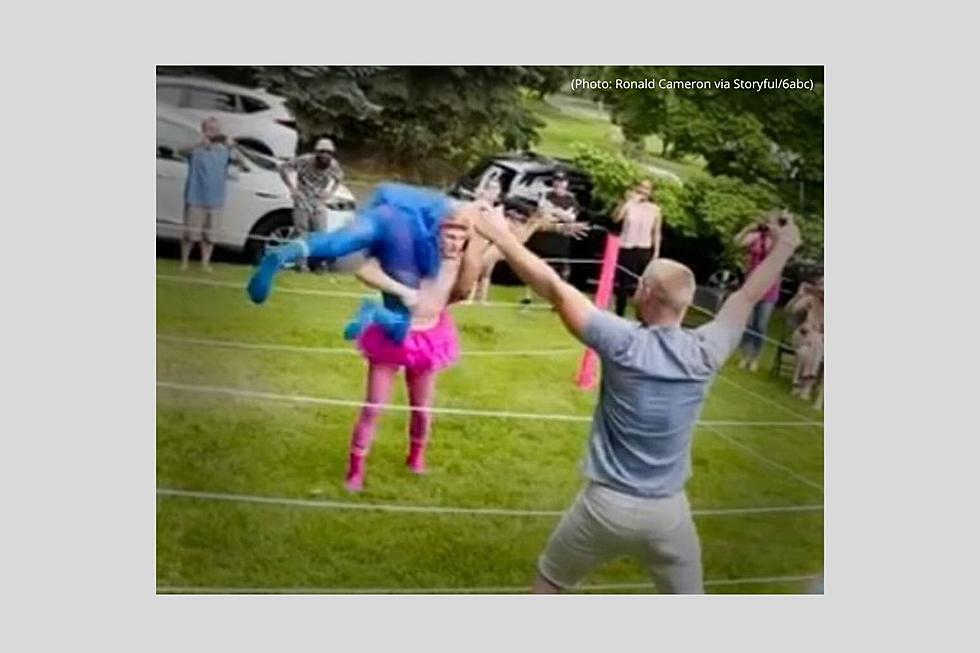 Body Slam! Burlington County Couple Hosts Wrestling Match Gender Reveal [VIDEO]
Ronald Cameron via Storyful/6abc.com
This might be the most entertaining (and hilarious) gender reveal South Jersey's ever seen.
Ronald Cameron and Kayla Peterson, of Cinnaminson, are expecting their first child later this year.
The couple's gender reveal party to find out if they're having a boy or a girl looked more like a WWE wrestling match. And that's no accident. Kayla's dad tells 6abc.com he wanted the event to be 'suspenseful'.
And, guess who Kayla's dad is?! Gervase Peterson! Yep, a Season One contestant on CBS' 'Survivor' reality show! So, he would know something about suspense, wouldn't he?
Gervase can be seen in the gender reveal wrestling match below playing the referee.
Anthony Cameron donned a pink tutu for the match, while Shawn Ruffin wore a blue tutu. Both are brothers of the father-to-be.
The match is so fun to watch. Check out the video below! And, at the end, you'll find out if the couple will welcome a baby boy or baby girl this December.
This is one of the most creative and entertaining things I've ever seen. Gender reveal's have gotten more elaborate (and dangerous) over the years, so I'm just glad no one was hurt and the whole event was all in good fun. It looks like the crowd enjoyed it!
11 Photos of South Jersey's Most Entertaining Gender Reveal Ever
One Burlington County couple chose to find out the gender of their baby through a little sweat and body slams.
Congratulations to Ronald and Kayla from SoJO 104.9!
SOURCES: Survivor Fan/YouTube; 6abc.com
More from SoJO 104.9
9 New Jersey Food Staples You Couldn't Live Without After Moving Away
Would really miss NJ's food THAT badly if you were to move out of state? The answer to that question is a hard 'yes'. Yes, you would. Especially these nine items that aren't as good anywhere else.
The Most Sex-Positive Teen Shows on Streaming