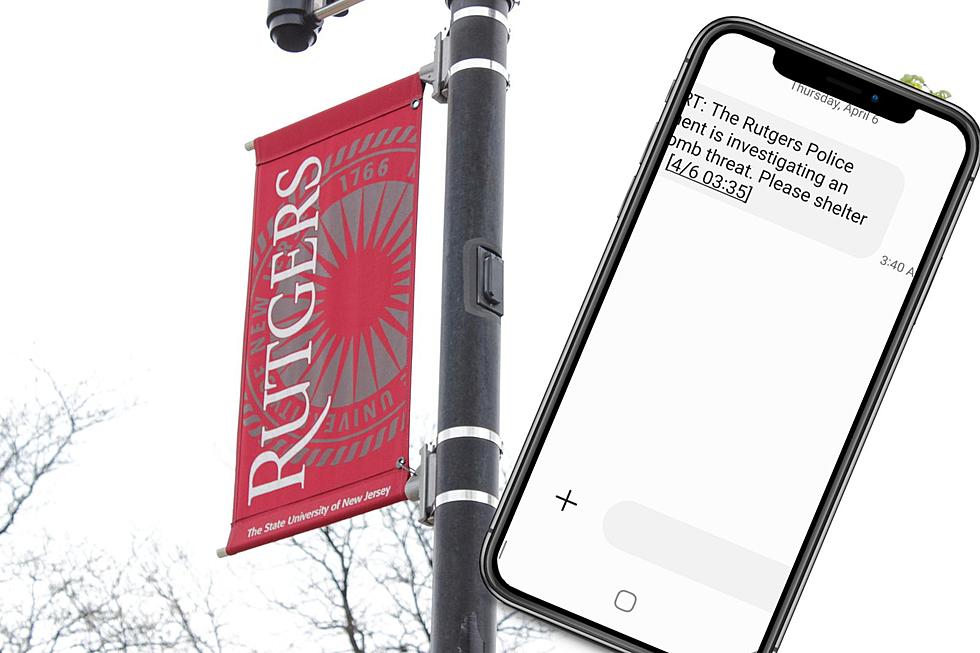 Bomb threat puts Rutgers University on shelter-in-place mode
Rutgers Alert about a bomb threat 4/6/23 (Townsquare Media), Rutgers banner (Connie Lee)
🔴 The campus was notified via text and email about a bomb threat at 3:40 a.m. Thursday morning.
🔴 The alert did not specify which of Rutgers' three campuses was affected.
🔴 The alert was canceled at approximately 5:45 a.m. and later called a swatting
---
It was a few tense hours for Rutgers University students early Thursday morning as a bomb threat sent the school into shelter-in-place mode, according to an alert from the Rutgers police department.
The incident turned out to be a swatting, the third threat of violence made against a New Jersey college this week, according to university spokeswoman Dory Devlin.
The initial message sent via text and email at 3:40 a.m. said an "active bomb threat" was under investigation. The alert did not specify a specific campus, New Brunswick, Newark or Camden.  The alert did not appear on Rutgers social media or the Rutgers police Facebook page.
A message sent at 5:44 a.m. lifted the shelter-in-place.
"The Rutgers University New Brunswick/Piscataway Campuses have been deemed safe. Please return to normal operating procedures," read the message.
Early morning search
Devlin told New Jersey 101.5 the Rutgers police communications center received call threatening several buildings on the school's College Avenue campus in New Brunswick. Rutgers police and bomb detection dogs from the Middlesex County Sheriff's Office searched the buildings and did not locate any explosive or suspicious devices.
"The initial investigation confirmed that the incident was likely the result of a purposeful, non-credible threat known as 'swatting,' Devlin said.
An investigation is ongoing into the origin of the call. Rutgers police asked anyone with information about the threat to call 848-932-8025.
A swatting call was made to Rider University's Public Safety Department Monday that sent the school into a shelter-in-place mode for an hour.
Earlier threats of violence
Saint Elizabeth University, Saint Elizabeth high school, Farleigh Dickinson University and Madison public schools all went on shelter-in-place status around 10:30 a.m. Tuesday after an individual walking near NJ Transit's Covent Station reported that a man made a threat of violence and was potentially armed, according to Morris County Prosecutor Robert Carroll.
No person matching the description of the person making the threat was located after a search of the Saint Elizabeth University campus.
Dan Alexander is a reporter for New Jersey 101.5. You can reach him at dan.alexander@townsquaremedia.com
Click here to contact an editor about feedback or a correction for this story.
Biggest NJ company layoff notices in 2022 and 2023
In some cases, workers may be offered back their jobs or transfers to different locations.
Here's a look at more than a dozen of the biggest announcements within two years.
Up or down? Average property tax changes in NJ in 2022
Below are the average property tax bills for every municipality in New Jersey last year.
The towns are listed from the biggest cut in the average bill to the highest increase. On the county maps, the deeper red color means a higher increase above 2% whereas the darker green signifies a smaller increase or a reduction.
Each listing also shows how the average tax bill is split among the county, school and municipal governments.
Weird things NJ taxes - and some they don't
In general, New Jersey assesses a 6.625% Sales Tax on sales of most tangible personal property, specified digital products, and certain services unless specifically exempt under New Jersey law.
However, the way the sales tax is applied in New Jersey sometimes just doesn't make sense.
New Jersey puts out an itemized list for retailers that spells out what is, and what is not, taxed.
Perhaps because this is New Jersey, there are some bizarre and seemingly contradictory listings.