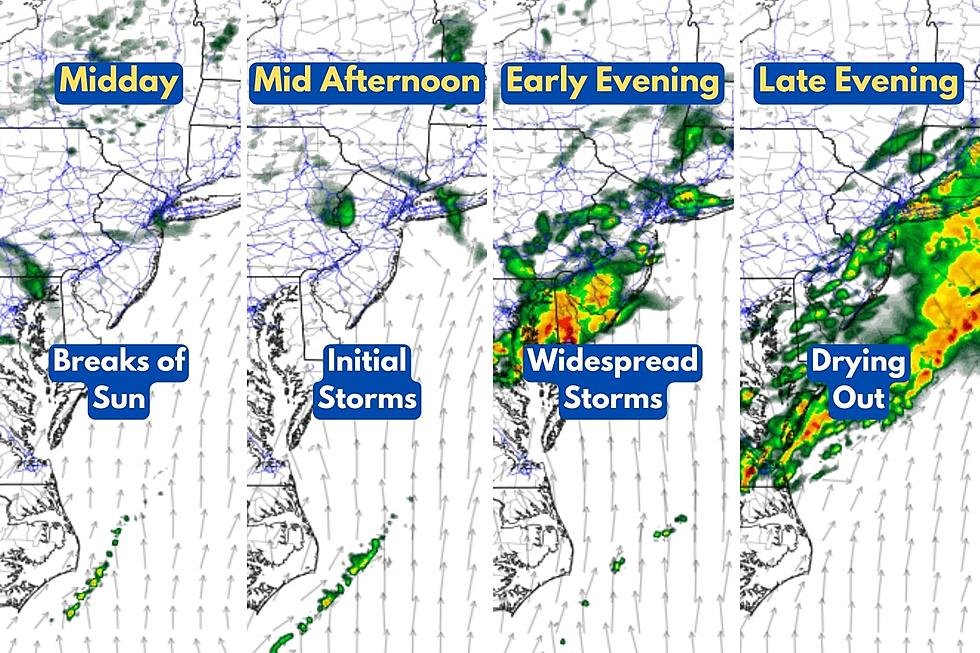 Thursday NJ weather: Near-record temperatures fuel strong thunderstorms
HRRR model forecast showing the progression of thunderstorms in New Jersey, as of approximately Noon, 3 p.m., 6 p.m., and 9 p.m. (College of DuPage Meteorology / Canva)
The Bottom Line
There are two big weather headlines for Thursday: 1.) Very warm temperatures, and 2.) Strong to severe thunderstorms.
Let me say immediately that the tornado threat on Thursday is not zero. But it is relatively low, especially compared to Saturday's outbreak. The ingredients just aren't coming together in that way. However, I'm not downplaying the severe weather risk at all — wind, hail, lightning, and rain are definitely on the table here.
Beyond Thursday's active, stormy "weather aware" day, conditions settle down for the Easter holiday weekend. In fact, quiet, dry weather should prevail for the next week to week-and-a-half.
Thursday
The day begins with fog. Visibility is especially low in the northern sector of New Jersey, down to a quarter-mile in spots. That is enough to slow you down on the road and possibly cause flight delays. We did have a batch of rain slide through North Jersey early Thursday morning, and you may encounter a few spotty showers too.
Temperatures are starting between upper 40s (north) and mid 60s (southwest). Look for highs between 75 and 80 degrees across most of the state. The Jersey Shore will end up cooler again, typical of springtime. (The ocean is still only 50 degrees, after all.) Meanwhile, the southwestern corner of the state could soar as high as 85 degrees. That would be a typical middle-of-summer kind of day!
In case you're keeping score, record high temperatures for this date are 80 at Newark, 87 at Trenton, and 88 at Atlantic City.
This is the kind of day where sunshine is not our friend. On bulk, skies will be mostly cloudy. But midday breaks of sun will help to "cook" and destabilize the atmosphere, raising the risk of strong to severe thunderstorms later on. Enjoy the warmth (and touch of humidity) while it lasts.
Timeline... Starting around 2 or 3 o'clock Thursday afternoon, we will have to watch the western sky for scattered thunderstorms to roll in. Model guidance suggests the nastiest, most widespread storm activity will be in the 5 or 6 or maybe 7 o'clock hours Thursday evening. Storms should largely die down by 8 or 9 o'clock.
Impacts... Biggest concern here is gusty winds, along with heavy rain, frequent lightning, and small hail. I can't completely rule out a tornado, although the threat is at the bottom of the list this time around.
Geography... The strongest storms will probably affect the southern half of New Jersey. That's where the air will be warmest and "juiciest," providing extra fuel for thunderstorm cells to feed and grow.
What to Expect... A "watch" will probably be issued this afternoon, highlighting the area and timing for potential storms. When "warnings" are issued, that means storms are actually happening. Consider your outdoor and commuting plans very carefully Thursday, and be prepared to seek shelter in a sturdy building if thunder starts to roar.
Look, if the Phillies and Mets were both smart enough to postpone their home openers by a day, out of an abundance of caution, you should take the storm threat just as seriously.
After showers and thunderstorms wrap up Thursday evening, a cold front will dry out New Jersey overnight. Low temperatures will dip into the cool 40s by Friday morning.
Friday
Definitely cooler. Definitely quieter. Although skies will still look a bit unsettled, as that aforementioned cold front stalls just to our south.
I'll call Friday mostly cloudy. (Some forecast models even show gray, overcast skies for much of the day.) The near-record 70s and 80s will be gone, as thermometers only max out in the upper 50s. 20+ degrees cooler than Thursday, but we end up very close to normal for early April.
There is a chance for lingering shower activity to clip the southern edge of the state on Friday. No storms, just the potential for some damp weather. And again, limited to South Jersey.
Saturday
Saturday morning will be our first widespread frost in a while, with widespread 30s to start the day.
And high temperatures Saturday afternoon will only reach the lower 50s. Noticeably cooler than seasonal normals.
Skies should be brighter than Friday, but I think we'll still see a mix of clouds and sun overhead. Weather looks dry and winds stay light.
As long as you're wearing a jacket, Saturday will be a pleasant weather day.
Easter Sunday
Sunday looks even better. Warmer and brighter.
Sunny skies take over, pushing high temperatures into the seasonable 55 to 60 degree range. The air will be dry and crisp, with a light breeze. Other than a cool morning, there's nothing to complain about at all here.
The Extended Forecast
The long-range forecast turns completely silent next week, as a strong dome of high pressure builds over New Jersey. Sun and clouds and 70s. We might even touch 80 degrees by the end of the week, before our next chance of rain comes into play. Overall, a great forecast for the kiddos on Spring Break next week.
Speaking of Spring Break, I'll be taking some vacation time soon too. Not quite yet — I will be on the weather desk for Thursday's noisy thunderstorms. But Friday through Wednesday, the CMDZ weather blog will be on hiatus. You can still get your latest 5-day forecast online and on-air, and I'll let you know if anything pressing comes along.
Be smart and stay safe out there!
Dan Zarrow is Chief Meteorologist for Townsquare Media New Jersey. Follow him on Facebook or Twitter for the latest forecast and realtime weather updates.
BEEP BEEP BEEP: These are the 13 types of Wireless Emergency Alerts auto-pushed to your phone
The Wireless Emergency Alerts (WEA) system allows government officials to immediately and automatically push messages to all cell phones and mobile devices within a specific geographical area. There are a total of 13 types of messages that can currently be sent as a Wireless Emergency Alert. Nine of them are weather-related warnings, including one that is brand new as of August 2021.
11 reasons why storm chasing in NJ is a very, very bad idea