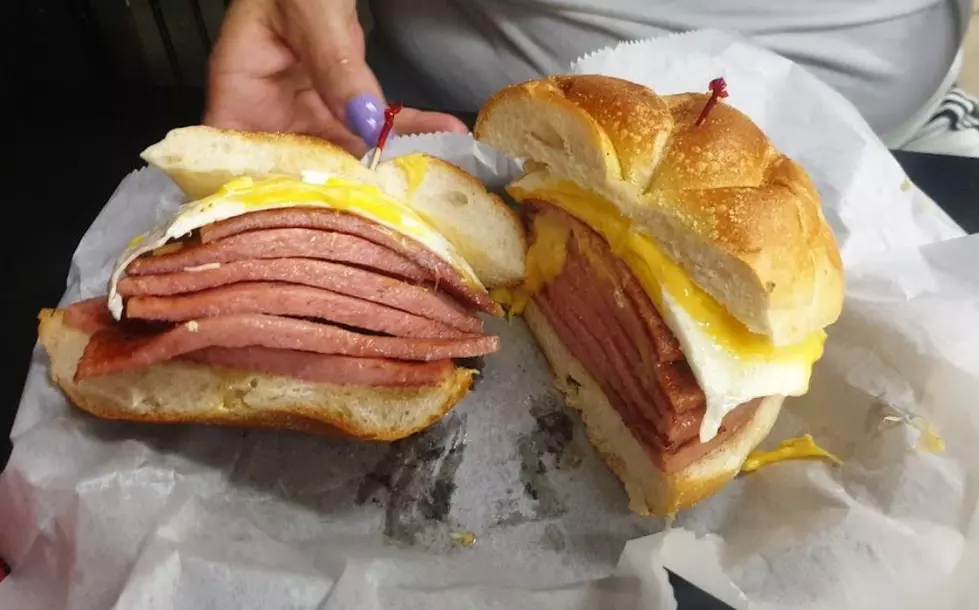 America's Best Breakfast Sandwich is Right Here in New Jersey
Slaters Deli & Caterers
Breakfast sandwiches take many different shapes and forms.
Don't like familiarity in New Jersey, though?
For most in the Garden State, a breakfast sandwich equals pork roll egg and cheese on a bagel. A hard roll is also completely acceptable, but I prefer a doughy bagel.
And yes, I said pork roll. We're not getting into that argument here.
The perfect breakfast sandwich for me consists of three slices of pork roll, and a couple of slices of yellow American (yes yellow and white American do taste different.)
When it comes to the bagel, I always for the egg variety.
Hold up. We're not done. This sandwich is not complete without ketchup on top.
Slice that beauty in half and you've got an amazing breakfast sandwich.
You can walk into virtually any deli or restaurant bright and early and get a pork roll, egg, and cheese.
However, there are eateries that go above and beyond.
After all, breakfast food is art.
Lifestyle site Cheapism traveled the country state by state to find the best breakfast sandwich in the U.S. Not a bad gig, huh?
Which joint got the crown in New Jersey?
Check out these Yelp reviews.
We stop here all the time to pick up sandwiches on the way to Sandy Hook. Service is generally pretty fast and friendly although there can be a line on busy summer weekends.
Biggest and best pork roll egg and cheese along the coast. The sausage egg and cheese are good too. Always a friendly phone call and pick-up experience.
The Garden State's best breakfast sandwich can be found at Slaters Deli in Leonardo in Monmouth County.
It's a no-frills kind of place, but take a look at this beauty.
Who's hungry?
The 20 Dynamite New Jersey Diners That Are Too Tasty Not to Try
The 20 Dynamite New Jersey Diners That Are Too Tasty Not to Try