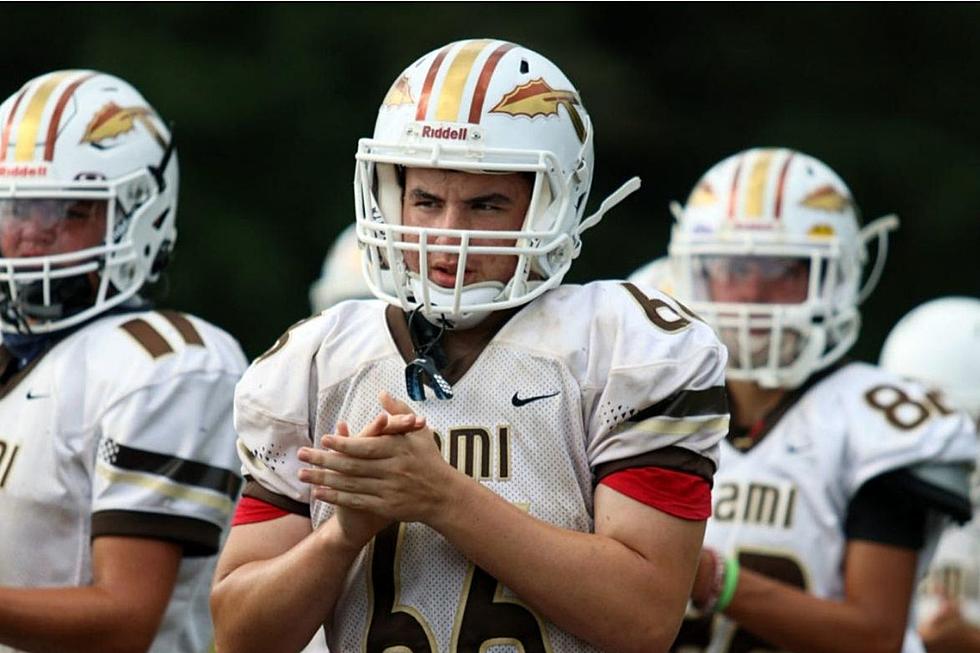 Absegami High School Pride still strong in Galloway Township, NJ
Photo by Dave O'Sullivan/Glory Days Magazine
In our second edition of local High School Athletics Spotlight series takes a closer look at Absegami High School.  Last Week, we brought you inside Mainland Regional Athletics and we will do similar profiles of other local High School Athletics here in South Jersey.
Nestled behind a cluster of trees off Wrangleboro Road in Galloway Township sits Absegami High School, featuring one of the most underrated Athletic Programs in South Jersey.  The Athletics Program features four different sports that have won state championships since 2000 and the Football team won the 2006 South Jersey Group IV championship.  The term "Gami PRIDE" is more than just something for a t-shirt or a trending hashtag, at Absegami P.R.I.D.E. stands for:
Positivity - Respect - Integrity - Determination - Empathy
Absegami High School and their student-athletes have needed to tap into each of those attributes over the last 18 plus months as the COVID-19 pandemic turned everyone's world upside down.  As Absegami Athletic Director Steve Fortis tells 973 ESPN, the school and students are doing their best to keep moving forward:
"What we are doing now is what we have always done, last year was an anomaly and a blip - We are as back to normal as (much as) we can be. If schools did anything during the pandemic it was to hold practices and games; Sports went on in-person even as classwork was relegated to online. We were able to wrestle....who would have thought that was possible???"
It's not a coincidence that Steve Fortis mentions Wrestling because that sport has a special place in the school's history.  From 1997 to 2004, the Wrestling Team won several Sectional and Group and State Championships.  Absegami Head Wrestling Coach Shawn Scannell spoke to 973 ESPN about how deep the pride runs at the school for him with the sport that lives on the mats:
"I take great pride in being the Head Wrestling Coach here at Absegami. I am truly blessed to be able to do what I love year after year. I wrestled at Gami, my brother wrestled at Gami, I have family in school here now, so it means a lot to me. I was fortunate enough to have wrestled for and coach with the legendary Gene Barber. I learned a lot from him and am grateful for this opportunity to keep his legacy that he started here going in the right direction."
But in the aftermath of the COVID-19 Lockdowns and hyper-emphasis on "Social Distancing", keeping that legacy going came with challenges for a sport like Wrestling that requires you to be right on top of your opponent.  Scannell spoke about the Student-Athletes overcoming these obstacles just to be able to continue to Wrestle:
"Last year was extremely difficult for our student- athletes. There were so many obstacles put before us to just be able to compete, but our wrestlers rolled with the punches and persevered in the end. Our administration did a tremendous job keeping us safe and able to do what we love. The season itself was mentally taxing, not only for our Wrestlers but (also) for the coaches, administration and parents. Our season was moved back and condensed, so there were some challenges there as well. We had a strong team last year, so not really being able to showcase that group was disappointing. But in the end we understood the circumstances we were given and were grateful to have a semblance of a season. We are fired up for this upcoming full season."
Another challenge that has been presented to Absegami High School is the newer Head Coaches of different sports who got their positions before and after the COVID-19 Lockdowns.  Shawn Scannell is excited for the youth movement:
"As a veteran coach here at Absegami, it is nice to see these younger coaches come in, full of energy and do what they do. We seem to be having a younger resurgence in our building right now, many of whom are Gami graduates. So it is nice when you get alum back in your building; They understand the traditions and pride we have here and are eager to get involved."
Absegami Athletic Director Steve Fortis talked about the non-COVID-19 obstacles for the newer coaches at the High School level:
"With any new coach there is usually some initial enthusiasm simply because it is new. What these (newer coaches) understand is that high school sports, even for public schools, is now about recruiting 6th,7th and 8th graders to 'choose' a school. A kid in Galloway Township has an option to go to Absegami or Cedar Creek, Oakcrest, ACIT, St. Joe's, Holy Spirit, (St. Augustine) Prep, Charter Tech, Ocean City and Mainland.  This is tremendous pressure on new coaches to keep our township kids in town."
One of those newer coaches is Head Football Coach Chris Sacco.  Sacco did an incredible job turning around Pleasantville High School's Football Program and was hired to become the man in-charge of the Football program at Absegami just a month before the COVID-19 Lockdowns happened.  Sacco talked to 973 ESPN about the differences and challenges of the last 20 months:
"This year has been an adjustment, especially when compared to last year. Last year felt rushed and condensed, especially coming in as a new coach. This year, our off-season began earlier, as well as the pre-season due to having our first game in August. There was more sense of normality, as we were able to access the locker rooms and inside the building. It was definitely a good feeling to be able to get back to some sort of regular schedule."
This season, Absegami qualified for the South Jersey Group 3 Playoffs and will play at district rival Cedar Creek in the first round.  Sacco is proud of his football players and how they have continued to show up to give their best effort over the last 18 months:
"What makes me most proud is the way our guys have continued to fight throughout the season.  There have been many obstacles throughout the season, but our guys continue to show up and work to improve.  The last 18 months have been difficult for a lot of people, but being resilient is something that will not only help them now but carry with them throughout the rest of their lives."
The future is bright at Absegami High School as everyone prepares to turn the page from the Fall Sports in the Postseason and Student-Athletes get ready for the Winter Sports Season.  Athletic Director Steve Fortis talked to 973 ESPN about his goals for the Absegami Athletics moving forward:
"My short term goal is to keep the participation numbers up (because) the pandemic caused many teams to see a drop in participation. Long term (goal) is to keep up with the area schools that are funding their facilities with major upgrades like Buena Regional, St. Joe's (Hammonton), and Lower Cape May."
Most Accomplished South Jersey Male Athletes From Each High School