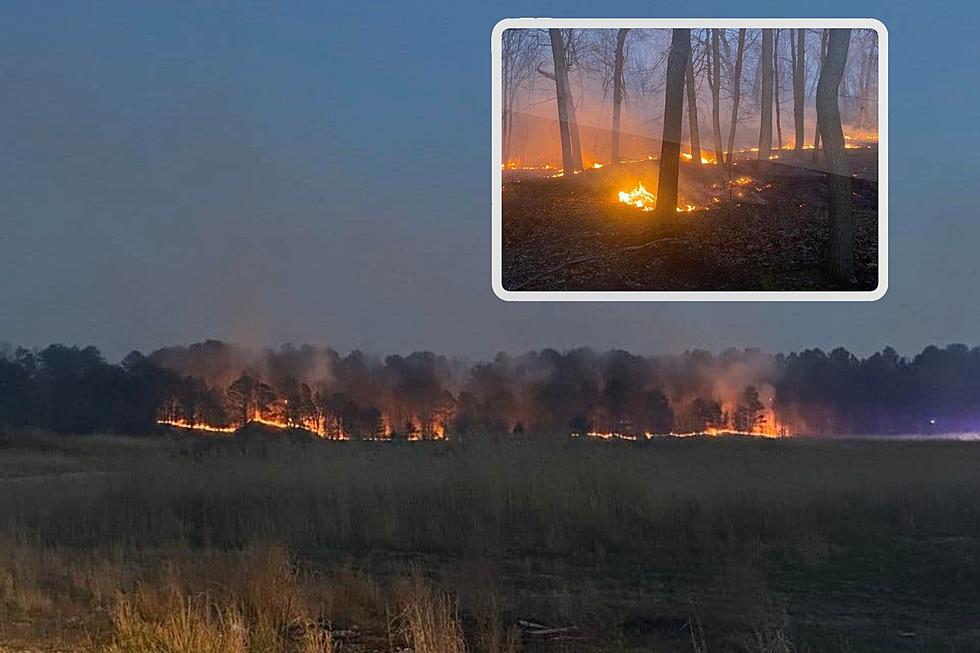 Wildfire warning this week in NJ — and one already flared in Sayreville
Brush fire in Sayreville near Jernee Mill Road at Red Oak Lane in Sayreville (Michael Gawron Jr.)
🔴 Dry, windy conditions make ideal conditions for wildfires in New Jersey
🔴 A small brush fire burned in Sayreville along Conrail tracks on Monday
🔴 Dry weather is 'uncharacteristic of springtime in New Jersey,' says Dan Zarrow
---
SAYREVILLE —Multiple brush fires Monday night along rail tracks illustrates how easy it for one to start in the current dry conditions.
The National Weather Service says low relative humidity, gusty west winds up to 20-25 mph and dry fuels have created an elevated risk of wildfire across the entire state.
The agency urged caution when using a potential ignition source for a fire including machinery, cigarettes and matches.
"We are in a stretch of very dry weather right now — uncharacteristic of springtime in New Jersey. Couple that with low humidity and breezy conditions, and the danger of rapid wildfire spread goes up," New Jersey 101.5 Chief Meteorologist Dan Zarrow said.
Several brush fires flared up Monday night in the area of Red Oak Lane and Jernee Mill Road in Sayreville along a two-mile stretch of Conrail tracks, according to New Jersey Forest Fire Service spokeswoman Caryn Shinske.
Some fences on private property were damaged by the fire.
Determining the acreage burned by the fire is difficult because of the widespread area of the fire, according to Shinske.
No structures were threatened and the cause of the fire is under investigation.
Active season for NJ wildfires
It has been an active wildfire season in New Jersey so far this year with 315 wildfires which have burned about 920 acres.
The largest was the Governors Branch wildfire on March 7 in Little Egg Harbor in southern Ocean County. Fed by northwest winds gusting to 40 mph the fire consumed 418 acres in about 7 hours.
Cape May, Cumberland and Salem counties plus parts of Atlantic, Bergen, Burlington, Passaic and Sussex counties are considered abnormally dry by the U.S. Drought Monitor with a 32% water deficit.
Dan Alexander is a reporter for New Jersey 101.5. You can reach him at dan.alexander@townsquaremedia.com
Click here to contact an editor about feedback or a correction for this story.
LOOK: 25 must-visit hidden gems from across the US
From secret gardens to underground caves,
Stacker
compiled a list of 25 must-visit hidden gems from across the United States using travel guides, news articles, and company websites.
Play ball NJ: These MLB pros are from New Jersey
A fair amount of New Jersey born baseball players have made it to the majors. These pros, active to start the 2023 season, all have NJ roots.
Weird things NJ taxes - and some they don't
In general, New Jersey assesses a 6.625% Sales Tax on sales of most tangible personal property, specified digital products, and certain services unless specifically exempt under New Jersey law.
However, the way the sales tax is applied in New Jersey sometimes just doesn't make sense.
New Jersey puts out an itemized list for retailers that spells out what is, and what is not, taxed.
Perhaps because this is New Jersey, there are some bizarre and seemingly contradictory listings.