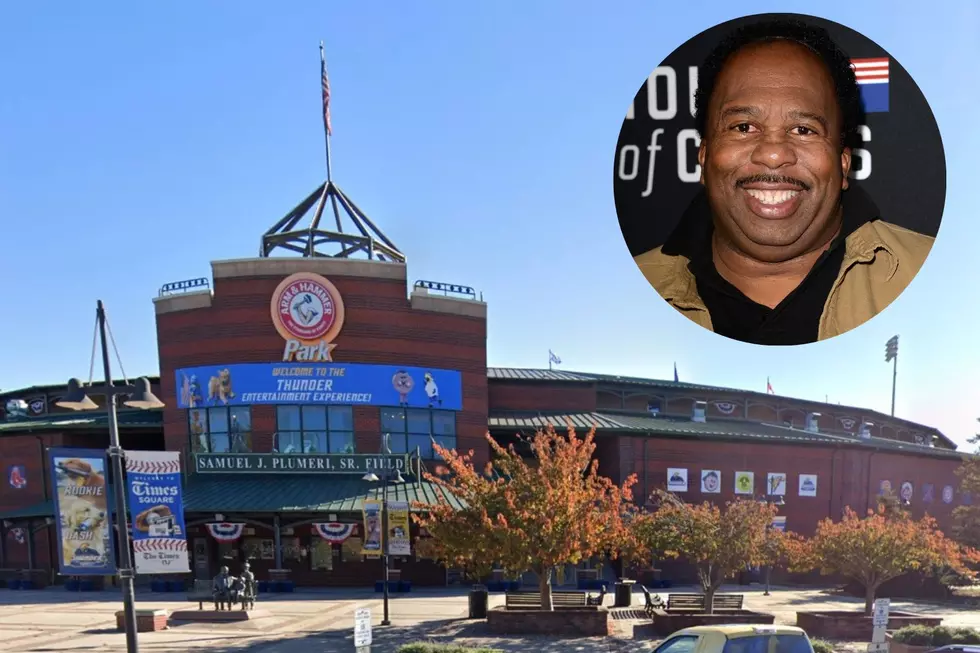 The Office Fans Can Meet This Dunder Mifflin Employee In Trenton, NJ
google earth/getty
It's just about time to start booking tickets for some Trenton Thunder games again! I absolutely love having the stadium right in Mercer County, because it's just such a great option to have for a night out when you want to stay local.
There are so many themed nights throughout the course of the season that are perfect to bring the entire family to. There are also chances to get your picture taken with some of the mascots like Cloudman, Boomer, and of course the Pork Roll (which is personally my favorite).
Of course, it's always a fun night at the Trenton Thunder stadium, but there is a familiar face making his way there this summer. If you know me, you'll know that I am one of the biggest fans of The Office, ever. It's my comfort show and I watch it just about every day.
In the past, there have been a few familiar Dunder Mifflin faces spotted at the ballpark like Kate Flannery who plays Meredith.
This summer, though, a new face is coming to Trenton to do a meet and greet, and tickets are available now. Leslie David Baker, who plays Stanley Hudson on The Office, is coming all the way to Trenton this July to celebrate The Office Night at the stadium! How cool is this? For super fans like me, I'm already looking forward to it.
There are two different ticket deals you can buy as of now. There's a ticket and T-Shirt package going for $30 which will get you admission and an "It's Pretzel Day" T-shirt ( if you know, you know).
The second option is the Ticket, T-shirt, and VIP Autograph Session, where you'll be able to meet Leslie Baker himself! That's currently selling for $75.
The Office night is hitting Arm and Hammer Park this summer on Tuesday, July 18th starting at 7 pm and tickets are available online now!
Fast Food Chains Mercer County, NJ Desperately Needs
We have our fair share of McDonald's, Taco Bells, and Wendy's in the area, but this is what we're missing!
Here Are 9 of the Tastiest Taco Spots in Central Jersey!