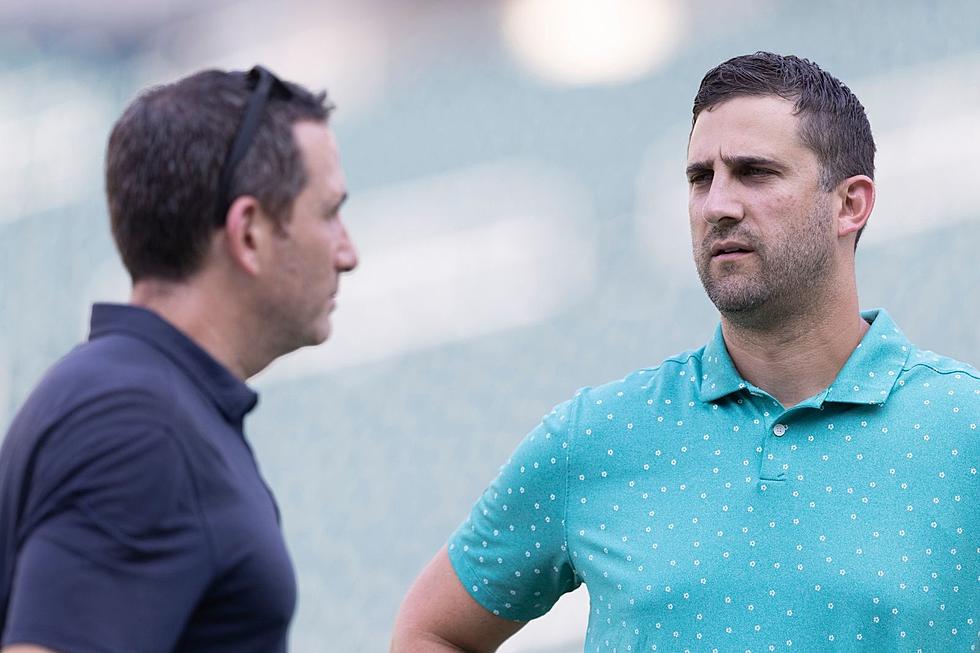 The 5 Biggest Questions for the Eagles This Offseason
(Photo by Mitchell Leff/Getty Images)
Just a few hours after the Eagles' lopsided 31-15 playoff loss to the Buccaneers in Tampa, Nick Sirianni admitted that change in inevitable.
"You're so happy that the journey happened, and the relationships that were built, but it hurts, and it stings because that journey of the 2021 Eagles is over, and that team will never be the same again," Sirianni stated. "There will be changes."
Certainly the needs to make improvement, but where do those improvements need to come?  They team has some very interesting questions that need to be answered and have plenty of avenues they can explore to fix there areas of need.
The NFL Combine, pre-draft process and free agency are next up for the Philadelphia Eagles and there is much to be done.
The Eagles are moving in the right direction, quickly rebuilding itself after a 4-11-1 season to return to the playoffs. Now Howie Roseman must find a way to continue to add talent to this roster, to take the next step to get back to true Super Bowl contender status.
With that in mind, here's a look at the five biggest questions the Eagles face this offseason:
1. Jalen Hurts: 
No matter what you thought of the season Jalen Hurts had, the organization is thinking long and hard about Hurts moving forward. He had a solid season, showing improvement, and certainly has room to grow.
"I felt like Jalen grew throughout the year and he got better as a passer, and he got better reading the defenses, getting the ball to the right place," Sirianni said. "He developed so much in his ability to extend plays of not only making plays with his feet, but also making plays downfield on the scramble."
He ended his first full season as the starter with 3,144 yards, completing 61.3% of his passes for 16 touchdowns and nine interceptions.  He added 784 yards rushing and 10 scores on the ground.
He has his flaws, which were on display in the Wild Card loss in Tampa, but can he improve on them with another offseason, training camp and being in the same offense again with Nick Sirianni.
"I feel really good with what we have in place right here at the quarterback position," Sirianni said. "I thought he had a great year and he came a long way, and that's what I expect from Jalen because of the type of football character he has, the type of character he has, the toughness that he has, the love for football that he has. I can't say enough good things about Jalen the person and the player, so I feel good about him."
The Eagles were a run heavy team in 2021, does Jeffery Lurie want to continue being a team that leans on the run and has questions in the passing game moving forward?  Hurts is a guy you can win games with, the biggest question is, can you win the big game with him?
There will be some options in trade and of course with three first-round picks, the Eagles can land a veteran passer of think about drafting one.
Either way, the future of Hurts is easily the teams biggest question that needs to be answered this offseason.
My guess is that unless the Eagles can land Deshaun Watson, Russell Wilson or Aaron Rodgers level quarterback in trade, Hurts will be back in 2022.
2. Jason Kelce's plans:
The Eagles need to key a close eye on Jason Kelce, who was a first-team All-Pro selection and is a key veteran contributor, as potential retirement candidate. He is the leader of the locker room, and potential Hall of Famer. It seems he has gone back-and-forth on retirement over the past few offseasons, but the team will need to start to think about their next center regardless of what Kelce decides. However, he will be difficult to replaced both on the field and in the locker room.
They do have some in-house options with Landon Dickerson, Isaac Seumalo, Nate Herbig and Jack Anderson, all guys that have played center.
3. Brandon Brooks' future:
Philadelphia's No. 1 right guard has been crippled by injuries over the past two seasons, but when he plays, he is one of the best in the game.
The Eagles have options to replace him, like Jack Driscoll, Jack Anderson, Isaac Seumlo is Kelce returns and Nate Herbig.
The big thing with Brooks is, he is due $13.4 million next year with a $19.4 million cap hit. If the Eagles cut him, he'd count $15.7 million in dead money, but it's still a $3.5 million cap savings.
Tough decision for the Eagles here, becasue when he plays, he is one of the best, but I assume we have seen the last of Brandon Brooks in Philadelphia.
4. Find Another Weapon for the offense:
Hurts had a fine season, leading his team to the playoffs and did so without the benefit of a lot of weapons in the passing game. Sure DeVonta Smith and Dallas Goedert are nice options, but the rest of the wide receiving core really didn't offer much. That will have to change moving forward for Hurts to take a step forward and the Eagles offense to reach their full potential.
There option in free agency, trade or the draft.
Free agency has names like Allen Robinson, Davante Adams, Mike Williams, Odell Beckham Jr. among others.
The Eagles need to add a receiver opposite Smith and end the Jalen Reagor experiment.  Quez Watkins proved to be a nice deep threat and can still be a nice No. 3 target, but the team needs more depth at the postion.
5. Add speed and athleticism on defense:
The Eagles need a facelift on the defensive side of the ball.  They have a lot of good, but not great talent on defense.
They don't have a standout edge rusher, they lack a young, versatile, athletic linebacker that can cover tight ends and running backs out of the backfield.
They need to find a safety that can transform their defense from a passive defensive to an aggressive play making defense.
Its time to find their next Fletcher Cox, Brandon Graham and its time to move on from Derek Barnett. The Dallas Cowboys showed what two big additions can do for a defense, and how it can give the entire unit a quick turnaround. .
With three picks in the Top 20, I wouldn't be adverse to adding three players on the defensive side of the ball, like a CB, DE and LB.
Every South Jersey Restaurant That's Been on the Food Network