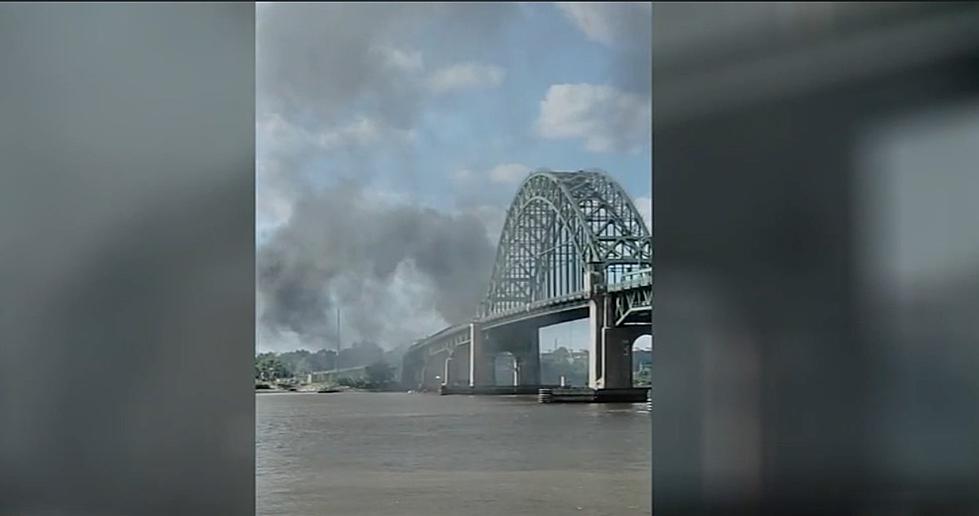 A Truck Fire Temporarily Shut Down the Tacony-Palmyra Bridge – What's Happening to PA Roadways??
Credit: 6abc Philadelphia via YouTube
Here's a story that's become a little too familiar in the greater Philadelphia area this year...
A truck fire broke out underneath the Tacony-Palmyra bridge in Philadelphia just before 5 pm. on Sunday evening. According to officials, the fire broke out around 4:40, forcing the the bridge to close in both directions.
Alarming captured video shows the black, billowing smoke rising above the bridge, as you can see down below.
Fortunately, first responders were able to place the blaze under control, and the bridge was reopened for traffic right around 8pm. No injuries were reported, but as of Sunday evening, it's still unclear how the fire erupted.
So we can breathe a sigh of relief, especially given the crazier complications we've dealt with on Pennsylvania roads this year.
Are Pennsylvnia roadways cursed this year?
This incident begs the questions.... What is going on with Pennsylvania roadways??
We needn't bring up what happened to I-95 earlier this summer. Similarly, but not as severely as Tacony-Palmyra, a truck fire erupted under the I-95 overpass in June, collapsing the bridge. The truck driver tragically died, and the closure of the I-95 section had to close. Miraculously, it was reopened after only 12 days.
Then on July 10, a portion of Route 202 in King of Prussia was forced to closed after a sinkhole collapsed. After it was repaired and reopened, it was forced to close again on July 16, just days later, when the pavement began to sink.
Fingers crossed it's smooth sailing - or smooth driving, from this point on! At least for the rest of the year!
---
Best Last Minute Getaways in NJ to Book Now
There's no shortage of great getaways in New Jersey. If you get some spare time and need an idea, take a look at these.
Can You Name These Landmarks? Only a True Central Jerseyan Can Pass This Quiz!
Pictured below are things you may (or may not) have seen around Central Jersey. But a TRUE Central Jerseyan can name all of them. See how many YOU can correctly identify!