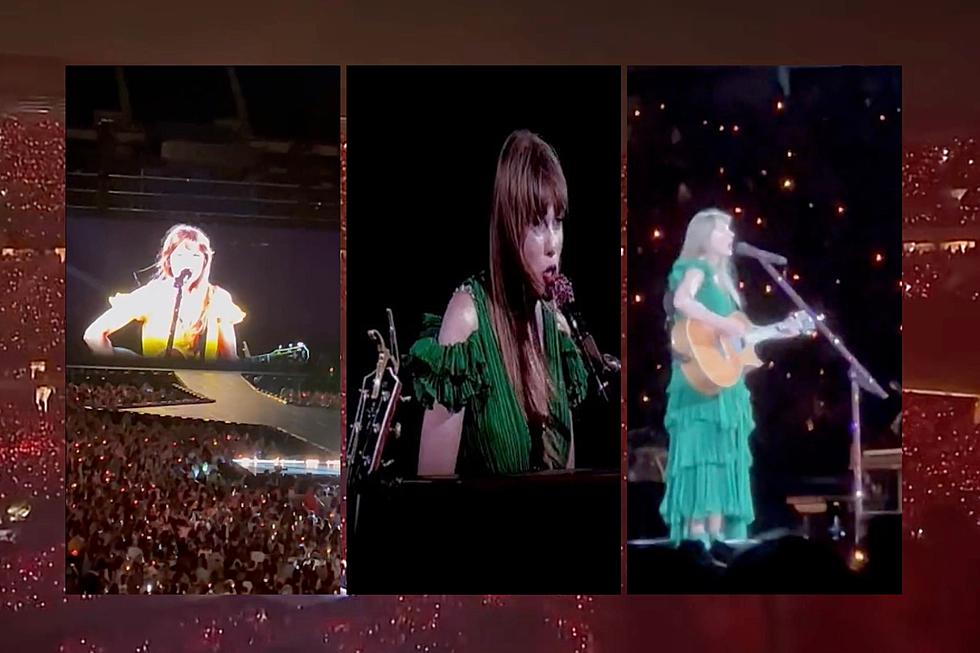 All of the Surprise Songs Taylor Swift Performed This Weekend in Philadelphia, Pa.
Composite via Twitter & Canva
Fans have been clamoring to guess and dream of what "surprise" songs Taylor Swift will slip into the setlist each night for the Eras Tour and in Philly fans were treated to a total of six magical songs.
Perhaps most notably? Several of the songs were personally requested by Taylor's A-list friends including Lena Dunham and Phoebe Bridgers.
As fans of Swift will tell you, there's a portion of the show where Taylor plays two "surprise songs" acoustically towards the end of her massive setlist. And for the hometown shows, there was a lot of energy around these tracks.
"Whether you are aware of it or not, you have walked into my hometown show," Swift said as she introduced the massive 3-hour setlist which covered the superstar's 17-year career.
Swift, of course, grew up in Reading, PA, and her dad, Scott, is a large fan of the Eagles.
"You spend your whole childhood with your dad watching Eagles games on TV …" Taylor said when she spoke about the magnitude of playing at the home of the Philadelphia Eagles.
Here's what happened over the weekend:
Friday, May 12 Taylor Swift Surprise Songs at Lincoln Financial Field (Philadelphia, Pa.)
Gold Rush (from evermore)
Come Back... Be Here (from Red)
The first surprise song that Taylor performed answered a BURNING Philadelphia question in the introduction.
That song? Gold Rush. And Taylor FINALLY addressed the lyric "I see me padding across your wood floors, with my Eagles T-Shirt hanging from the door."
In the introduction to the song, Taylor said it's all about the E-A-G-L-E-S.
"I saw some people wondering if it was the band the Eagles or the team the Eagles," the singer added. "And I love the band the Eagles, but guys, like, come on, I'm from Philly."
Then Taylor said that Phoebe Bridgers, the opening act on the tour, requested the second surprise song for Friday night, which was Come Back...Be Here," from Taylor Swift's "Red" album.
"I take requests if they are polite and decently worded," Swift said.
Saturday, May 13 Taylor Swift Surprise Songs at Lincoln Financial Field (Philadelphia, Pa.)
"Forever & Always" (from Fearless)
"This Love" (from 1989)
Forever & Always (from Taylor Swift's Fearless album) was requested by Taylor's friend Lena Dunham. It was Dunham's birthday and she was in attendance for Saturday night's show.
"I have a request that I'm gonna do," Taylor Swift said introducing the song. "My friend Lena, it's her birthday today."
The second "surprise song" was "This Love:"
Sunday, May 14 Taylor Swift Surprise Songs at Lincoln Financial Field (Philadelphia, Pa.)
"Hey Stephen"
"This Love" (from 1989)
"I had a few really nice, fun people ask me to do this one," Taylor said before introducing the song 'Hey Stephen.'
And, obviously, there was a LOT of speculation that Taylor would perform the song "The Best Day," which surely left many of the 70,000 in attendance in tears on Mother's Day since many mothers and daughters were in attendance.
What an incredible weekend for Taylor in Philly!
These are the Hottest Pop Concerts Happening in Philadelphia in 2023
2023 will bring some of the best concerts from some of our absolute favorite artists to Philadelphia (including Taylor Swift, Ed Sheeran and P!Nk.). Here's a COMPLETE list of all of the shows (so far) & even details on how you can get tickets to Philadelphia's hottest concerts of 202