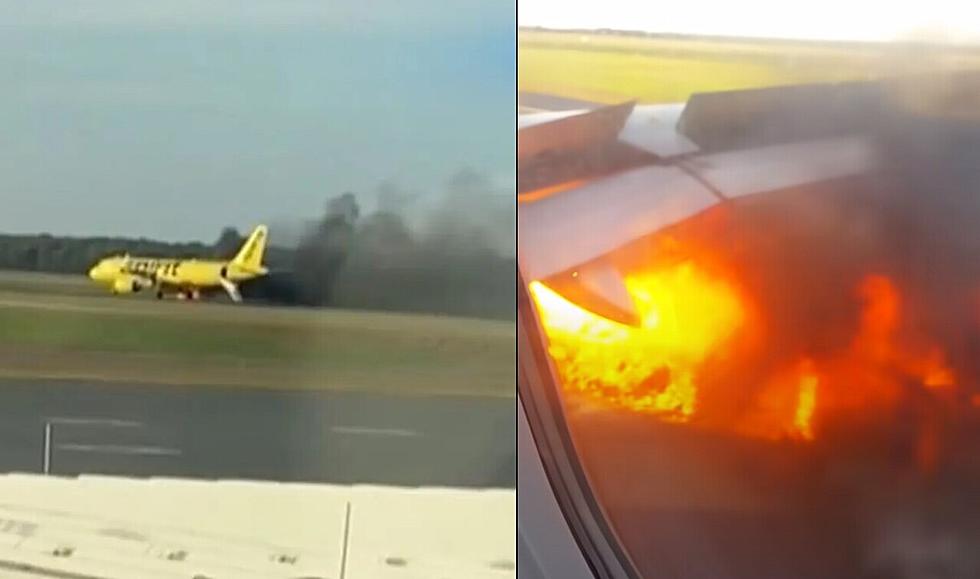 Spirit Plane Was Traveling 103 Mph Before Aborted Takeoff at ACY
NTSB report photos
A preliminary report from the National Transportation Safety Board shows that a Spirit Airlines plane had a ground speed of over 100 mph when it aborted its takeoff at Atlantic City International Airport on Oct. 2.
The Spirit Airlines flight 4922 from Atlantic City to Fort Lauderdale hit a "large bird" while accelerating for takeoff, causing damage to the engine and forcing passengers and crew to evacuate, according to the airline.
The pilot hit the brakes and was able to bring the plane to a stop.
Three passengers and a crew member sustained minor injuries during the plane's evacuation, the report said. The plane was carrying 102 passengers, six crew members, and a "dead-heading" Spirit employee at the time of the 5:15 p.m. incident, the NTSB report said.
People on board exited the plane via slides to the runway at ACY Airport in Egg Harbor Township.
The airport's Aircraft Rescue and Firefighting unit responded to the scene, the NTFB report said.
The Airbus was traveling at about 90 knots, or 103 mph, when it experienced the bird strike and a subsequent engine fire, the report noted. The average ground speed for an Airbus A320 at takeoff is 170 mph.
The flight crew reported receiving an No. 2 engine fire warning, discharged both fire bottles, aborted the takeoff at a groundspeed of about 90 knots and stopped the airplane on the runway. The airplane's slides were deployed and the passengers egressed via the slides onto the runway.
Video filmed from inside the airport showed flames and smoke on one side of the plane before emergency slides were released.
Members of 177th Fighter Wing Return From Middle East Deployment
50 Easy Men's & Women's Halloween Costume ideas You'll love
Here are the 2021 top-rated Halloween costumes for men and women this year at Spirit Halloween stores and online. Some of the men's costumes are available online only. All of the women's costumes are for sale in-store.