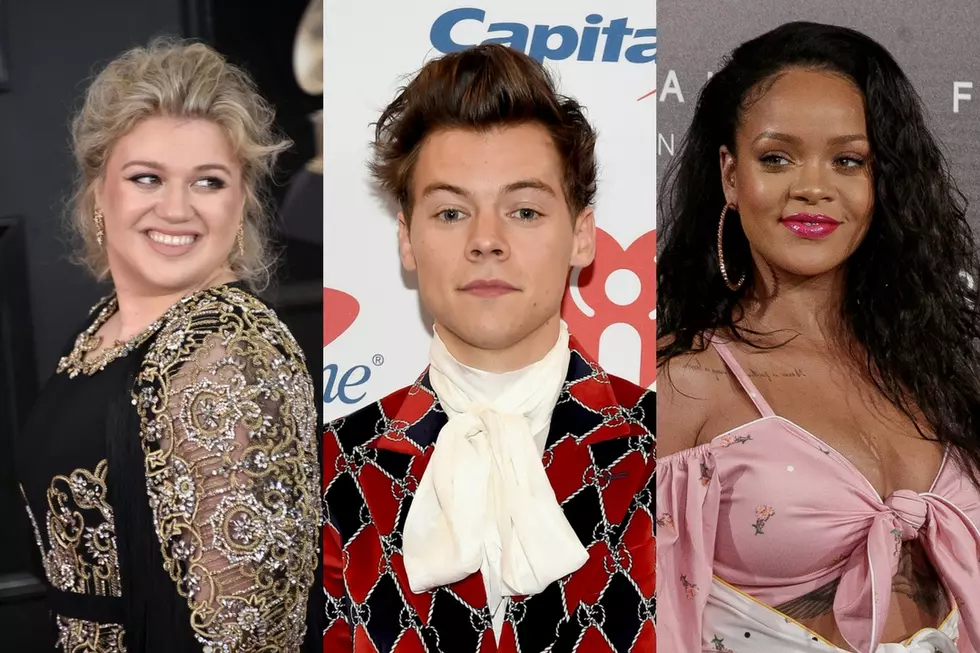 11 Songs You Didn't Know Your Favorite Stars Wrote
Mike Coppola/FilmMagic; David Becker/Getty Images; Eduardo Parra/Getty Images
Here's a little industry secret: Pop stars don't always write their own music, and sometimes, their songs are even penned by fellow icons. From time to time, the original writer is well-publicized (it is, by now, common knowledge that Prince wrote Sinead O'Connor's "Nothing Compares 2 U"), but more often that not it takes some digging.
Below, 11 surprising songs you may not have known were written by other famous artists.
1

CeeLo Green, "Forget You"

Before Bruno Mars went full-blown throwback, he wrote this Motown-leaning 2010 smash for CeeLo Green.

2

Fifth Harmony, "Sledgehammer"

5H's first big hit came courtesy of Meghan Trainor, who co-penned this head-over-heels anthem with songwriters Jonas Jeberg (The Pussycat Dolls, Jordin Sparks) and Sean Douglas (Demi Lovato, Nick Jonas).

3

Justin Bieber, "Love Yourself"

Among Ed Sheeran's extensive list of credits is this 2015 ballad from the Biebs, which was originally written for the British singer's third studio album, Divide.

"It just wouldn't have made it [on the record]," Sheeran explained of the track during an interview with Carson Daly on 97.1 AMP Radio. "And then Justin took it and did his thing on it, and released it as a single and made it what it is ... [Justin] did have input on it, I wouldn't say it was just all me."

4

Britney Spears, "Till the World Ends"

Songs often land with other artists after not making the cut for the writer's own albums, but not the case with Brit's Kesha-penned 2011  bop.

5

Kelly Clarkson, "I Do Not Hook Up"

A quick Google search turns up Katy Perry's original version of this hard-edged anthem, which ended up with Clarkson after Def Jam dropped Perry from her recording contract.

6

Ne-Yo apparently has big regrets about passing his breakup ballad to Queen B.

"One song that I gave away and didn't want to is Beyoncé's 'Irreplaceable'. I honestly wrote that song for myself," he told Choice FM, though admitted it was probably for the best. "A man singing it comes across a little bit misogynistic, a little bit mean."

7

Adam Lambert, "Whataya Want from Me"

It makes sense that Pink wrote this rock-driven 2009 chart-topper, which wound up on Lambert's debut, For Your Entertainment, after getting passed over for her 2008 record, Funhouse.

8

Kelly Clarkson, "Miss Independent"

You can hear Christina Aguilera all over Clarkson's soul-punched 2003 single, co-penned by the pop icon with songwriters Matt Morris (Justin Timberlake) and Rhett Lawrence (Mariah Carey).

9

Ariana Grande, "Just a Little Bit of Your Heart"

Long before Harry Styles went solo, he wrote this aching 2014 love song for Ariana Grande's My Everything.

10

Like Sheeran, Sia is a prolific songwriter, and she made a name for herself behind-scenes before stepping out on her own. One of her biggest hits pre-fame is Rihanna's "Diamonds," a 2012 pop epic nearly identical to Sia's original demo.

11

Kelly Clarkson, "Breakaway"

Kelly Clarkson's powerhouse '04 track was originally penned by Avril Lavigne for her debut album, 2002's Let Go, but ultimately didn't fit the tone, thus ending up with the American Idol breakout.