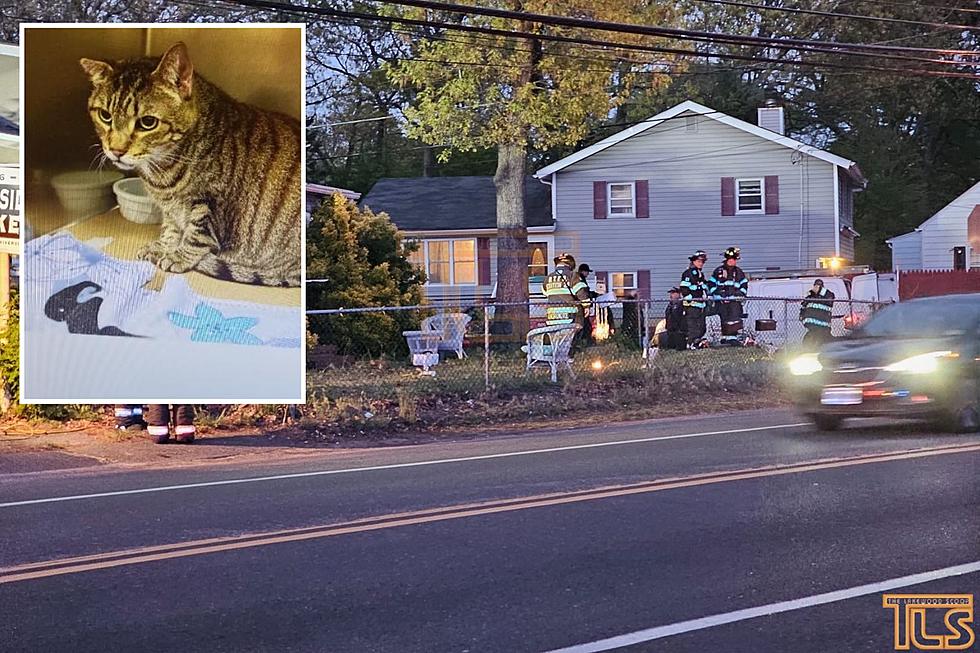 Over a hundred cats and dogs removed from Brick, NJ home
Brick firefighters remove over 100 cats from a home 5/4/23, (The Lakewood Scoop) cat removed from home (Ocean County Health Department)
🔴 Brick police, fire fighters and a hazmat team helped remove 110 cats and 3 dogs
🔴 Health officials said they are in 'decent health'
🔴 Their owners voluntarily surrendered the animals
---
BRICK — Police, firefighters and a hazmat team removed more than 100 cats from a home Thursday at the request of the owners.
The owners of the house at Mantoloking and Stuyvesant Roads in Brick surrendered 110 cats and three dogs to the township but the situation is much different than the hoarding case where 180 cats and dogs were found living in squalor in December, according to Ocean County Health Officer Dan Regenye.
"What we've seen so far, the animals seem to be in decent health," Regenye told New Jersey 101.5. "The others were just covered in feces and just in very poor health shape. I have not had any direct observation of these animals. My understanding is that they're in a much different shape."
Owners leaving town
Many of the cats removed Thursday were brought to the Ocean County Animal Shelters in Jackson and Manahawkin. Regenye said their health will be assessed and then they'll eventually be put up for adoption.
"My understanding is they were looking to relocate out of their current residence. I'm not sure about the circumstances with that. And obviously, they couldn't take this many animals and they were pursuing surrendering them," Regenye said.
180 dogs and cats removed from Brick home in December
On Dec. 3, 180 dogs and cats were removed from the home of Aimee Lonczak and Michele Nyczbe who together ran what they called the Crazy Ladies Sanctuary.
The removal of the animals cost Brick police $27,000 in overtime, Chief David Forrester told the Township Council in March. Township attorney Kevin Starkey said that the township is seeking restitution for the overtime cost from Lonczak and Nycz if they are convicted.
They were offered a plea deal that would have sentenced them to 364 days in the Ocean County Jail plus community service in exchange for guilty pleas on two counts of animal cruelty and child neglect, the Asbury Park Press and News 12 New Jersey reported.
They both rejected the deal and will take their chances on whether or not a grand jury decides to indict them. If the case then goes to trial and a jury finds them guilty, they could be sentenced up to 10 years in prison.
Dan Alexander is a reporter for New Jersey 101.5. You can reach him at dan.alexander@townsquaremedia.com
Click here to contact an editor about feedback or a correction for this story.
Biggest NJ company layoff notices in 2022 and 2023
In some cases, workers may be offered back their jobs or transfers to different locations.
Here's a look at more than a dozen of the biggest announcements within two years.
Up or down? Average property tax changes in NJ in 2022
Below are the average property tax bills for every municipality in New Jersey last year.
The towns are listed from the biggest cut in the average bill to the highest increase. On the county maps, the deeper red color means a higher increase above 2% whereas the darker green signifies a smaller increase or a reduction.
Each listing also shows how the average tax bill is split among the county, school and municipal governments.
Weird things NJ taxes - and some they don't
In general, New Jersey assesses a 6.625% Sales Tax on sales of most tangible personal property, specified digital products, and certain services unless specifically exempt under New Jersey law.
However, the way the sales tax is applied in New Jersey sometimes just doesn't make sense.
New Jersey puts out an itemized list for retailers that spells out what is, and what is not, taxed.
Perhaps because this is New Jersey, there are some bizarre and seemingly contradictory listings.