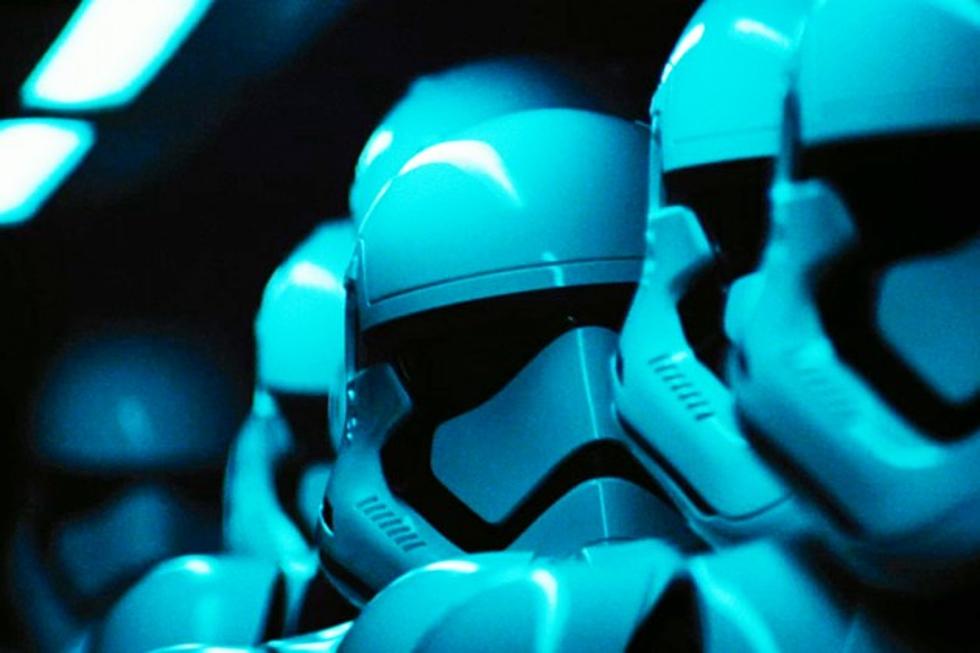 New 'Star Wars: Episode 7' Trailer Description Includes a Surprising Reveal
Lucasfilm
The new Star Wars: Episode 7 trailer will debut at Star Wars Celebration on April 16 as director J.J. Abrams and producer Kathleen Kennedy meet the fans to kickoff the festival "in a big way." We'll be there to report on all the details, but if you can't wait until then, a new report has been posted online that details what new footage we'll see when the new Star Wars trailer finally arrives.
Courtesy of Making Star Wars (who have proven themselves to have solid sources inside the Star Wars: Episode 7 camp), we have this bulleted list of notes regarding the new Star Wars trailer, which is still being listed as a teaser. Spoilers ahead.
The teaser runs at about a one minute and fifty seconds
Han, Leia, R2-D2 and C-3PO all appear
We do see Yavin in the teaser
We see a shot of Finn (John Boyega) with a blue lightsaber
There is a shot of Captain Phasma (Gwendoline Christie), the chrome Stormtrooper, very briefly.
We see Kylo Ren's face
We see Poe Dameron (Oscar Isaac) shoot down a TIE fighter
A shot of Finn and Poe walking past one another at the base
Rey is in a few shots.
There is a shot of Poe Dameron, R2-D2, C-3PO and a CGI character (Rose).
BB-8 socketed in the back of an X-wing.
Kylo Ren's Imperial shuttle flys by with TIE escorts to the Star Destroyer
The Millennium Falcon
X-wing fighters flying in a V-shape formation.
Darth Vader's helmet sitting on a podium
No Andy Serkis
No Luke Skywalker
There are some similarities, but also some major differences with this earlier description of the trailer; notably the appearance of Luke Skywalker. Original reports had stated that this would be our first look at Luke in the film, but now we're hearing that's not the case. Of course, both of these trailers could have existed at one point as Lucasfilm tinkers with the marketing and tries different edits.
Whatever the case, the appearance of Darth Vader's helmet should have everyone sufficiently excited.
In addition to the new trailer, Collider is reporting that the first Star Wars: Episode 7 poster will also be revealed at Star Wars Celebration. Like with the previous films, you should be able to purchase a copy not long after it's revealed. The question is when will this, and the trailer, actually be publicly after their reveal at Celebration? It could be immediately after, they could keep it exclusive, not unlike what studios do with Comic-Con footage.
Either way, we'll be there and will be able to report back as soon as it happens.
Star Wars: Episode 7 opens in theaters on December 18.
Check Out 100 Movie Facts You Might Not Know