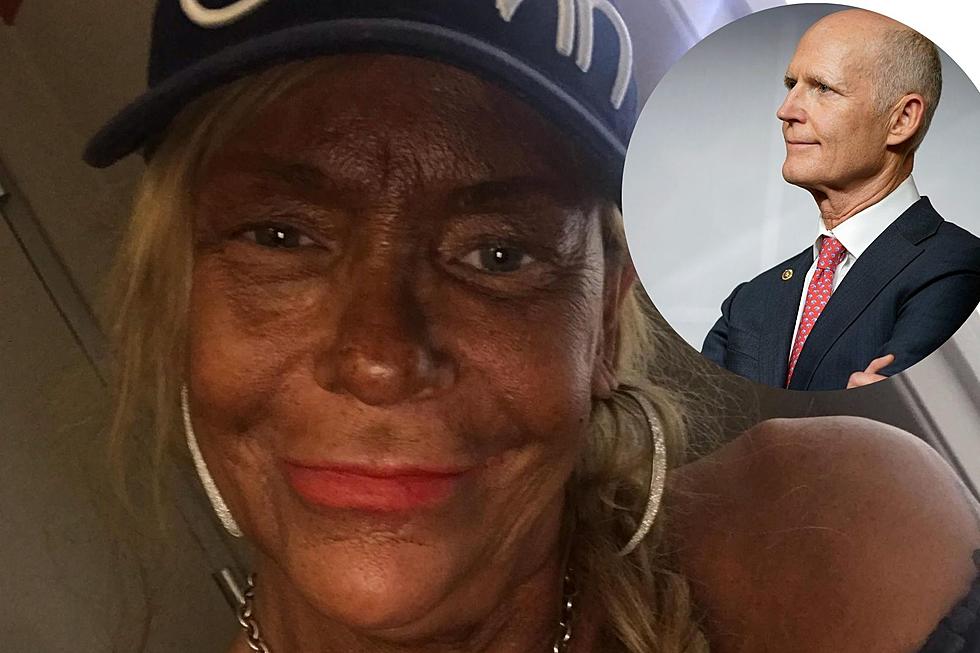 New Jersey's infamous 'Tan Mom' running for U.S. Senate
Facebook/Patricia Krentcil/AP
☀ NJ's Tan Mom is running for U.S. Senate in Florida
☀ Patricia Krentcil fled New Jersey for Florida after the incident that made her infamous
☀ A look back at that incident, and what led her to now enter politics
---
The New Jersey mom who was made infamous in 2012 after her 5-year-old daughter was burned in a tanning salon is running for the U.S. Senate.
Former Nutley resident Patricia Krentcil was dubbed the 'Tan Mom' in 2012 after the incident with her daughter was made public. She was charged with child endangerment for bringing her daughter into a tanning booth in violation of state law than bans tanning for children under the age of 14.
After a grand jury failed to indict her, she moved to Florida and entered an alcohol rehab center in Palm Beach.
Bizarre journey
After leaving New Jersey for Florida, Krentcil capitalized on her minor celebrity.
She has been a frequent guest on the Howard Stern show.
Krentcil even released her own music in 2018. She debuted "Free 2 Be Me" with Artist Adam Barta on the Howard Stern show in an effort to shed the Tan Mom image. At the time, Stern called it the "the greatest song of all time."
In 2023, she starred in a reality TV show called "Tan to 10," where she declared she was the "tannest woman in the world."
Is Patricia Krentcil still tan?
Oh, yes. Very.
Photos from her social media pages show she is just as tan as ever.
What is her U.S. Senate campaign about and why is she running?
When Krentcil talked to TMZ about her foray into politics, she singled out several policies of Florida Gov. Ron Desantis as prompting her to run.
Krentcil cited book bans and changes to Medicaid, but also attacks on the LGBTQ community.
She says she is a conservative Republican, but is at odds with her party over a number of policies. She will run as a GOP candidate against fellow Republican Senator Rick Scott.
She told TMZ she has a strong relationship with the gay community, and hopes to convince fellow conservatives to see things the way she does.
https://www.tmz.com/2023/08/16/tan-mom-patricia-krentcil-us-senate-run-issues-florida-republican/?adid=social-fb&fbclid=IwAR3Jrpeeq3vbR21_L4PQ_9smI3Zqf9W7P-j3QyziTCteKjZVi1Ou6s_j2qc
Report a correction 👈 | 👉 Contact our newsroom
NJ residents giving most money to Trump 2024 campaign
According to filings with the Federal Election Commission, these New Jersey residents have given the most money this year to former President Donald Trump's 2024 election campaign. These aggregate year-to-date totals are current as of June 30, 2023. These figures do not include donations to super PACs, which can raise and spend unlimited amounts.
New Jersey residents and companies donating the most to Ron DeSantis
These are the New Jersey residents who donated at least $2,000 to Republican Florida Gov. Ron DeSantis' 2024 presidential campaign and the top New Jersey donors to a super PAC supporting DeSantis. The figures are current as of June 30, 2026.
The Top 30 Roller Coasters in New Jersey
Happy National Roller Coaster Day! The state of New Jersey is home to the 6th most roller coasters in the United States, spread across 14 thrilling theme parks.