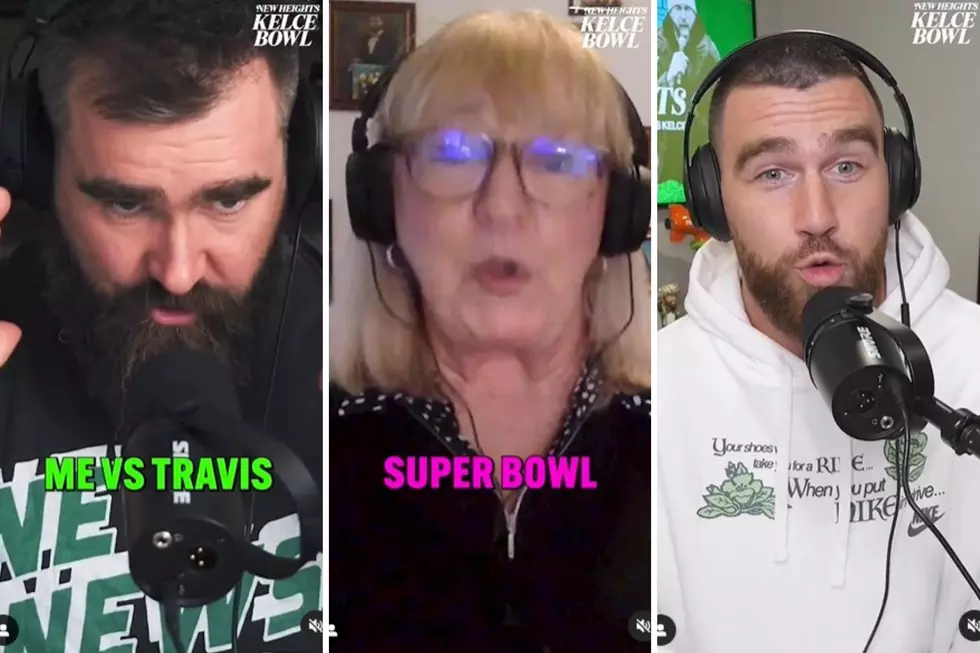 Kelce Brothers Ask Mom Who She's Rooting for in the Super Bowl
newheightsshow/Instagram
Nothing like putting mom on the spot! Can brothers Jason and Travis Kelce, who are both playing in the Super Bowl on Sunday, get mom Donna to admit who she's rooting for?

Super Bowl LVII between the Philadelphia Eagles and Kansas City Chiefs has been nicknamed 'Kelce Bowl'. Travis is a tight end for the Chiefs and Jason is an offensive center for the Eagles.
The brothers are as competitive on the football field as they are for mom Donna's affection, lol.
This week during their New Heights Show podcast, Jason Kelce put Donna on the spot and asked which team she was rooting for on Sunday.
Jason feels Donna should root for HIM and the Eagles because he gave her grandkids first, while Travis thinks her allegiance should lie with him and the Chiefs because he was the one who gifted her with the dual Chiefs/Eagles football jersey.
But Donna is staying neutral. She wants an all-offense Super Bowl. That's her way of rooting for BOTH her sons, since they are both offensive players, lol.
When Jason asked what he's supposed to tell fellow Eagle Fletcher Cox, Donna told Jason to tell Cox 50 percent of her is with HIM. Lol.
Watch more of the smack-talking video below.
12 Jersey Girls Cheering for the Philadelphia Eagles This Season
Even though they perform in Philadelphia, New Jersey will be well-represented on the 2022-2023 Eagles cheerleading squad.
The Best Of Pro Football's Cheerleaders
Cheerleaders have been a part of the pro football scene for nearly 70 years, though not every NFL team has cheerleaders. No less than seven NFL teams don't have cheerleaders, but, most do, including the Denver Broncos. Here's a look at some of the most popular cheerleading squads in the NFL.
12 Animals That Are Illegal to Own as Pets in New Jersey